Host: Annaburroo Station
Owner: Norbuilt Properties Pty Ltd
Managers: Adrian and Barbara Phillips
Region: Darwin, Northern Territory. Annaburroo Station is situated on the Mary River approximately 100km east-southeast of Darwin.
Nearest town for shopping, doctors etc: Humpty Doo (60 mins) or Darwin (90 mins)
Nearest roadhouse: The Bark Hut Inn
Number of cattle: 3500 head
Number of staff: 3
Size of station: 76,000 acres
How often and how the mail is delivered: Daily via courier on the Darwin to Jabiru run.
How often and how the stores shopping is done: Once a week by driving to town.
How far off the bitumen you are: 1.3 km
Annaburroo is a small cattle property 100 kilometres east-southeast of Darwin situated along the Mary River.
Driveway looking towards homestead
Pool looking out to Mount Goyder
The station is owned by Norbuilt Properties and is managed by Adrian and myself, and one permanent staff member. Our two children Harrison and Jess, aged 7 and 6, attend Middle Point School, approximately 60 kilometres by car and bus.
Harrison and Jess cooling off at the stables
Before Norbuilt offered us the job in 2014, Adrian and I were self employed in a bull catching, mustering and earthmoving business based in Katherine, NT.
The imposition of the live export ban in June 2011 impacted us greatly.  It was impossible to ascertain how long the ban would be in place and whether we would in fact have a live export market for wild buffalo and cattle at all. Rather than invest capital and resources into an unknown, we opted to sell out.
Managing a station was something Adrian and I had never envisaged. We had always planned to buy our own pastoral property. Sometimes however, a curve ball is thrown and although you don't realise it at the time, it is often a blessing in disguise.
We took over the management of Annaburroo in October, 2014. The station was quite run down so with the never ceasing support from owners Greg and Marie, we got to work fixing fences, finding cattle, spraying weeds, rejuvenating the homestead gardens and fixing gear.
Collecting gravel to build up roads
A new dam built by Adrian and Carl
Adrian heading off to spray more weeds and Jason hosing down the tractor before moving to another paddock to plough
Adrian and Harrison burning wood piles pushed up after clearing along fence lines
The station now takes a small number of cattle on agistment. Once the fences are in order we hope to increase agistment cattle to 7000 head.
Paddocks, fence lines and water points are sprayed to eradicate weed over the wet season. Small holding paddocks and laneways are being planted to improved pasture and more areas are being tidied up for hay production.
Hay is sold to local producers and retained for use on the station. Greg and Adrian share a great passion for improved pasture and see the value through the cattle and hay produced.
Jarrah grass that was first planted in January 2015 on the airstrip. This grass is cut and baled into large rounds at the end of the wet season and sold commercially.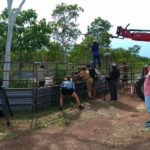 Host: Annaburoo Station Written by Barb Phillips – Manager, Annaburoo Station. It was in December 2015 that we realised it was actually going to happen. After months of discussion between Crocodile Mick, film producers, and ourselves, Paul Bedard from Gator Boys was on his way to Annaburroo! The itinerary was set, the film producers and team […]