Host: Blina Station
Managers/ Owners: Manager- Matt Wood. Owners- Jumbuck Pastoral
Region: West Kimberley, Western Australia 
Nearest town for shopping, doctors etc: Derby – 130km
Nearest roadhouse: Willare Road House, Fitzroy Crossing
Number of cattle: 24,000 head
Number of staff: approx 13 during the high season at Blina and Ellendale alone
Size of station: Approx 1 million acres
How often and how the mail is delivered: It is collected from town fortnightly
How often and how the stores shopping is done: Currently once a fortnight a store order is collected from town.
How far off the bitumen you are: 13 km
My name is Connie Gray and I live on Blina Station in the West Kimberley Region of Western Australia. My Partner Matt Wood has managed Blina for Jumbuck Pastoral for the past 5 years, and I am just finishing my first year on Blina, with many more to come!
Blina Homestead from the air 2013
The Blina homestead is located 150kms East of Derby; we are essentially halfway between Derby and Fitzroy Crossing on the Great Northern Hwy. All of our stores and post are collected from Derby (about a 300km round trip!!). The Blina management area is made up of 4 leases – Blina, Ellendale, Calwanyadah and the Eastern half of Kimberley Downs. A total land area of about a million acres. Most of the pastoral lease lies between the Great Northern Highway and the Gibb River Road to the North.
Blina carries a heard of approximately 20,000 head of Breeding Cows, mostly Red Brahman content and our primary market is for Live Export.
Mustering cattle to homestead yards
Throughout the mustering season (April- November) we have about 11 staff, including a boreman, grader operator, helicopter pilot, Cook, plus Matt and I. Our outstation, Ellendale, is home to Andy Hallen, along with his wife Ann and their 4 children. Andy is the boreman for Ellendale and the northern half of the Blina Management Area. (You will hear a bit about the Hallens later this week!)
Stock crew heading out to muster.
All of our mustering is carried out with horses; we have a horse plant of about 70 horses, with quite a few colts coming along for the 2013 season. We use Helicopters to muster the cattle in to a designated spot, where they are blocked up and 'quietened down' by the stock camp workers on horseback, the mob is then walked to the yards. This process is called 'Coacher Mustering'.
Cattle in the yards.
Now about Matt and I.
Matt Wood, Manager, Blina Station
Matt grew up on the Nullabour Plain, where his father managed Rawlinna Station for Jumbuck.
It seems that Matt was always destined to run cattle stations, as a child his siblings played a game called 'melon town' in which they ran large pretend stations- his brothers had sheep stations, while Matt ran cattle. Matt completed his secondary schooling at Aquinas College in Perth and from high school came to the West Kimberley, where he worked in the stock camp at Meda Station. From Mead, Matt went contract mustering in QLD and the NT, then on to run the camp as head stockman on Dellamere in the NT. Matt took on a huge job as Manager at Blina at the very young age of 23, where he has taken Blina from strength to strength ever since.
Connie Gray- position; whatever is required on the day!
As for myself, my parents actually met on Kimberley Downs and I grew up between the Kimberley, the Pilbara and Perth. I completed my schooling in Perth and obtained a Tertiary Education at Curtin University, finishing with a Bachelor of Commerce, maj Business Law. (Not that the cattle care too much about my knowledge of the Corporations Act!!!!) I met Matt during my final year of uni, at Fitzroy Rodeo, and I worked a season at Ruby Plains in the East Kimberley before I moved to Blina to start an exciting chapter of my life with Matt.
This week on central station I hope to share a part of this wonderful life we live on Blina and to help people understand that working on northern cattle stations is so much more than just a job, it is our way of life.
Archives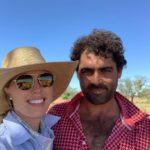 Written by Connie Wood – Blina Station Jim Lindsay, Eat Your Heart Out. She lowers her head, shakes it a little and a bit of snot comes out as she snorts and stomps the ground with her foot. He's not sure if its fear, adrenalin, or pure fury that's got her shaking like that but […]