Callanna Station was purchased 34 years ago by George and Anne Morphett. They raised 4 boys there two of which are still at home. Tom is a contract musterer and yard builder who assists running the cattle side of the operation with his dad. Andrew also contract musters (mainly sheep) and helps at home too. Lucy is Tom's girlfriend and works with him and has lived at Callanna for over 3 years.
Host: Callanna Station
Managers/Owners: Anne & George Morphett
Region: South Australia's Arid Lands, North East Pastoral.
Nearest town for shopping etc.: Port Augusta, 400km away. If you need specialty equipment, parts, or services including medical, you have to go to Adelaide which is 650kms. Nearest town is Marree – 25kms. Callanna Neighbours Marree Station
Number of cattle: Approximately 1300 total animals (Breeders, progeny, bulls and weaners)
Number of staff: Contractors are hired when necessary but there are 2 sons who are around most of the time who complete work on the station.
Size of station: Approx 800 square km
How often and how the mail is delivered: Twice a week delivered to town.
How often and how the stores shopping is done: Foodland in Leigh Creek will pack your faxed order into boxes and it comes to Marree with the mail on Fridays. If a trip to Adelaide or Port Augusta is planned you always wait to do your shopping there.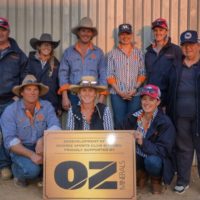 Host: Callanna Station Written by Lucy Goldspink The bush is a marvellous place where people are selfless and generous. Sure, in times of hardship you can become engrossed in your own life and the difficulty you are facing, but when someone needs something others are always there to help. Our community has been tackling severe […]