Host: Helen Springs Station
Managers/ Owners: Helen Springs Station is owned by S. Kidman and Co Ltd and is managed by Chris Towne, along with his wife Sally Towne. Brunchilly, the outstation to Helen Springs, is managed by Luke Giblin.
Region: Helen Springs and Brunchilly are situated in the Barkly Tablelands in the Northern Territory.
Nearest town for shopping, doctors etc: Tennant Creek is the local service town and is approximately 140km south of the properties.
Nearest roadhouse: Renner Springs is 18km north of Helen Springs.
Number of cattle: The combined carrying average is 50,000 cattle.
Number of staff: Up to 32 staff are employed between Helen Springs and Brunchilly.
Size of station: Helen Springs covers 5,062km2 (1.25 million acres) and Brunchilly 5,136km2 (1.26 million acres)
How often and how the mail is delivered: We have a mail service of three times a week where the Greyhound bus company picks the mail up and drops it off.
How often and how the stores shopping is done: Fresh Stores are ordered once a fortnight from Tennant Creek and dry stores are ordered once every 10 weeks from Darwin.
How far off the bitumen you are: Helen Springs is 4km off the Stuart Highway and Brunchilly is approximately 40km.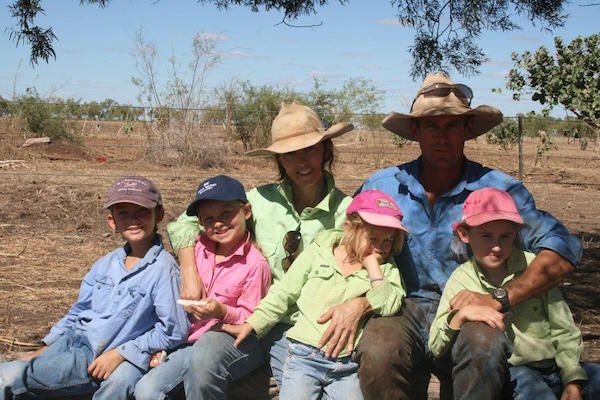 The Towne Family
Helen Springs was purchased by S. Kidman & Co from Stanbroke Pastoral Company in June 2004.
The story of Sir Sidney Kidman is a wonderful story. Born in South Australia, Sidney Kidman left home aged 13 to work as a sheep drover. Being a man of vision, he formed a small business with his brother in droving and trading cattle and horses. S. Kidman & Co Ltd was founded in 1899. Sir Sidney went on to become the greatest pastoral landholder in modern history, earning the nickname of "The Cattle King". The present company is a family business owned by descendants of Sir Sidney Kidman.
Helen Springs covers an area of 10,198 square kilometres and comprises of a main station complex which is located 140km North of Tennant Creek, with the Brunchilly outstation located 115km North East of Tennant Creek. The large main homestead complex is set in established gardens. The station infrastructure is well developed with subdivisional fencing, numerous steel drafting yards and stock water supplied from dams and 95 sub artesian bores.
Brunchilly is a fully staffed outstation and is part of the Helen Springs aggregation which services the southern end of the property.
Aerial photo of Helen Springs Station complex 
Helen Springs is a breeding property that runs on average 50,000 Brahman/Charbray cattle on country comprising 70% Barkly Tablelands black soil Mitchell and Flinders grass country with the balance being resilient red soil spinifex and buffel grass. The Barkly Tablelands is well known as being some of the best cattle country in Australia and its vast beauty, isolation and wide open spaces are mind blowing and incredibly beautiful. The magnificent sunrises and sunsets are without a doubt some of the best you will see anywhere. There are generally two distinct seasons, the dry season running on average from March through to November with the wet season running on average from November through to March.
Creek Flooding out in the wet season
Helen Springs has one of the largest breeder management programs in Australia, as all breeders are pregnancy tested and segregated into appropriate calving groups. Chris believes pregnancy testing is critical to overall station management as it assists in all areas from whole herd recording to increasing fertility, with the end result enabling effective budgeting allowing for maximum kg of beef to be produced and turned off.   
Once the mustering season begins in late March it is all systems go mustering, drafting, branding and pregnancy testing, continuing on through to mid-November. All mustering is done on horseback with the assistance of motor bikes, fixed-wing planes and helicopters.
Turning out cattle from the yards on motor bike
Employing a staff of up to 32 depending on cattle numbers, Helen Springs becomes a hive of activity once the busy mustering season begins. Every staff member is a valued employee and is an integral part of the overall management of the station. Staff are without a doubt our greatest asset and we aim to do whatever we can to recruit and retain good staff.
Family is a big part of what we are about and we work hard to try and keep both Helen and Brunchilly like one big happy family. We love having parents, family and friends of the staff come to stay so they can get a feel of this wonderful life that we all live out here.
Taking a well-earned break for lunch (Chloe Towne, Briony Wills, Emily Towne & Tom Hall)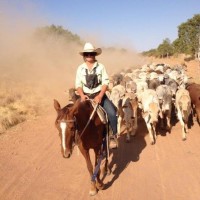 Host: Helen Springs Station Written by Sally Towne – Manager, Helen Springs Station. I really hope you have enjoyed reading our blogs this week and it has provided you with a small insight into our world! To finish off I have put together a photo essay to give you a further snapshot of our amazing, […]