Host: Newcastle Waters Station
Managers/ Owners: Newcastle Waters is owned by the Consolidated Pastoral Company
Region: West Barkley Tablelands, Northern Territory
Nearest town for shopping, doctors etc: Tennant Creek is only 280 km away but when we go to town it's usually Katherine, which is 399 km away. Elliot is only 25 km away and that has a roadhouse, post office, police station and medical clinic.
Nearest roadhouse: Elliot roadhouse is only 25 km and is a pit stop for ice coffees and meat pies when we're traveling to a southern part of the station. When we're wanting to head out for dinner or a couple of drinks, Dunmurra is 80 km away and the HiWay Inn at Daly Waters is 120 km away.
Number of cattle: 64,000 head
Number of staff: Up to 50 depending on the time of year, including permanent staff and seasonal contractors
Size of station: approx 2.5 million acres
How often and how the mail is delivered: We have a mail service of three times a week where the Greyhound bus company picks the mail up and drops it off.
How often and how the stores shopping is done: Stores are ordered once a fortnight from Darwin.
How far off the bitumen you are: 3 km
Newcastle Waters is a magnificent 10,353 sq km (1,033,100 ha)  breeding property in the west Barkly region of the Northern Territory owned and operated by the Consolidated Pastoral Company.
Its open plains, flood country and timbered sand hills carry 60,000 head of cattle including 20,000 commercial Brahman breeders. The historic property is also home to Newcastle Waters Brahman stud, which comprises 4000 stud females including 30 single sire herds. The stud produces 1,000 quality, acclimatised herd bulls for CPC's northern properties.
Its annual turnoff of 25,000 – 30,000 head are finished according to market demands, with the steer portion being taken at five to seven months for fattening as Jap ox on the Queensland properties or finished on Lake Woods for export to Indonesia. Steers and surplus heifers are also grown out on the property and are exported from Darwin at 18 to 20 months of age.
Newcastle Waters was named (in 1861) by explorer John Stuart while attempting to cross the continent from Adelaide to the northern coastline. Records show that he "Came across a splendid reach of water… This I have named Newcastle Waters after his Grace, the Duke of Newcastle, Secretary for the Colonies." The water he referred to is today known as Longreach Hole which overflows into Lake Woods and its surrounds provide some of the best grazing country on the property.
The first lessee of Newcastle Waters was Englishman Dr Browne, who in 1883 contracted Alfred Giles, an Overland Telegraph Line worker, to establish a homestead and stock the newly-acquired lease with cattle walked from Queensland.
The Hon. John Lewis, who in 1872 had operated a 480 km pony express service in the area, purchased the lease in 1895, his family retaining the property until 1952. It then sold to Roy Edwards and partners before selling in 1980 to Ashburton Pastoral Co, a partnership between Ken Warriner, Peter Baillieu and Tony Chisolm.
The purchase of Newcastle Waters in 1983 by Mr Packer was the genesis of Consolidated Pastoral Co which became a company in its own right in 1992.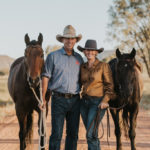 With two cattle stations in the Northern Territory, a cattle property in Queensland, and a helicopter business, Rebecca and Steven Cadzow were in the perfect position to continue expanding their business interests and develop a pastoral empire that so many dream of. But, instead they made the decision to downsize to just one cattle station. […]