Host: Horsemanship Linked Learning
Written by: Shorna Ross
Hi I'm Shorna,
I don't own a station or even at the moment work on a station. However I am loving a chance to write for Central Station readers.
I grew up and currently live in East Gippsland, Victoria. This is where my family farm and also my business Horsemanship Linked Learning is now based.
Through HLL I am very lucky to combine my three passions of teaching, empowering young people and working with cattle. Through using horses and stock as facilitators I can help people develop the skills required to become inspired and excel in every area of their lives.
The knowledge that I share and teach has been largely developed through lessons I learned throughout my time in the Pilbara, Western Australia and in the Gulf, Queensland.
I've spent the last 10 years travelling, learning and exploring as a Jillaroo, Leading Hand and Governess. As well as co-facilitating youth programs for troubled children and teens, teaching Horsemanship and starting and training young horses.
The future of our Pastoral Industry as well as the broader Agricultural Industry will be what we make it. I love to give back to an industry that has shaped me into the person I am today. Looking forward to sharing my red dust adventures with you all.
Shorna Ross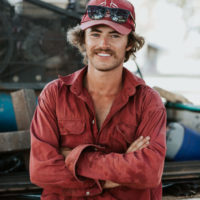 What would you do if you knew your life was going to change irrevocably, and there was nothing you could do to stop it? That's the predicament Mitch Scott found himself in when he was diagnosed with Usher Syndrome – a rare genetic disorder primarily characterized by deafness and a progressive loss of vision. In […]