Katherine Rural Campus 
As the deliverer of more than 160 qualifications, The Charles Darwin University (CDU) is the largest training provider in the Northern Territory. CDU delivers courses across eight campuses and centres and more than 170 urban, regional and remote locations. CDU provides accredited training in job-related and technical skills and offers flexible and tailored courses according to demand, location and circumstances.
The School of Primary Industries is comprised of four teams that deliver nationally accredited training across the Northern Territory (NT). The teams within of the School of Primary Industries are as follows: Agriculture and Rural Operations (Top End); Conservation and Land Management (Top End); Horticulture and Aquaculture (Top End); and Primary Industries (Central).
The School also includes Katherine Stud and Farm. These venues service our regional and remote clients and provide enhanced training opportunities for a diverse range of students, communities and industry.
The Agriculture and Rural Operations (Top End) Team provides nationally accredited training in Certificate I to Certificate IV level qualifications and short courses in agriculture. The team is also responsible for the delivery of specialised industry programs including SmartTrain Chemical Accreditation; 4WD Vehicle Recovery; Basic Welding; Tractor Operation; Basic Engine Maintenance; Chainsaw Operation; and ATV Quad Training.
FOR MORE INFORMATION CONTACT
T: (08) 8973 8311
Freecall: 1800 779 577
E: agriculture@cdu.edu.au
W:  http://www.cdu.edu.au/cdu-vet/industry-schools
Postal address:
Charles Darwin University
Katherine Rural Campus
PMB 155, Katherine, NT
Available downloads
Katherine Rural Campus brochure
Agriculture and Rural Operations – Katherine Rural Campus pamphlet
Pre-employment station program 2019
(Click each tab to expand and learn more)
Course Information
AHC20116 Certificate II in Agriculture (6-18 months)

AHC30116 Certificate III in Agriculture (1-2 years)

AHC40116 Certificate IV in Agriculture (1-2 years)

AHC21216 Certificate II in Rural Operations (6-18 months)

AHC32816 Certificate III in Rural Operations (1-2 years)

Course duration depends on competency/experience level and application/motivation of trainee. Recognition of Prior Learning (RPL) is available for all courses.

Workplace traineeships need to be signed up with Australian Apprenticeships for the trainee, by the employer, within 28 days after the trainee commences employment and Charles Darwin University needs to be nominated as the RTO (Registered Training Organisation) to deliver the training. For Workplace assessment/remote delivery students should enrol directly with Charles Darwin University. 

This 10 week training course has been designed to prepare potential employees for living and working on remote cattle stations. Training is based around day-to-day activities carried out on working cattle stations. Students will be involved in fencing, cattle husbandry, horsemanship, mechanical maintenance and vehicle operation.

Students will be enrolled in 9 units from the Nationally Accredited AHC20116 Certificate II in Agriculture qualification. Students will undertake these 9 units at the Katherine Rural Campus and through a 4 week work placement. This is a physically demanding course and students must be fit, active and able to function effectively in a tropical environment.

The industry is seeking people with a strong work ethic, an optimistic approach to life, a desire to continually improve, and who possess integrity and strong moral character. Students must have basic literacy and numeracy skills to read, write and record basic measurements.

Click to view the Pre-employment station program 2019

The full time, residential Agriculture courses available at the Katherine Rural Campus focus on the basic skills and knowledge needed in a beef cattle production workplace and include work experience placements on working Northern Territory cattle stations. While out on these practical placements students experience living and working on an NT cattle property, gain real skills and a greater understanding of the North Australian pastoral industry.

Full accommodation is available on the Campus including meals and laundry. Accommodation is air-conditioned single rooms with shared facilities. Unaccompanied students living on Campus must be a minimum of 16 years of age. Each building has its own Fridge, Microwave, Living Room and Communal Spaces, providing students with a community atmosphere. A Dining Room provides all meals including morning and afternoon tea for any residents who request meals as well as tea, coffee and cold drink stations.

All residents have their laundry and linen washed and dried for them weekly. Recreation The Recreation Room has a flat screen television with DVD facilities. It also features a Pool Table, Table Tennis Table and Dart Board. A computer Lab is available to students, including afterhours access. In addition there is wireless Internet access available in the Library and Computer Room. There is a swimming pool that is available for all residents on site, as well as 2 Multi-Purpose Courts. Full-Time Students living on campus can access a weekly mini-bus trip to Katherine for personal shopping.

Katherine Rural Campus will be running a 6 week residential/internal program to allow students to participate in preparing and showing their stud cattle. It will run from 18/06/2018 to 30/07/2018 and include Katherine and Darwin Shows.

Training is based around day-to-day activities involved in working with stud cattle at the Katherine Rural Campus. Students will be involved in providing livestock feed and water requirements; preparing livestock to competition standards; training livestock for showing, parading and presenting livestock for the Katherine and Darwin shows.

We continue to offer both on-campus and at remote locations our short course, face-to-face training programs for:

4WD Vehicle Operations (and Recovery)
Operate ride-on vehicle (quads)
Operate side-by-side utility vehicles
Welding (Manual metal arc)
Basic Maintenance
SMARTtrain chemicals training
1080 Pest control
Chainsaw operation and maintenance
Operate and maintain outboard motors
Other units of competency as requested

Other short courses periodically delivered at the Katherine Rural Campus by CDU Trades include Forklift, Working at Heights, Elevated Work Platforms, Confined Space Training, Heavy Vehicle Licensing and Automotive Trade Certifications.
Testimonials
"CDU work well alongside us because they are happy to adjust their schedules around our busy program and work in with whatever we are doing on a day to day basis, whether it be in a stock camp overnight, cattle yards or out mustering for the day. We feel it is important to offer our staff the opportunity to be trained through CDU because it is a great way to keep our employees engaged in their job and to give them something they can take with them throughout their career"

– Chris Keane
Trading Operations Manager
Brunette Downs Station – Australian Agricultural Company

"Undertaking workplace training with Charles Darwin University has been a great way for me to gain recognised qualifications in Agriculture while still working on-station. The training has been negotiable to fit around my work schedules, I learnt a lot and the training staff are friendly, helpful and flexible. Having the formal qualifications to go with my practical experience really advances my career opportunities."

-Adam Ballantine
Student & Headstockman
CII Agriculture
CIII Agriculture

"Whilst doing my Certificate II (AHC20110) in Agriculture as a workplace trainee with Charles Darwin University, I have been able to work on cattle stations and the training does not interrupt our job. We get to do some theory which helps us understand more about the industry I work in and why we do certain things in certain ways. The training staff are all very approachable and have been in our position before so they are easy to get along with and understand the long days we do. I also get to select my units with my trainer so that my course is tailored to my duties on stations."

-Victoria Fraser
Student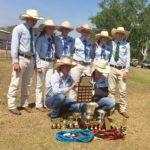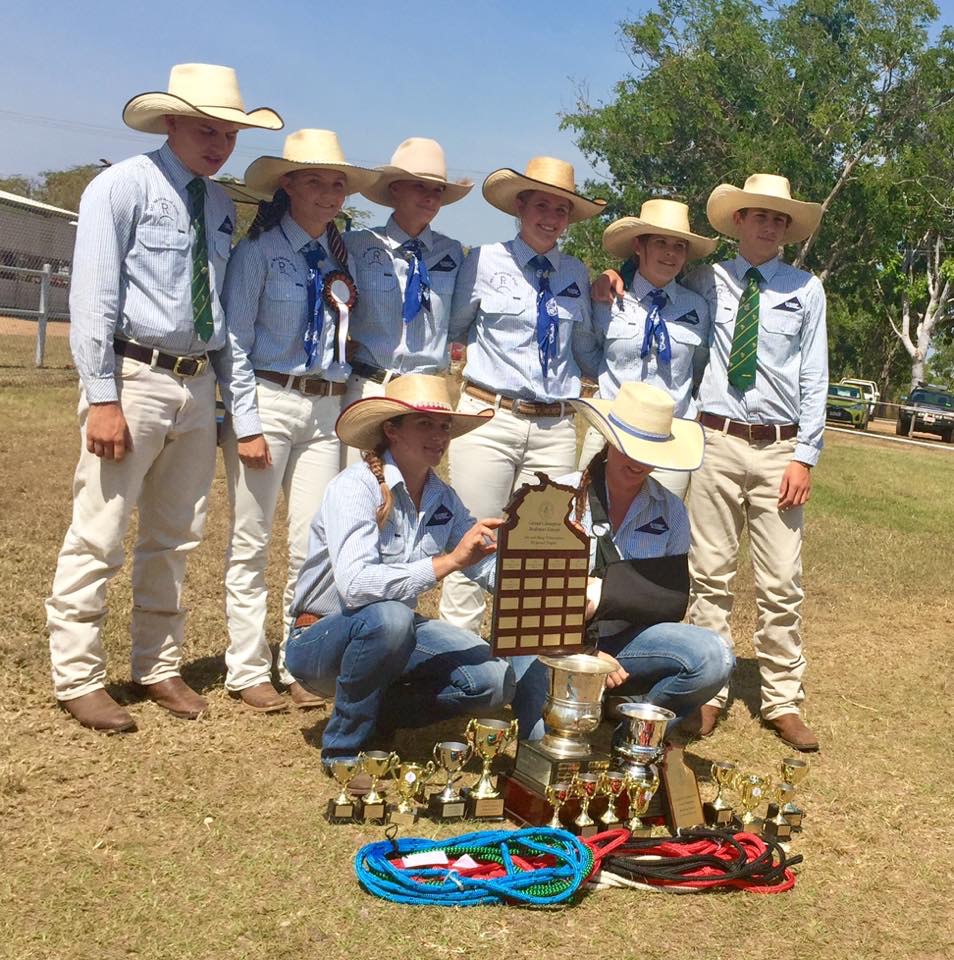 CDU Katherine Rural Campus / 0 comments
The 2019 Katherine show was an extremely successful show. It was attended by Taminmin College, Charles Darwin University, Bunda Station and Stud, DoE Tennant Creek and Alice Springs (with Coodardie Brahmans cattle). With more than 60 head of led cattle, the competition was strong! The steward was Tiffany Baker and Mathew Noakes was the judge. All […]