Host: Legune Station
Managers/ Owners: Privately Owned (Australian owned), Managed by Cameron & Belinda Rasheed
Region: Kimberley Region, Northern Territory
Nearest town for shopping, doctors etc: Kununurra WA, 120kms and across the NT/WA border
Nearest roadhouse: Kununurra
Number of cattle: 30,000 head
Number of staff: Anywhere from 3 staff in the Wet Season to 25 staff in the Dry Season
List of current Staff: Managers (Cameron & Belinda), Overseer (Corey), Bookkeeper (Susan), Governess (Kate), Operators (James, Kim & Will), Cook (Julie), Gardener (Robert), Mechanic (Mick), Bore Runner/Stockcamp (Tom S), Grader Driver (Phil), Stockcamp (Lex, Jonty, Charlie, Max, Tom H, Lachlan)
Size of station: Approx 741,000 acres or 3000 km2 
How often and how the mail is delivered: We have mail delivered/collected via the Katherine Mail Plane every Friday.
How often and how the stores shopping is done: Fresh and dry stores are ordered and collected with a station vehicle every fortnight from Kununurra.
How far off the bitumen you are: 70kms
Over the week we will give you the run-down… a little insight into the remote existence that is Legune Station.
The Team
To begin there are the basics. Similar to most stations we are remote, hardworking and passionate about what we do – if we weren't we wouldn't be out here in the middle of nowhere; we would be in the aircon at Starbucks ordering a large take away trendy mocha frappuccino double soy extra sugar-free latte.
We work beyond the 9-5, and as a close community, we all care for and appreciate the same core goals. Everyone puts in 110% which has allowed Legune to develop into such a well recognised and successful station. We make do with what is available and rely on common sense to survive and grow. This property's beauty more than repays us for the extremes she dishes out!
The Stockcamp are a close-knit bunch
We carry 30,000 head of Brahman cattle, for domestic slaughter and live export. In doing so we are, as a part of a greater industry, sustaining our own people and feeding the world. Similar to many stations around the area we program in 2 rounds of mustering; relying on horses, bikes, helicopters and our dedicated stockcamp to get the job done.
'Yarding up' Bundaberg Yards from the air
As the station compound is 120 kms from Kununurra, the grounds are a well maintained oasis from the heat and harsh landscape that surrounds.
The Social Club deems most popular after 6pm
As an example of the owners and managers innovative approach to developing the pastoral land, later in the week we will show you our 55,000 megalitre private dam and how we have a 'second wet' each year. How we deal with King Tides on our Northern boundary and develop our pastures. This collective appreciation for progressive land management and the live export industry will excite and inspire you over the next few days…
Did I forget to tell you that our Northern Boundary is the Timor Sea? I'll have more on that too.
The Rasheed Clan enjoying sunset by the dam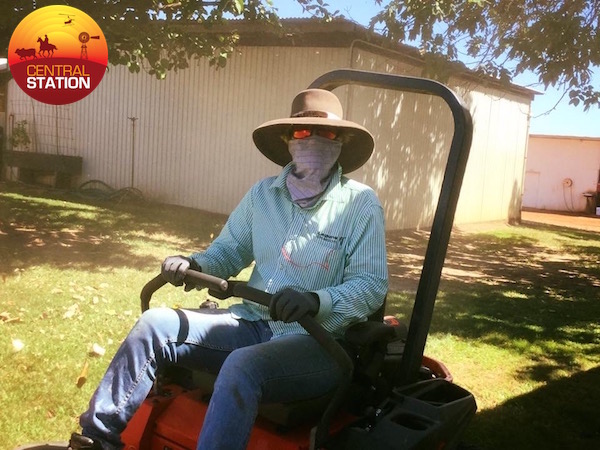 Host: Legune Station Written by Kendra – Governess, Legune Station. Water, water everywhere and not a drop to drink! Well, that is a slight exaggeration. I have been living at Legune station since January 2016 and I have spent most of my year getting systematically soaked on a daily basis for one reason or another. […]
Comments