Note: The information on this page is relevant to the time period of 2014-2015.
Host: Alexandria Station
Managers/ Owners: Manager- Stephen Bryce. Owner- North Australian Pastoral Company (NAPCO)
Region: Barkly Tablelands, Northern Territory
Nearest town for shopping, doctors etc: Main shopping town is Mt Isa, closest town is Camooweal
Nearest roadhouse: Camooweal or the Bart Hut
Number of cattle: 70,000 head depending on season
Number of staff: 55 on Alexandria and its outstations
Size of station: 1,611,800 ha (3,982,844 acres)
How often and how the mail is delivered: Mail service is once a week
How often and how the stores shopping is done: Bulk stores 2-3 months, fresh veges weekly
How far off the bitumen you are: 120km
Alexandria Station is spread over approximately 3.98 millions acres of the Barkly Tablelands in the Northern Territory and is presently known as the second largest cattle station in Australia. Alexandria is the North Australian Pastoral Company's largest and oldest property, the original partners having acquired the lease in 1877. Currently maintaining a composite breeding herd of 55,000 head of cattle, the NAPCO composite breeding program is acknowledged as the largest program of its type in the world.
Alexandria Station is made up of three station complexes; the main homestead Alexandria, which is located on the Playford River, and two outstations; Soudan on the Rankin River and Gallipoli on the eastern side of the property.
Playford River in Flood
Employing over 50 staff between the three places, Alexandria is a hive of activity during the mustering season. Each outstation having a stockcamp of six people, as well as a mustering stock camp and weaner camp at Alexandria. The station has two road trains pulling 6 decks each, that is mainly used to cart weaners to the main cattle yards for processing.
A full time bore mechanic is employed to maintain upkeep of 164 bores, along with 5 full time pumpers, employed to start pumps and clean troughs.  Each year over 6,000 round bales of Mitchell grass is cut and stored on property to feed weaners during the mustering season.
Station Challenge Team Photo
We hope you enjoy reading our blog posts, and learning a little more about Alexandria Station and our staff.
Archives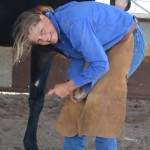 Host: Alexandria Station Written by Stacey Haucke – Head Stockwoman, Alexandria Station. Hello again, Welcome back to Alex everyone. My name is Stacey Haucke, I was asked last year by our manager's partner Narda to write a blog for this website called Central Station . . . "Yeah, okay, but what do you want me […]