Host: Anthony Lagoon Station
Owner: Australian Agricultural Company (AACo), Managers: Anthony and Cassie Cox
Region: Barkly Tablelands, NT
Nearest town for shopping, doctors etc: Tennant Creek, approximately 440kms
Nearest Roadhouse: 235kms south to the Barkly Homestead
Number of staff: 21
Size of station: Anthony Lagoon is run in conjunction with Eva Downs Station and covers 9,349 square kilometres, 934,900 hectares, 2,310,188 acres
How often and how the mail is delivered: Mail is delivered every 2 weeks via the stores and a supplies truck.
How often and how the stores shopping is done: Stores are delivered once a fortnight via roadtrain from Mt Isa (over 700kms away).
How far off the bitumen you are: 9kms off bitumen, along the Barkly Stock Route.
Anthony Lagoon Station is a large cattle breeding operation located on the Barkly Tablelands in the Northern Territory of Australia. It is owned and operated by the Australian Agricultural Company (AACo), who are Australia's largest vertically integrated beef business – that means they take cattle all the way from our cattle to your plates. From breeding to growing, fattening and processing – AACo is working to perfect the most efficient and sustainable way of bringing the best beef to your barbeques! Anthony's is run together with neighbouring station Eva Downs and is managed by a terrific team – in Station Manager Anthony Cox and Operations Manager Nick Handley.
Here at Anthony's we are part of the "Breeding" sector of the AACo supply chain. We run around 25,000 head of our breeding cows, in addition to their calves, weaners and any unjoined heifers, at any one point during the year. We also carry around 12,000 head trade cattle in our Tarrabool Lake country. These cattle are made up of a number of different breeds but are mainly the AACo Barkly Composite a mixture of both Bos indicus (slick skin cattle generally with a hump that survive will in the extreme temperatures of The Territory) and Bos taurus (British and European hairy breeds that are more muscular and have higher quality meat) so we are getting the best of both worlds – tough, fertile, breeding cattle that turn off strong, growthy, muscly weaners!
Some of the crew after a remote first aid course!
Managers Anthony and Cassie Cox.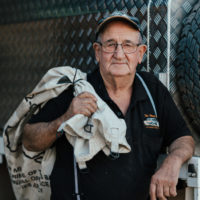 Today is Part 2 of our episode with Peter Rowe, the Outback Postman. Now, if you haven't listened to Part 1 – stop right here and go back to find it – because in addition to being a cracker yarn, it provides a lot of context about how Rowie came to be the man he […]