Host: Becky Klingenberg from BK Trick Riding – Run with Wild Horses
Location: Kidman Spring Research Station, NT
Nearest town: Katherine, NT (340km) and Kununurra WA (350km)
Closest Road House: Timber Creek (100km)
Number of cattle: Changes frequently, approx. 1000 head of research cattle.
Staff: 4 permanent positions
Mail: Every Friday! But classical territory time NT= Not Today Not Tomorrow
How far off the bitumen: We are 80km down the Buchanan Highway which runs off the Victoria Hwy
I started up "BK Trick Riding – Run with the Wild Horses" here in the Top End, a dream I longed for and wasn't quite convinced to compromise in leaving the outback lifestyle for completely.
Working on cattle stations has been my main occupation for the last 7 years and I still to this day thoroughly enjoy it. The job is so big and the range of skills required are never-ending, so you're always consistently learning new things.
My world revolves around my 3 horses and 3 dogs. They have given my life so much purpose and they bring such enjoyment to my day.
Here I have shared with you my story on how I got bring Trick Riding to the NT and live my dreams out in the middle of the bush.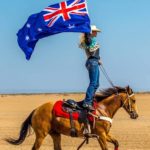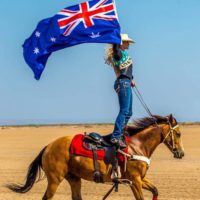 In todays episode, I'm sitting down with Becky Klingenberg – a well known Horse Trainer and Trick Rider in the Northern Territory. Becky is the definition of hustle. As you'll hear in this episode, she doesn't let anything stand in the way of her dreams, including living and working on remote cattle stations. You can […]