Host: Bryce Mooring
Location: Broome
My name is Bryce Mooring and I am co-owner of Broome Cattle Vets.
I have had a lifelong association to the beef industry through involvement as a pastoralist on my family properties in Western New South Wales and Western Queensland and now service the industry as a veterinarian.
My role and the role of our company is to provide veterinary services to beef enterprises in the Kimberley and Pilbara including and not limited to reproductive assessment and management and herd health with the constant goal of working with producers to help improve production levels. Furthermore, I work with exporters throughout Australia to prepare the beef product they have purchased to ensure it fits the criteria of importing countries.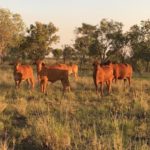 Host: Dr. Bryce Mooring Written by Dr. Bryce Mooring – Co-owner, Broome Cattle Vets. I believe that often management of beef cattle particularly in rangeland situations can be over complicated, hence the title of this blog. The best producers do the simple things very well and consistently year in year out. Obviously, each production system will […]