Host: DAFWA Aboriginal Business Development Project
Location: Western Australia
The Aboriginal Business Development (ABD) project is run by the Department of Agriculture and Food, Western Australia (DAFWA). Aboriginal Business Development, you say? Or is it the Indigenous Landholder Service, or is it Aboriginal Agricultural Management? Yes. We have been around for a long time and have had many names, so much that most people who work for the department don't even know what to call us anymore (including myself).
My name is Daisy Goodwin and I'm one of seven people who work on the project. Others include, project manager, Mark Chimlshjkuhwqa (Chmielewski, yes this is a word and no, we don't know how to pronounce it), Kim Carter (began working on the project the year before I was born = walking ABD encyclopaedia), Kelly Fluggee (a wealth of knowledge of all things Indigenous and South West), Tony Gray (genius and skilled crispy skin salmon chef) along with other lovely people who I have not met yet and thus cannot joke at their expense. The project focuses on indigenous run properties across the state with people working from Broome, Geraldton, Perth, Esperance and Albany. Most of the properties are pastoral however these properties are diversifying and beginning to produce other products such as honey, oranges and native indigenous vegetables.
In Western Australia, there are sixty pastoral leases held by culturally and geographically diverse communities with 40 indigenous managed properties in the northern region. ABD is currently working with six properties in the north and others in the mid-west and south with the help of various partners such as the Northern Beef Futures (NBF) project and the Northern Indigenous Pastoral Enterprises (NIPE). Many of these properties are isolated and have varying skills in relation to animal husbandry, business operation and so forth.  The project aims to build relationships with properties and provide support in the form of business mentoring, training and in-situ skills development.
Our blog posts will shed some light on what we've achieved over the years, the lessons we've learnt along the way and of course, some funny stories (well…. we think we're funny anyway!).
Kim Carter (right) with Beemurra Aboriginal Corporation chairperson, Kevin Barron and farm manager, Lexi Barron.
Lamboo Station manager Robin Yeeda and Haydn Sale, of Yougawalla Services, at Lamboo Station.
Lamboo Station manager Robin Yeeda with Mark Chmielewski, manager of the Department of Agriculture and Food's Indigenous Landholder Service.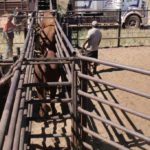 Host: Department of Primary Industries and Regional Development — Aboriginal Business Development Project Written by Daisy Goodwin, Development Officer Yandeyarra Pastoral Station is an Aboriginal reserve in the Pilbara region of WA. In 2006, Yandeyarra requested support from the Department of Primary Industries and Regional Development's 'Pilbara Indigenous Landholder Service' (PILS) — now the Aboriginal […]