Host: Dampier Downs Station
Blog Author: Anne Marie Huey
Region: West Kimberley, Western Australia.
Nearest town for shopping, doctors etc: Broome is 260km away.
Nearest roadhouse: Willare Roadhouse is 125km away.
Number of staff: Up to 3 during the mustering season.
Size of station: 265,000 ha (654,829 acres)
How often and how the mail is delivered: We don't have mail delivery.
How often and how the stores shopping is done: Town runs are conducted as needed.  Shopping is timed to coincide with other reasons to go into town.
How far off the bitumen you are: 110 km
Mike grew up on the property and, apart from stints away at boarding school and university, has spent his life developing the station. I grew up in Queensland and worked my way around Australia and around the world, working in a variety of industries including mining, tourism and hospitality. On my return to Australia I decided it was time to return to my first love – the Australian beef industry.
I spent time working in north west Queensland and the Northern Territory, before arriving in the Kimberley in 2007. According to Mike, we first met on the forecourt of the Roebuck Plains Roadhouse not far from Broome. I have a slightly different recollection of how we met.
I was an enthusiastic Beef Development Officer and had just developed a Grazing Land Management workshop and Mike was the first to sign up. With great excitement I jumped in the car and headed out to Dampier Downs to meet him and discuss various challenges and opportunities for improving grazing management on the station. The first meeting went well (his dog seemed to like me), then I got into the car to drive home. Somehow, I missed the first turn that would have taken me through the horse paddock and on to the road back to town and ended up taking an extended tour of the station. With great embarrassment I had to return to the homestead and ask for directions. I was sure I had blown any chance I'd had to make a good impression, but fortunately Mike never held it against me. I managed to redeem myself enough to be asked on a first date and we have been together ever since.
Today, we live on the station with Mike's father and seven kelpies, six of whom are talented working dogs. The other one, Dougal, is a little less committed to the cause. Let's face it, he spends most of his time in the yards sitting in the trough.
Obviously, we both love this life. We love the freedom of living and working in such a remote part of Australia and we love working with cattle. As an added bonus we spend our lives surrounded by a diverse range of native plants and animals – from the grumpy old goanna that lives under the tank at Pat's Bore to the spinifex pigeons that come into water at the homestead late in the dry season. We even have a soft spot for the black-headed python that took up temporary residence on the welding table in the shed. We are also really proud of the fact that most of the beef we raise will ultimately end up on the plates of some of our poorest neighbours.
We hope you enjoy following the journey of Australian beef!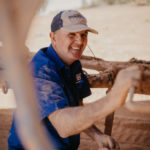 Written by Anne Marie Huey – Dampier Downs Station. We've all heard the old adage "It takes a village to raise a child".  Well, in my opinion, it takes a community to raise a steak. While we've been encouraged to "Thank a farmer" for our next meal, as someone whose job it is to contribute […]