Host: Dr. Campbell Costello
Campbell had a typical bush upbringing on his family's beef cattle stations near Charters Towers, North Queensland. Campbell completed his primary schooling through school-of-the-air Charters Towers before leaving the station for boarding school. After finishing his final two years of secondary school in Brisbane, Campbell returned to his family's stations for a gap year before commencing his Bachelor of Veterinary Science at James Cook University, Townsville. His graduating 2010 class was the first cohort of undergraduate veterinarians that James Cook University had ever produced. Campbell moved to Victoria to work in large animal mixed practice, with a predominant focus on dairy medicine and surgery, with some beef.
In 2012 Campbell successfully rode, and completed, the world's longest horse race, The Mongol Derby. After three years of dairy and beef practice, Campbell decided to join an expedition through the Wakhan Corridor of Afghanistan and then found himself working as a wildlife veterinarian in the North West Provence of South Africa. Campbell spent most of his days darting large South African game from a helicopter. He returned to Australia several months later and has been heavily involved in beef cattle consultancy and beef and dairy cattle live export.
In 2016 he moved to Kazakhstan for several months as the station manager and head veterinarian of a small Angus Beef operation. Campbell returns to Mongolia annually as one of the senior veterinarians for the Mongol Derby and is one of the veterinarians for the Iditarod Dog Sled race in Alaska.
When Campbell is not walking the path-less-travelled, he enjoys returning home to this family's cattle operation to help out and undertake the veterinary work. Campbell finds his job rewarding when he is able to make small or large business more efficient, sustainable, and diverse and loves travelling to weird and wonderful destinations around the globe.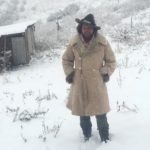 Host: Dr Campbell Costello This is the final instalment in a 5 part series written about Dr. Campbell Costello's time managing and developing a cattle station in Kazakhstan.  I returned to Kazakhstan and spent my Twenty-ninth birthday in the Alps vaccinating cattle, and fractured my arm. On the plus side I got to spend the weekend in […]