Host: Eversleigh Station
Owners: Roger and Jenny Underwood
Region: Central Western Queensland
Nearest town for shopping, doctors etc: Hughenden 100km to the north on blacksoil road. It has a doctor, hospital, two small supermarkets, a bakery, a chemist, hairdresser, two primary schools and a high school, two pubs and an airport for light planes; Longreach is 225km to our south and it has many facilities including a daily plane service to Brisbane. Our major city centre is Townsville 475km to the northeast.
Nearest roadhouse: Hughenden has two roadhouses (100km away)
Number of cattle: In a good season we would normally run approximately 1800 breeders. The drought over the last three years has seriously curtailed our numbers by well over half.
Number of staff: My husband and I run both Eversleigh and Aireworth and we have a caretaker/manager on Pine Hills. We have no staff on our properties and employ casual labour or contractors for mustering, yard building and fencing etc.
Size of station: We live on Eversleigh (17500 ha) and also own Aireworth (approx 6475 ha and 85km northwest of our home). In June 2014 we purchased an additional property "Pine Hills" (4450 ha) 40km north of Wallumbilla (east of Roma).
How often and how the mail is delivered: Mail is delivered twice weekly by road right to our house
How often and how the stores shopping is done: Fuel is delivered in bulk to the station. Mail is delivered twice weekly by road right to our house; the mailman also carries freight which lessens our need to go to town very often. As a rule we might go to Hughenden about once a month. We have a large coldroom which stores most of our food and a large pantry which stores our non-perishables.
How far off the bitumen you are: Whichever direction we travel it is about 100km to our nearest bitumen road and mobile telephone service. We have NBN satellite internet and we are connected to the electricity grid. Our telephone is a landline which uses a radio microwave tower transmitting to a string of larger towers which eventually feed into the main Townsville/Mt Isa communications line.
Our nearest neighbours are about 13km away.
During a "proper" wet season we could go for days or weeks without leaving the property due to boggy roads.
Website: www.eversleighdroughtmasters.com
My name is Jenny Underwood and along with my husband, Roger, I live on Eversleigh Station which is 100km south of Hughenden and 220km north of Longreach, very close to the geographical centre of Queensland.  Altogether we own approximately 24 000ha (59,000ac) – "Eversleigh" is our main property with an additional block, "Aireworth" about 80km north-west of here.
We breed Droughtmaster beef cattle and until 2003 we also ran sheep.  Alongside our commercial cattle operation we also run two Droughtmaster stud herds – Eversleigh which was formed in 2004 and Wallace Vale, a foundation Droughtmaster stud, which we purchased in 2009.
Roger and I both have three generations of experience in our respective occupational backgrounds.  Roger is a "born and bred" local grazier.  I came to the Hughenden district in 1993 as a teacher following in the footsteps of my father and grandfather as a Principal of one-teacher schools throughout Queensland.  The last thing I expected in my late 30s was to have a complete career change but in 1998 the unexpected did happen; I left teaching and became a grazier.  It is a decision I have never regretted.
Although I had grown up in country areas I had had no experience whatsoever in the livestock industry until I moved to Eversleigh.
I am very passionate about the cattle industry, the animals that we raise and the land upon which we live.  Since moving here I have come to appreciate the beauty as well as the challenges of our environment; I have come to respect the men and women on the land as well as the pioneers who opened up this country to grazing over a century and a half ago.  We are privileged to be working in an industry that we love.
This week I would like you to "take a walk in my shoes" with me and experience some of my daily life on our cattle station through my eyes and through the lens of my camera.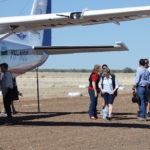 Host: Eversleigh Station Written by Jenny Underwood – Owner, Eversleigh Station. A Royal Flying Doctor Service plane coming in to land. The Royal Flying Doctor Service (or "The Flying Doctor" as it is more commonly known) would have to be among one of the most well known symbols of the Australian Bush. The Reverend John Flynn, founder […]