Host: Raine Farrcombe
Location: Northern Territory
Farrcombe Contracting – 'You Send Em', We'll Bend Em''.
My husband (Potter) and I (Raine) and our crew specialise in contract mustering throughout the top end. We travel as far south as the SA border, north to Katherine and as far west as Kunnunurra. As you can imagine, this means our job never becomes boring.
Our crew ranges from 4-9 people depending on the jobs available. We specialise in mustering and weaner education. Our plant consists of a gooseneck , truck, camp van, 2 trailers, 4WD vehicles, bullcatcher, motorbikes, horses and 14 dogs!
Sunset at Argyle Downs
As we come across many different people and various breeds of cattle, we must be very adaptable to what suits the job at hand. Cattle need to be read differently, as do certain people (owners/managers, staff). This adds a certain degree of difficulty but if it wasn't challenging then it wouldn't be worth doing. The appeal is travelling and meeting all these new people, seeing new places and learning new skills.
We believe that social skills are just as important, so when time permits we like to spend our time with people who share the same interests. Our social lives mainly consist of campdrafts and rodeos as both Potter and myself are avid campdraft enthusiasts. Many of our crew members often like to try their luck at the rodeo's.
Potter Campdrafting at Daly Waters
Raine Campdrafting
Our gypsy lifestyle may not be ideal to some, but its suits us just fine.
We are glad to be a part of Central Station this week and hope that you enjoy our story.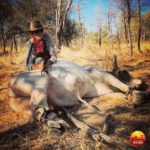 Host: Farrcombe Contracting Written by Raine Pugh I am going to take this opportunity to bother you all about the serious nature of skin cancer. I am a fair skinned, freckle faced, red headed individual who wears jeans, long sleeves, bandanas and sunscreen quite religiously. I have always been warned to have skin checks to […]