Host: Gallipoli Station
Owner: North Australian Pastoral Company (NAPCO), Manager- Stephen Bryce
Region: Barkly Tablelands, NT
Nearest town for shopping, doctors etc: Mount Isa
Nearest Roadhouse: 96kms south to Camooweal
Number of cattle: Holding capacity is 20,000 head approximately (varies with seasons)
Number of staff: 13
Size of station: 403,000 hectares, 995,834 acres
How often and how the mail is delivered: Mail is delivered once a week via company plane
How often and how the stores shopping is done: Dry store orders every 3 months, fresh fruit and veg and bread, delivered once a week via company plane
How far off the bitumen you are: 96kms of unsealed, inaccessible in the wet
Gallipoli Station is an Outstation of Alexandria Station. Alexandria is the North Australian Pastoral Company's largest and oldest property and is spread over approximately 3.98 million acres of the Barkly Tablelands in the Northern Territory. Gallipoli Station is currently carrying approximately 15,000 head of breeders.
In addition to the Overseer and his family, there are 10 employees currently at Gallipoli Station. This includes 6 in the stock camp, two pumpers, a grader driver and a cook.
Thanks for having us host for the week. I hope you enjoy our blogs.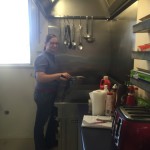 Host: Gallipoli Station Written by Kylie – Station Cook, Gallipoli. Hi Everyone, I'm Kylie. I've been the cook here at Gallipoli for the last two and a half months. Here is just a little about my background . . . I grew up in the outer western suburbs of Brisbane, with my parents and three […]