Host: Glenflorrie Station
Managers/Owners: Peter, Susan, Murray & Aticia Grey – Glenflorrie Brahmans
Region: South West Pilbara, WA
Nearest town for shopping, doctors etc: Main shopping towns are Carnarvon or Karratha (5 hours away), closest town is Onslow (2 ½ hours away)
Nearest Roadhouse: Nanutarra
Number of cattle: approx. 4,000
Number of staff: Up to 4, does vary depending on the time of year
Size of station: 197,000 hectares
How often and how the mail is delivered: Once a week via mail truck from Carnarvon
How often and how the stores shopping is done:  We do a main stores run from Perth, buying flour, rice, milk powder etc., in bulk.  We top up with fresh stores via the mail run & visitors/stock truck/anyone else passing through every few weeks.
Fateful words…"anything you need us to grab?"
How far off the bitumen you are: 88 kms
Website: www.missgreyphotography.com.au
Facebook: Miss Grey Photography
Located near Parabardoo, Glenflorrie Station is owned & run by the Grey family (Peter, Susan, Murray, Adele & Aticia), running 2,500 of mostly Brahman breeders on 475,000 acres of rocky hills & spinifex flats with some washes with buffel grass scattered through.
Murray, Adele, Peter, Aticia, Susan
Our mustering season stretches from May through to late September, with our crew being made up of 2 – 3 employees and family & friends who come up throughout the year to help out.  With only two sets of permanent yards on the property, carting panels & setting up portable yards for each muster stretches our season out so we only get one lap done.  Horses, motorbikes, bull buggies, choppers & working dogs are all part of our mustering ensemble.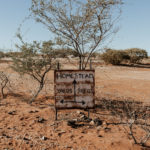 Written by Stephanie Coombes  – editor It's often the most simple things in our day that we take for granted – hot water at the turn of a tap, wifi that loads a YouTube video almost instantly, a quick trip to Woolies to satisfy that craving, and a short walk down the driveway to collect […]