Host: Glenormiston Station
Managers/Owners : Manager – Ryan Gurney.  Owners – North Australian Pastoral Company (NAPCO)
Region: Channel Country West of Boulia, Queensland
Nearest Town for Shopping, Doctors etc: Boulia for groceries (~130km), and RFDS Doctors who fly in once a week, main shopping town is Mt Isa.
Nearest Road House: Boulia or Tobemorey Station
Number of Cattle: 12,000 head in a good season
Number of Staff: 12
Size of Station: 692,000 Hectares (1.7 million acres), 159,128 Hectares of which is nature reserve aimed at preserving natural native Flora and Fauna.
How often & how the mail arrives: Our mail is delivered by car twice a week Wednesdays and Saturdays.
How often and how the stores shopping is done: We are lucky enough to have our fresh groceries delivered once a week in the mail. We work on getting other stores around every 6 weeks or so these are available to us both in Boulia and Mt Isa depending on who goes to town, which one and when.
How far off the Main Highway you are: Our homestead is located about 5kms off the Donahue Highway 130km West of Boulia
 Left to right top: Andrew Harper, Nigel Binks, lyn Templeton, Jess Coster, Mitchell Carter, Briar Stocker, Gretta Allen
Left to right bottom: Lachlan McPhie, Alison McElroy, Kaitlyn Powne, Becki Carr, Ryan, Gracie, Emma & Nicky Gurney
Glenormiston was acquired in 1968 and is positioned at the top end of the Channel Country. The property shares boundaries with NAPCO property Marion Downs. The homestead is situated on the banks of Lake Idamea which is filled by Pituri Creek. The mighty Georgina River flows through the north eastern part of the property on its way south.
The property has a variety of country from the Toko ranges on the western side through to the flood-out areas in the east. The property usually has a staff of ten during the season, and mustering is carried out with the assistance of an aircraft to spot cattle. The ground team use a combination of horses and motorbikes.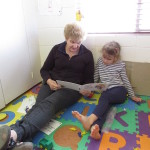 Host: Glenormiston Station Written by Lynette Templeton – Governess, Glenormiston. I would like to introduce Lynette Templeton our Governess, this may be Lyn's first year as a Govy but she has taken to it like a fish to water despite the challenges of working with a curriculum so different to what most people have grown […]