Host: Jillian Kelly
Location: New South Wales
Hi,
I'm Jillian Kelly, writing as "Miss Vet" based at Coonamble in central west NSW.  I am a large animal veterinarian working with sheep and beef cattle producers to improve their on farm biosecurity, welfare, productivity and therefore profitability!
I've always had an interest in the bush and in primary production, and after studying and travelling in lots of different spots both in Australia and overseas, I've settled back home in Coonamble, the place where I grew up.  My little piece of paradise.
My job is great – I get to see something different every day, and I come home at the end of each day with plenty of good stories!
In my spare time, I enjoy painting, campdrafting and running my own small farm.
I hope you enjoy my blogs on Central Station – I hope it gives you an insight into living and working in a rural area and what a fantastic and fulfilling career veterinary science can be!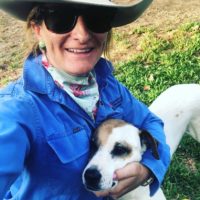 Dr Jillian Kelly is the District Vet in Coonamble, New South Wales. You know the show CSI – Crime Scene Investigation? Well, Jill is basically a detective for diseases in farm animals. She discovered the first case of Ichthyosis fetails, or Fish Scale Disease, in Australia! Jill is also the founder of the "Drought Smoko", and has […]