Host:  Lisa Wood
Company:  PT. Agro Giri Perkasa (AGP)
Business:  Importer of Cattle to Indonesia
Location: Indonesia
My Role:  Traceability Manager
Short bit about myself:  I came to Indonesia as a traceability officer on a steel fabrication project for a WA mining project.  While I was working on this project The Ban occurred.  I remember feeling very angry with the Australian government about the way it was handled.  When that contract finished, I had 1 month left on my visa, so decided to travel around Indonesia a bit.  During that time, I was asked if I would like to work for an Indonesian cattle importer.  As I liked the idea of helping the Indonesians meet the new ESCAS requirements, I decided to stay.
Our Company:  Is better described as 3 companies – AGP is the importing and marketing arm for South Sumatra; GPDA is the importing and marketing arm for North Sumatra and JJAA are our cattle care experts.
AGP was founded in 2002, by Dicky Adiwoso and Greg Pankhurst.  GPDA was founded in 2005.  JJAA was founded in 2000 and is a joint venture company – 50% owned by the Consolidated Pastoral Company and 50% owned by AGP and GPDA.
We have a vision of providing quality beef to meet the needs of the people of Indonesia, by importing, fattening and breeding cattle.
We import Brahman cross cattle to be fattened at our 2 JJAA feedlots, located on the island of Sumatra.  We have 1 feedlot in Medan and 1 in Bandar Lampung.  The cows are fattened for ± 120 days until they reach saleable weigh of ± 500 kg per head.
Brahman Cross is the best type of cattle for the tropics. They are able to tolerate the temperatures and have a relatively rapid growth with a high percentage of meat and low fat content.
Due to the increased awareness of the nutritional value of beef along with improvements to the general standard of living, Indonesia's need for fresh, quality beef has increased rapidly in recent years.  The ability to provide enough beef to meet the need is still a long way off.
 We are involved in a number of other agricultural projects:
Way Laga Palm Oil Plantation Breeding Program

The Cattle Breeding Partnership Program with local farm groups

Plantation crops such as:

Dragon Fruit
Elephant Grass
Corn
Bananas
Coconut
Cassava
Pepper
Teak Trees

A fishery project – catfish (an Indonesian staple)

Our own brand of organic compost ABDI NATURAL
As Indonesia has a strong belief in Corporate Social Responsibility, we also have our Corporate Social Responsibility activities:
Anti-Parasite Drug Paramectin RV free to cattle ranchers around the company to improve cow health

Construction of Masjid Abu Bakr in PT JJAA

Learning Program places children at Masjid Abu Bakr PT JJAA

Development of infrastructure in Sidomulyo Village

Program scholarship assistance for local children

Program providing groceries to seniors and surrounding communities
I look forward to sharing our story with you, and if you have any questions, please make sure to ask them.
Cheers,
Lisa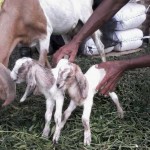 Host: Lisa Wood/ AGP Indonesia Written by Lisa Wood – Traceability Officer, AGP. All the things I've been reading over the past year about 'investing in agriculture' began to rub off on me. I'm a great believer in if you want something to change, you have to get involved: Be the Change you want to […]