Host: Mount Sarah Station
Managers/Owners: Managers – Cameron and Kirsty Williams. Owner: Williams Cattle Company
Region: Far North, South Australia
Nearest town for shopping, doctors etc: Adelaide – 1120km, Alice Springs – 650km, Coober Pedy – 280km (Grocery shopping), Oodnadatta – 80km (RFDS flies in fortnightly for a clinic)
Nearest Roadhouse: Oodnadatta – home of the famous "Pink Roadhouse"
Number of Cattle: 3000 head
Number of Staff: Cam and myself as well as 3 others full-time – Depending on what is happening at the time e.g. mustering, we share staff with the other properties within the company
Size of station: 617764 acres – 250000ha
How often and how the mail is delivered: Twice a week to our door via road (weather permitting)
How often and how the stores shopping is done: Food can be ordered weekly from Coober Pedy and sent out on the mail run but it is unrefrigerated so you have to order according to the forecast!
Large stores ordered come from Adelaide and are delivered via a freight company that comes to Oodnadatta once a week.
How far off the bitumen you are: 280km
George, Cam, Lucy, myself and Jack.
Mount Sarah is located 80km North of Oodnadatta on the edge of the Simpson Desert, smack bang in the middle of Australia! It gets bloody hot in summer with weeks of over 40 degrees but winters are something to brag about.
The land consists of low lying sand hills, gibber stone flats as well as excellent flood out country during good seasons. The Oodnadatta country is known to be harsh at times, but rain at any time of the year produces short, sweet feed.
Mount Sarah.
Cam and I moved to Mount Sarah in 2012 where prior Cam was working on one of the other family places and I was teaching. 5 ½ years and 3 kids later, with a mountain of experiences and stories to tell,  many that make you laugh, some that make you cry and others that you just have to shake your head at, it has been one heck of a ride.
Flood out after a big rain!
Having both grown up with a rural background, we couldn't have wished for a better place to bring up the kids. One day is never the same as another. The work is at times relentless where it's not all McLeod's Daughters of fixing fences and riding off into the sunset.  But what it is, is so much more than just a job, it is a damn good lifestyle!
Cam with his first love!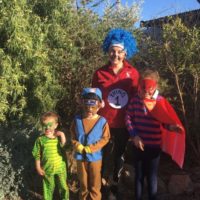 Written by Maddie Johnston, Governess –  Mount Sarah Station My name is Maddie and I'm the luckiest govie alive to have a job on Mount Sarah Station with Kirsty and Cameron Williams. I supervise two of the four children with their schooling through Port Augusta School of the Air (SOTA) with their classroom teachers located […]