Location: Kimberley Region, Western Australia
Managers/ Owners: Chris & Pam Daniell (Managers)/Indigenous Land Corporation (owners)
Region: West Kimberley, Western Australia
Nearest town for shopping, doctors etc: One & a half hours drive to Derby in dry season. At least 3 and a half hours when we cannot cross the Fitzroy River (Christmas through to easter usually).
Nearest roadhouse: Willare Roadhouse is about 120km away.
Number of cattle: Approximately 24,000
Number of staff: About 15 staff + up to 10 Indigenous Trainees
Size of station: 401,944 ha
How often and how the mail is delivered: Mail Plane comes twice every 3 weeks.
How often and how the stores shopping is done: We can meet a freight truck at Looma Aboriginal Community (only 25km away) and collect stores coming from Broome either weekly or fortnightly during the dry season. Wet season stores come in monthly by whatever means possible (helicopter or drive to Broome).
How far off the bitumen you are: 50km to the bitumen when we can cross the Fitzroy River, otherwise 180km to bitumen if we have to go around it.
Owned by the Indigenous Land Corporation, Myroodah Station is an area of 401,944 hectares in the north-west of Western Australia. Myroodah runs south of the Fitzroy River all the way to the Great Sandy Desert. It is a unique and diverse piece of outback landscape boasting soft river black soil country through to red sand hills and Spinifex.
During the dry season our staff numbers swell to around 20, and over the quieter wet season they reduce to about 5. In 2013 Myroodah employs only two non-indigenous staff so we have the added benefit of people with a rich history and culture on the land, many of those have generations of connection to the Kimberley Region where we live.
My husband, Chris Daniell, is the Manager of Myroodah and with our two young sons (Will & Sam) we have made this our home for the past two years. Our attraction to Myroodah was the opportunity to continue our lives in the bush working with cattle (the business we love) but also as Chris is part aboriginal, it was the wonderful opportunity to help other indigenous people become involved in this industry and be part of helping to provide good futures.
Our business is running around 23,000 head of predominantly Brahman or Brahman cross beef cattle. Our main market is Live Export on boats out of Broome. This operation keeps us very busy from about Easter each year through until Christmas, by which time we are watching the skies for rain again.
Our other main focus here is training Aboriginal stockman. We source indigenous people who would like to learn the skills required to work in the cattle industry. Those who prove enthusiastic to learn are invited to stay on for a year to undertake a Certificate 2 in Agriculture and then go on to further employment in the industry.
Working in the bush where you can watch the sun rise and set on the horizon every day, away from the hustle and bustle of town and cities certainly is a special way to bring up a family. We love what we do and are proud of the industry we work in. We are very grateful for the experience of working with some wonderful indigenous people that help form our team – that is Myroodah Station. Hopefully one day we can look back on achievements made by aboriginal people in the northern cattle industry and know we had some part in that success.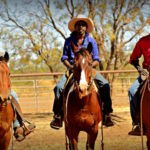 Host: Myroodah Station Written by Pam Daniell – Manager, Myroodah Station. There's been a well-worn track forged between Myroodah Station and the local community of Looma's Health Clinic over the years. Many of our staff have visited the clinic for varying forms of treatment at one stage or another. It is a professional team of nurses […]