Location: Kimberley Region, WA
Courtney Family
Nerrima Station covers approximately 203,000 hectares and runs about 14,000 head, which are predominately Brangus (red Brahman-Angus cross). Nerrima's southern border is the Great Sandy Desert, Kalyeeda Station to the east, Myroodah Station to the North and west. Owned by Perth based Milne AgriGroup Pty Ltd for approximately 22 years now, Nerrima and Liveringa Stations are both part of one of Western Australia's largest integrated agribusiness group that also consists of major business operations. These include being WA's biggest Poultry producers, as well as significant Turkey, Pork and Stock Feed producers, Milne feeds.
Accessing Nerrima is straight forward during the dry, just a couple of hours from Derby,  once the Wet kicks in and the Fitzroy  river flows in massive volumes an alternative route via the Gee Gully must be taken. A number of eventful trips are made over the wet, from dodging cattle everywhere, blowing out tires, getting bogged, no different to any other stations that time of year who have rivers or creeks to pass, one is more than happy to experience a big, wet but then also a relief to see the river drop in April/ May usually.
Getting into Derby, only option was to fly at this stage of the wet…girls and mum didn't mind, however not a cheap way to travel unfortunately!
Mick, Sal and their children have been at Nerrima for three years now, during the mustering season there are also six members of the stock camp, a bore man, grader driver and a cook. Over the wet some staff stay on to run bores and undergo general maintenance and improvements around the station.
Mick and Sal will start the week by introducing themselves followed by our staff. You will hear all  about our reasonably hectic social calendar that is squeezed amongst our work schedule, our dedicated emphasis on coach mustering, horsemanship, Low Stress Stock handling and animal welfare. There have been some major upgrades to Nerrima over the past few years, including new yards, stables, fence lines, number of bores, dams and staff accommodation and amenities, all of which you will hear about during the week.
With limited time as we are now into the second round of mustering, it has been a combined effort writing these blogs between Mick, Sally and Kay (our English stationhand).  We hope you enjoy reading about Nerrima Station and the people who call this place home!
Mick and I at the entertaining Derby Picnic Races
Girls in our backyard feeding our horse
Girls fishing at snake creek
Grace & Lilly with their poddy
Quick dip in the Gee Gully Creek on the way home
Grace & friend Molly at Snake Creek,…'anywhere is a good place to read'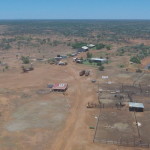 Host: Nerrima Station Written by Sally Courtney – Manager, Nerrima Station. Nerrima Station ain't no Hilton, but it is a home! From the air taken in the dry season – Homestead, the workshop, the quarters, dam, the yards, and the old stables! From March to October, Nerrima is home to six members of the stock […]