Host: Department of Agriculture and Food, Western Australia (DAFWA) – Northern Beef Futures project, funded by the State Government's Royalties for Regions program
DAFWA's Northern Beef Futures is a five year $15 million project working with the WA industry to develop new markets and integrated supply chains for WA beef and live cattle.  This includes stimulating priority infrastructure development to cater for the future growth needs of the northern beef industry and investigating whether the intensification of fodder production with improved forage species and irrigation can create more value for beef producers.
Region: Kimberley and Pilbara regions, Western Australia
Number of staff: about 15
Our teams are based in Broome at the Northern Beef Development Centre and also at other locations throughout the state including Bunbury, Moora, Waroona and South Perth. We also have agribusiness and food development managers assisting the project based in Indonesia and China.
DAFWA Northern Beef Futures Project Manager Mark Ritchie
G'day, I'm Mark Ritchie and have been the Project Manager for the Northern Beef Futures since January 2017.  I initially commenced with the Department of Agriculture and Food as a Senior Policy Officer for the Grains & Livestock Directorate, and previously worked for Regional Development Australia – Riverina as their CEO. I have a long association with the beef and livestock industry growing up in western NSW on a sheep property and having worked for the Cattle Council of Australia in Canberra, the North Australian Pastoral Company across the channel country and gulf in Queensland and the Barkly Tableland in the NT and within the feedlot industry. I'm looking forward to building on the good work already done and continuing to forge relationships with business and industry partners across the Pilbara and Kimberley to enable the northern beef industry to grow through improved supply chains and market diversity.
DAFWA Northern Beef Futures Broome Manager Trevor Price
Hi, I'm Trevor and I am the Productivity and Profitability manager for the Northern Beef Futures project. I am based at the Northern Beef Development Centre in Broome.  I have a good understanding of cattle enterprises from all perspectives having initially attended a rural college, worked on cattle stations in the Northern Territory and, more recently, established my own cattle stud in New South Wales. I've met quite a few pastoralists in the area already from my previous travels as a seed stock producer and prior to that I spent 26 years in the military as a soldier and officer working in management and engineering which complements my animal science background.
DAFWA Northern Beef Futures Development Officer Kevin Bell
Hi, I am Kevin and I have lived in Broome for the last eight years where my wife and I (after visiting for decades) now really live, breathe and sweat the Kimberley lifestyle! I like to think of myself as a 'scientist in the bush', taking livestock producers' real, economic problems to the scientific community and keeping the latter engaged with reality in their research. I get satisfaction from working with livestock managers and their families, together engaging with anything to make production from grazing ruminant animals more profitable, enjoyable and sustainable.
DAFWA Northern Beef Futures Development Officer Mariah Maughan
Hello I'm Mariah Maughan. I'm originally from the small town of Harvey in the south west of WA. After finishing school I moved to the Kimberley to work as a ringer on Liveringa Station where my passion for the northern beef industry began. Afterwards I went on to complete my Animal Science and Animal Health Degree at Murdoch University in Perth.  I have just commenced as Development Officer, working on the Northern Beef Futures project in Broome and am excited about contributing to the growing industry in northern Australia.
For more information visit the Northern Beef Futures webpage on the DAFWA website or email nbf@agric.wa.gov.au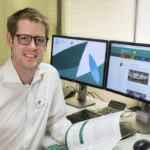 Host: Northern Beef Futures Written by Sam Nevill – Market Analyst, Northern Beef Futures Project. Sam Nevill. My name is Sam Nevill and I'm a Market Analyst for the Department of Agriculture and Food's Northern Beef Futures (NBF) project.  My role is similar to Roger's (see his blog from earlier this week) except Roger is focused […]