Host: Soudan Station (Outstation of Alexandria Station)
Managers/ Owners:
Owner- North Australian Pastoral Company (NAPCO)
Manager- Stephen Bryce
Overseer- Shane Ferriday
Region: Barkly Tablelands, NT
Nearest town for doctors, shopping etc: Mt Isa (300 km)
Nearest roadhouse: Camooweal Roadhouse (110 km)
Number of cattle: 10,500 head
Number of staff: 13
Size of station: 1.3 million acres
How often and how the mail is delivered: We get our mail once per week via a mail plane
How often and how the stores shopping is done: We are very fortunate to get fresh fruit, vegetables and bread on the mail plane weekly, whereas, we order dry stores once every two months and this is delivered to our door via transport.
How far off the bitumen you are: We are located approximately 100m off the bitumen, yes 100m; probably the closest property homestead to the bitumen!
The Ferriday Family
'Soudan Station' is one of two outstation to Alexandria; the largest and oldest property owned by NAPCO, purchased in 1877. 'Soudan' is situated on the Rankin River, approximately 120km west of Camooweal. We employ 13 staff; 6 people in the stock camp, 2 bore runners, 1 grader driver, 1 cook, 1 governess, plus Shane, Overseer and myself, Station Services Co-Ordinator.
Living right on the Barkly Highway gives us the feeling that we are really not that isolated; the Greyhound Bus travels past 4 times a week and we get mail once every week; what more can you ask for? Like most other properties in Northern Australia, we live on rural power; which means we get all our power from a very large generator. There are advantages and disadvantages, the most obvious advantage is we never run out of power (except when the generator decides to 'pack-it-in', but fortunately we have a back-up generator for those situations) and the most obvious disadvantage is the noise, but you get use to it pretty quickly!
The housing complex on 'Soudan' is quite compact, but with a beautiful river right at the doorstep there is plenty of opportunity to take break from the closeness of working and living together! We have a wonderful group of people working with us at 'Soudan'; we all share a very special bond and will forever remember our time at 'Soudan'.
Barkly Sunrise
Rankin River – great fishing & swimming
Archives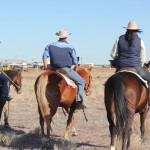 Host: Soudan Station Written by Sarah Ferriday – Overseer, Soudan Station. Living in a relatively isolated area, social occasions are few and far between, so when an opportunity arises to get together, that's what we do! Over the Anzac long weekend 'Soudan' entered a cricket team in the Camooweal Commemorative Cricket Weekend. Teams were entered […]