Host: Southampton
Managers/ Owners: John & Queenie Kilpatrick and Kylie Savidge.
Region: South West Queensland, Maranoa Warrego, Roma Regional Shire.
Nearest town for shopping, doctors etc: St George, 110 km.
Nearest roadhouse: St George
Number of cattle: 700 breeding head in a normal season, currently only 500 breeding cows.
Number of staff: 3 permanent and the kids when home on holidays plus the occasional backpacker.
Size of station: 11,000 hectares
How often and how the mail is delivered: Mondays and Thursdays, weekly.
How often and how the stores shopping is done: Fortnightly, by phone order and collection.
How far off the bitumen you are: 60 km
Hello, my name is Kylie Savidge and I live in SW Qld on our family property.
Southampton is a small, family run beef cattle property 110 ks NW of St George in SW Qld. We have 11,000 hectares of open red box country interspersed with sand ridges and rough mulga country. Southampton has been in my family since it was drawn at ballot in 1923.
We run a beef cattle herd comprising of Santa/Hereford cows and either Santa or Hereford bulls. Our carrying capacity is around the 600 breeder mark. We aim to turn off feeder steers for the feedlot market and also weaner cattle for the domestic market. We sell off our cull heifers to feedlots or through the Roma saleyards, and we breed our own replacement heifers.
When I came home from school I introduced Black Angus bulls to some of our herd as well as some commercial Brahman breeders to throw in some hybrid vigour. Over the years we have introduced Shorthorn and Droughmaster bulls with the resulting calves being a good, solid line of weaners and replacement heifers have been kept to further invigorate our bloodline. We still rotate Santa Gertrudis and Hereford bulls through our breeders to maintain our original cross of predominantly Santa Hereford cows. We will be also introducing some Black Angus bulls for a terminal line of calves. (This means that none of the resulting calves will be kept as replacements, but sold as weaners straight into the saleyards to generate income)
I am splitting my time between school and Southampton, living part time in St George, Mon-Fri with school holidays and weekends spent out bush. My parents, John & Queenie along with my partner TJ are living there full time. TJ also works away contract mustering when the work is available.
Jack is in his second last year of boarding school. Ben has just entered his first year of boarding school and Meghan has 18 months left of primary school. This means I have 18 months left of Mon – Fri in town with school (yay). My weekend travel is a 220km round trip and I am quite looking forward to not having to do that anymore. I keep busy when I am in town with bookwork and planning for the work and mustering that is required to keep us up and running throughout the year.
The past few years have been very tough but our current season is starting to look up and into the positive, hopefully we are coming out of the drought that has had us with our backs to the wall. We are starting to add to our current stock numbers and hope to get back to full running capacity in the not to distant future.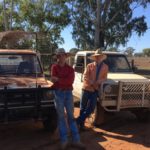 Host: Southampton Written by – Kylie Savidge, Owner, Southampton Station. The bang tail muster of Easter 2017 has come and gone, with weaning taking place earlier than normal due to our season turning dry again. There has been no rain of any significance since Sept 2016. This has led to minimal grass growth and cows […]