Host: Wooroona Grazing Co.
Region: Central Highlands, Queensland
Nearest town: Rockhampton/Emerald – both 2 hours in opposite directions
Nearest (and recommended) roadhouse: Duaringa – highly rate the toasted steak sandwiches
Number of cattle: combined carry average across 3 properties is 4000
Number of staff: 3-4
Size of station: The home station is 30,000 acres (12,500 Hectares)
How often and how the mail is delivered: Twice a week, by a mail run car
How often and how the stores shopping is done: Once every two weeks and by going to town and buying bulk.
Blog: https://graziher.wordpress.com
Website: https://www.graziher.com.au
Facebook: https://www.facebook.com/graziher/
Instagram: https://www.instagram.com/graziher/
Hello from "Wooroona", a cattle property in the Central Highlands of Queensland. Wooroona is a generational cattle property that has been in the Dunne family a touch over 100 years. James O'Grady Dunne purchased it from the Livingston family in 1907 and it has carried down through the generations and here we are today. Six generations later it is a thriving 12,500 hectare property, home to Tim and Kath Dunne and their six children Erin, Claire, Colleen, Kathleen, Patrick and Bill.
Watching grass grow.
Grandad – James 'Bill' Dunne, astride a horse outside the second Wooroona homestead (the original burnt down), circa 1930s.
Afternoon tea in the early days of the Dunne family settling Wooroona. Possibly more civilised then than now.
Our family, standing on the grid before the homestead at Woooroona. Taken in 2014 at Easter time.
Wooroona originally ran sheep, which were replaced by cattle due to losses of livestock to spear grass and dingos. It is a mixture of range country and creek flats, with native grasses. European cattle breeds such as Shorthorn and Herefords were stocked for a number of years before moving to the Brahmans around the 1950s.
 Art Dunne, Mack & 2 Shorthorns bulls at Wooroona. The two trees still standing today.
The change in breeds came from the area being land that carries the cattle tick and being an area that has its dry years. Where European breeds of cattle will be affected greatly by cattle ticks in and the harsher climates of drought and dry times, the Brahman cattle will endure the dry times as being hardier animals therefore are suited better to the areas conditions.
Calves drafted, ready for branding at Wooroona.
Feeding the weaners.
James (Bill) Dunne (Grandad) decided to trial the Brahman cattle which were a relatively new breed to Queensland. Whether it bears some truth, the tale is told that James Dunne bought the first young Brahman Bull calf for Wooroona in the back of a jeep, tied in a hessian bag.
Assorted mob of cattle ready for drafting, Coffee Pot, a fattening block.
Heading home.
The Graziher magazine is run out of Wooroona by Claire Dunne.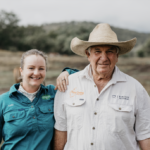 According to the dictionary, adapability is: "the quality of being able to adjust to new conditions". In today's episode, I sit down with one of the most adaptable people I have ever met – Sally Jolly. Sally's family has a long and rich history in the Pilbara pastoral industry, and it's no surprise that cattle […]