Host: Yarrie Station
Managers/ Owners: Annabelle Coppin
Region: Pilbara, Western Australia             
Nearest town for shopping, doctors etc: 
Marble Bar – approx. 90kms via gravel then 50km sealed (nurse, pub)
Port Hedland – approx. 50km gravel, 200km sealed (Stores, parts, freight)
Nearest roadhouse: Pardoo 100km
Number of cattle: 5000 head
Number of staff: 8 in mustering, 3 permanent (including southern property north of Perth)
Size of station: 250,000 Ha (617,700 acres)
How often and how the mail is delivered: Once per week via plane at Yarrie airstip, 5km from house
Yarrie has been in the Coppin family for 5 generations and after 5 years of management, Annabelle has this year been privileged to have the opportunity to purchase Yarrie from her parents. Muccan is an original separate lease that has been running conjunction with Yarrie over the past 25 years. It has now been purchased by her brother and wife and is in the process of being rebuilt and run as a separate enterprise. Exciting times are ahead for these two properties and a new generation to take them forward into the future.
Yarrie also runs in conjunction with a 1300 Ha farming property 1400km south in the Mid West region of the state, that is leased off Annabelles parents. This relieves the numbers of cattle on the property every year especially in dry times and also has the ability to value add to them with more intense temperate pastures.
Yarrie Station provides around 3 million meals of quality beef meals to both Australian and the world annually. I grew up on the property with my parents and older brother and have now managed Yarrie for 3 years. Before this I was working in the Middle East with Meat and Livestock Australia in the livestock export industry improving animal welfare in feedlots and abattoirs. A great experience to spend time with people and develop a stronger understanding of the live export market beyond our front gate. I believe I now have a fair and balanced view of the necessity of this trade to not only Australia but the rest of the world who demand our livestock. 
Yarrie is not only our livelihood, it is our home and we are deeply connected with the landscape. We have a team of mainly young people that help us on the property, many of which have lived here for years and also class as their special home.
Our industry is innovative, exciting with a future that is in our hands. We are all passionate about improving our landscape, having solid animal welfare practices and a importantly a viable dynamic business to allow us to remain in a position to keep improving our property and practices in the future.
I look forward to being apart of Central Station to share our story with the rest of Australia.
Annabelle Coppin
The Yarrie Team 2014
Flying over a creek running through Yarrie
Hills behind Yarrie Homestead
The Yarrie Homestead
The Gazebo – a recent addition built by the 2013 team for a warm gathering area
Fueling up
Mundrinyah Hills on Yarrie
The DeGrey River runs though the station
Yarrie cattle on our southern farm – look at that grass!
Other places to follow us:
· Become friends with 'Yarrie Station' on facebook and follow @abcoppin on Twitter
· http://www.target100.com.au/Farmer-stories/Annabelle-Coppin
· http://www.abc.net.au/landline/content/2010/s3293024.htm
· http://www.abc.net.au/heywire/stories/2013/05/3756497.htm
· http://www.livestockexportreview.gov.au/__data/assets/pdf_file/0009/1964754/Annabelle-Coppin.pdf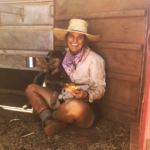 Written by Lydia Inglis – Stationhand, Yarrie Station. The Pilbara. The land of where: Having one spare tyre is asking for two flats. A trip to town is 5 hours of driving. And if you dare to say how great all your bores are it's guaranteed they'll pack it in tomorrow. It's a land of […]