Host: Mt. Bundy Station
Managers/ Owners: Scott and Sue Witham
Region: Darwin/ "Top End", Northern Territory
Nearest town for shopping, doctors etc: Adelaide River, 3km, the nearest major center is Darwin, 110km away, Katherine 200km
Nearest roadhouse: Adelaide River, 3km
Number of cattle: 1000 head
Number of staff:  7
Size of station: 8000 ha (19,738 acres)
How often and how the mail is delivered:  We pick up our mail from the Adelaide River post office.
How often and how the stores shopping is done:  Bulk delivery of dry goods from Darwin once a week including linen for accommodation or fresh fruit /vege's pick up personally once a week from Darwin.
How far off the bitumen you are: 3 km
We have town power but run on Bore or River water.
---
Scott & Sue Witham with their two daughters
Mt Bundy Station is owned and managed by Scott and Sue Witham.
Situated 110km south of Darwin in the "Top End "of the NT. Located on the banks of the mighty Adelaide River and only 40 mins drive to the world famous Litchfield National park. We are not at all isolated in terms of population as our nearest town is only 3 km away. Population 500.
We have a pub, a primary school, a local general store/post office and importantly a staffed health clinic. Our nearest big centres are Darwin or Katherine. We are in actual fact a hobby station in terms of size in the cattle station world.
We are ideally located for the tourist market and the proximity to the major port of Darwin for exporting cattle.
Mt Bundy Station was once 1.1 million acres, American owned and boasting 20,000 head of cattle and 30,000 head of buffalo. Established in 1911 by Fred Hardy, it was one of the first cattle properties in the top end and a big contributor to the initial exporting of cattle out of Darwin. After the Brucellosis culling of the late 80's the cattle enterprise never recovered and the Americans sold out, the property is now focused on tourism with a popular Caravan Park, Accommodation, Conferencing, functions and tour groups. We offer 4wd tours of the property for a chance to glimpse into the history and see the local WWII sites.
We are now running 8000 ha and up to 1000 head of cattle can be run in a good year.
I suppose we have the privilege and the responsibility to show case to the tourism industry, the cattle business and the way we would like people to see what actually goes on and the challenges and good times of a family owned cattle enterprise. It is our opportunity to help other people learn about and understand what we do, and why we do it. We have a huge diversity of visitors from all walks of life come through our gates every year, in fact nearly 8,000 visitors.
I hope you enjoy our blog.
Website: Mount Bundy Station
Facebook: Mount Bundy Station
Our son Ben, who passed away in 2011.
---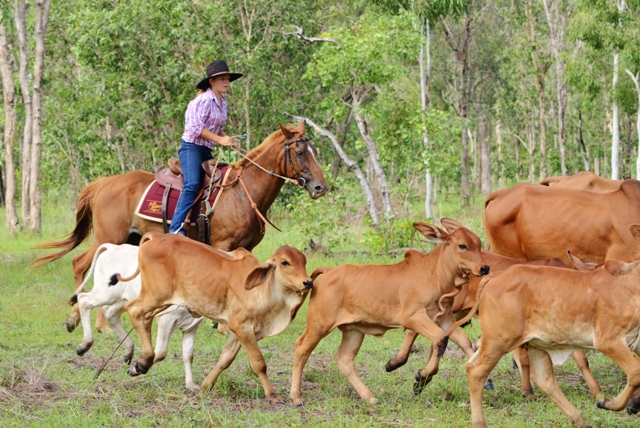 Host: Mt Bundy Station Written by Sue Witham – Owner, Mt Bundy Station. Kasey the youngest daughter had been schooled at home for the last two years (grade 8 and 9) through the School of Isolated and Distance Education (SIDE). We all needed to regroup after Ben's death and this has worked well for us, it also […]
Comments