Get ready for this, Central Station readers!
It's set to be the biggest event in regenerative ag this year! To celebrate 30 years of the Grazing for Profit™ School running in Australia, and all the regenerative ag community has achieved in that time, Resource Consulting Services (RCS) will host the third decadal RCS International Conference in Brisbane, July 18-20.
RCS has secured some of the planet's most outstanding minds, who will show a glimpse into the future at the Brisbane Convention and Exhibition Centre, for the event themed 'Convergence: Agriculture, human and planetary health'.
Speakers include the dynamic Dr Zach Bush, one of the few medical doctors to fully understand the links between soil health and human health. US-based Dr Bush and his team at Farmer's Footprint work tirelessly to promote farmers regenerating their landscapes to produce healthy food for a healthy planet. Dr Bush will explain the current state of planetary health, how we got to where we are, and how farmers are key to a brighter future.
Farmer and author, Dr Charles Massy will share his important messages with conference delegates. While researching his most recent book, 'Call of the Reed Warbler', Dr Massy spent countless hours speaking to farmers who are adopting regenerative agricultural practices with positive implications for human and planetary health and survival, and will share his insights over the weekend.
In what will be his first Australian speaking engagement, French researcher, agronomist and animal nutritionist Pierre Weill will tell the story of why and how he built an end-to-end, regeneratively-grown food supply chain, where 7000 farmers grow and supply nutrient-dense food for millions of consumers.
Delegates will also hear from Canadian-based plant and soil health expert, Joel Williams, who has been working with producers worldwide to build knowledge and practical know-how around agroecological growing practices.
Many more speakers, including WA wheat and sheep farmer Di Haggerty, author and business coach-with-a-twist Sarah McCrum, and RCS co-founder and trail-blazer Terry McCosker will join the line-up, with other exciting names to be announced soon! Conference proceedings will be expertly facilitated by creator of The RegenNarration podcast, Anthony James.
Conference-goers will have the opportunity visit industry-leading product and service providers at the trade show, let their hair down and kick up their heels at Saturday night's gala dinner, or choose from one of three interactive half-day workshops on Monday morning, where they can 'dig deeper' into soil health, ancient wisdom or building nutrient-dense food supply chains.
Don't miss out! Early-bird tickets are on sale until April 30. Find more information and tickets at www.rcsic2020.com.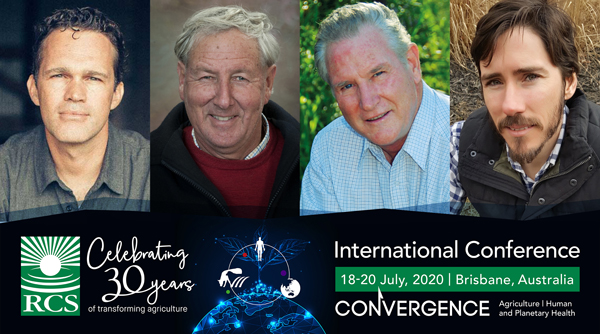 Comments