Host: Yeeda Pastoral Company
Managers/ Owners: Jack & Vicki Burton
Region: West Kimberley – Kilto Station, Yeeda Station, Mt Jowlaenga Station

East Kimberley – Springvale Station, Texas Downs, Alice Downs & Mabel Downs
Geraldton and Goldfields – Spring Park and Karragully Farms, Jeedamya, Melita & Kookynie Stations
Our Export Yards & Irrigation operation
Broome – Kilto Station
Our Abattoirs
Gingin – Bluebush Meat Company – small stock
Colourstone, Derby – Kimberley Meat Company (under construction)- cattle
Our Australian Rangeland Meat Shops
Broome – Paspaley Plaza
Geraldton
Perth – Coming soon to Innaloo Shopping Centre!
Nearest town for shopping, doctors etc: Kilto – Broome, Yeeda – Derby and Springvale – Halls Creek
Nearest roadhouse: Willare, the best Roadhouse!
Number of cattle: approx 85,000
Number of staff: 40
Size of station: Total area of 7 properties in Kimberley approx 1.2 m hectares
How often and how the mail is delivered: All properties collect from their closest town when they pick up fresh stores.
How often and how the stores shopping is done: Bulk dry store order at beginning of year from Perth and weekly/fortnightly order from closest town. 
How far off the bitumen you are: We are fortunate to have the highway run through the middle of all our properties, furtherest off the bitumen is Springvale homestead approx 20km.
Yeeda Pastoral Company is made up of our properties in the Kimberley plus properties down south of WA in Geraldton and the Goldfields. Our Kimberley properties are home to our beef cattle and the properties down south are home to our sheep and goats.
Twenty years ago this year Jack and I purchased Kilto Station which was the beginning of where Yeeda Pastoral Company is today.  In the early days we grazed some cattle but our main income was from growing sweet potatoes which we did for approximately  seven years until we got to the stage where we could make a living off our cattle.  Then with partners in hand we purchased Yeeda Station in 2001 and gradually expanded over the next few years purchasing Mt Jowlaenga, the Springvale Group of properties in the East Kimberley and the Melita group of properties in the Goldfields.
Today Jack, I and the kids live at Kilto Station which is 65km East of Broome.
Jack grew up on the land with his family, farming in Morawa and sheep stations in the Murchison area of WA.  He is insanely passionate about the land and the agricultural industry across Australia.
I had always been somewhat a bush girl, growing up with horses and visits to friends properties.
I was living a nice clean life as a dental nurse when I met Jack and headed bush to the station life for good!
Our daughter Minna boards in Perth at school and our son William is at school in Broome and will be off to boarding school in 2015.  These days we spend a lot of our time off the stations, I travel to Broome every day for school and the office.  Jack divides his time between the stations, mustering, and office work (which he just loves).
Jack & Vicki
Minna & Radish
Will & Snowflake the pet cow
It has always been our passion to complete the paddock to plate story by being able to retail our own 'clean green, Kimberley free range beef'.  The live export ban only made us more determined than ever to turn our live cattle into meat for Australia and export to other countries.
 Yeeda Station cattle
Last year in November we finally opened our first shop in Broome!  We have had fantastic support and feedback from locals and people from all over Australia.  Thank you!
We are in a massive expansion stage with in the business, we are constructing an abattoir in the Kimberley and in the process of opening two more retail meat stores in the south of WA.
Broome Shop
The plan for the week is to take you on the journey from Paddock to Plate that we are so proud of. We will start with a muster of Yeeda Station through the eyes of Minna who is at home on school holidays, and we will try to get around to see what is happening at the other properties and catch up with the abattoir progress ….We all know that plans change though so we will see what happens!
The Yeeda team has now grown very large and we are spread far and wide, we will be introducing as many people as possible as we take you through the next week with us and share with you what's going on each day.
Some of the Yeeda crew (dragon boat racers!)
You can also keep up to date on our activities via our Facebook page:
Yeeda Australian Rangeland Meat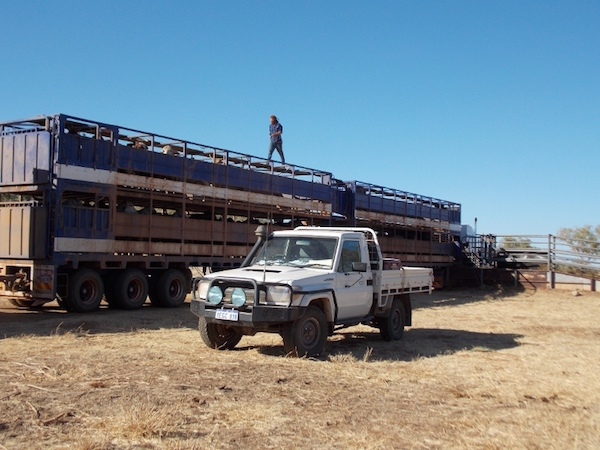 Host: Yeeda Pastoral Written by Cynthia – Caretaker/Domestic, Springvale Station. Hi my name is Cynthia and together with my husband Peter we have been privileged to have spent the past three months living and working at Springvale Station.  Peter and Cynthia. We had been traveling around Australia for nine months and were on our journey […]
Comments