Host: Carlton Hill Station
Managers/ Owners: Manager- Andrew Alexander (current) Stuart McKechnie (at time of hosting). Owner- Consolidated Pastoral Company (CPC).
Region: East Kimberley, Western Australia
Nearest town for shopping, doctors etc: Kununurra (35km)
Nearest roadhouse: Kununurra
Number of cattle: 50,000 head
Number of staff: 23
Size of station: 475,745 ha (1,175,591 acres) (Including  the outstation called Ivanhoe)
How often and how the mail is delivered:
How often and how the stores shopping is done:
How far off the bitumen you are:
*NB: Management has changed since the time Carlton Hill hosted Central Station**
Stuart McKechnie manages Carlton Hill & Ivanhoe stations with his wife Natalie and two children Beatrix and Archie.  Starting with CPC in 1992 as a Jackaroo in the Humbert River stock camp, he did two seasons moving about the CPC properties in the NT and in Qld.  In 1994 Stuart moved west to work at Carlton Hill Station where he become Head Stockman and stayed for several years before relocating to be Manager of Manbulloo in 2001. Whilst at Manbulloo Stuart met his wife Nat who was working in Katherine at the time, their wedding was held at Manbulloo.  In 2005 they moved back to Carlton Hill as Manager, staying there until moving to Auvergne in 2009 to experience the operations of another station within the CPC group.
Stuart and his family have recently moved back to Carlton Hill.  Stuart obtained his pilot's license in 1998 and uses it with his job mustering and overseeing the run of the land he is managing. Stuart grew up in the Goondiwindi district on a family property. He joined CPC after completing his secondary education.
With such a large compliment of people (23) there are fun times to be had, many spit incidents and the occasional CWA meeting (Girlie get together on the floor of the kitchen) 2014 is shaping up to be a great year of laughter, Sweat and Scrub bulls.
Archives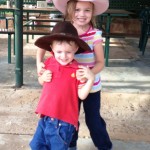 Host: Carlton Hill Written by Alice – Governess, Carlton Hills Station. It's early in the morning, 6am, I've got poddies to feed and school work to prepare for Beatrix and Archie before picking them up at 8am for their school day. I'm currently feeding six poddies which have come in from Stockcamp, they are fed a […]