Host: Meda Station
Written by Troy Haslet, Manager – Meda Station
(This is part 1 of a 3-part series – click on the link above to find more stories from Meda Station).
I have been racking my brain on what to write about and I have heard from a few people that when they search for Meda on the internet theycant find much about it. They can find a lot of stuff on properties that have written for Central Station though. So, I thought I would write about "a week in the life of Meda" which will be over three blogs. My first blog will be about mustering.
The processes and management practices that I write about are what we find work best for us and our cattle. There are a lot of different ways properties are run and all have merits and benefits to the people using them. I don't believe there is a right or wrong way and I am not trying to suggest what we are doing is the only correct way – it is just an insight into how we are getting things done at Meda.
We set our first round program from the arrival date of new staff (mid April) through to Fitzroy Rodeo (July) and this is locked in unless there is rain or a change in sale cattle dates. Hypothetically, we start on the Monday with a muster of a breeder paddock.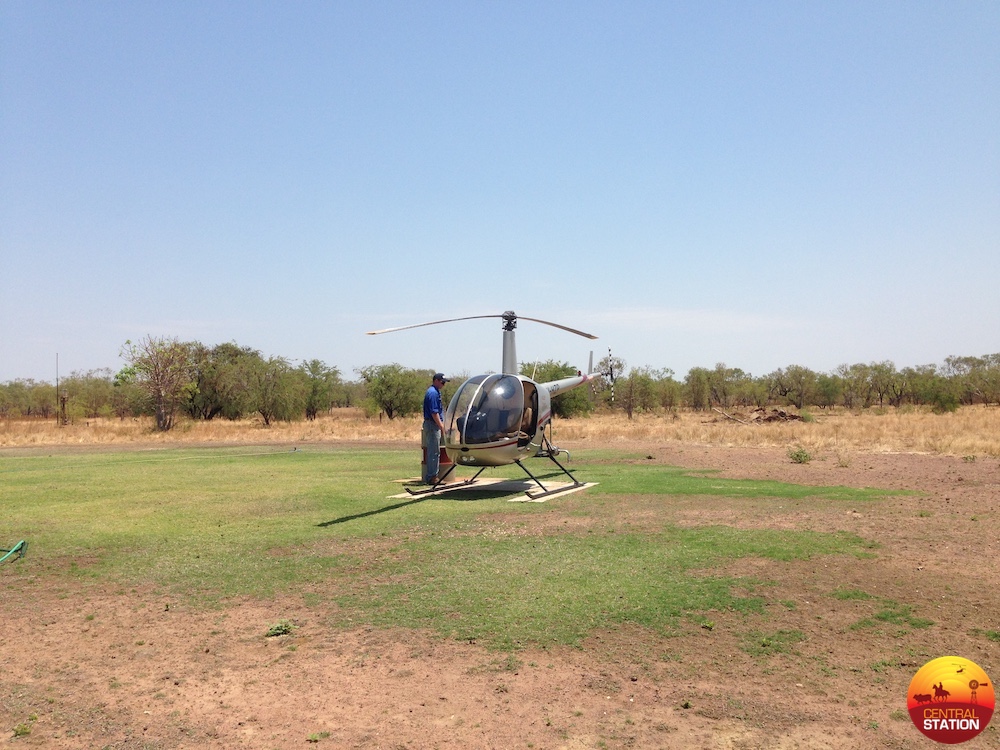 Helicopter arriving the day before.
The helicopters always arrive the night before ready to head out at daylight and start mustering the paddock. While they head out the stockcamp will be getting horses in and heading out to a block-up spot (where we block up the first mob of cattle). We still use coacher style mustering with horses and we have one motorbike that is used to help the helicopters bring cattle to the coacher mob. From a management point of view this works best because it keeps the cattle quiet and I feel that it is a big contributor to our weaning and calving percentages.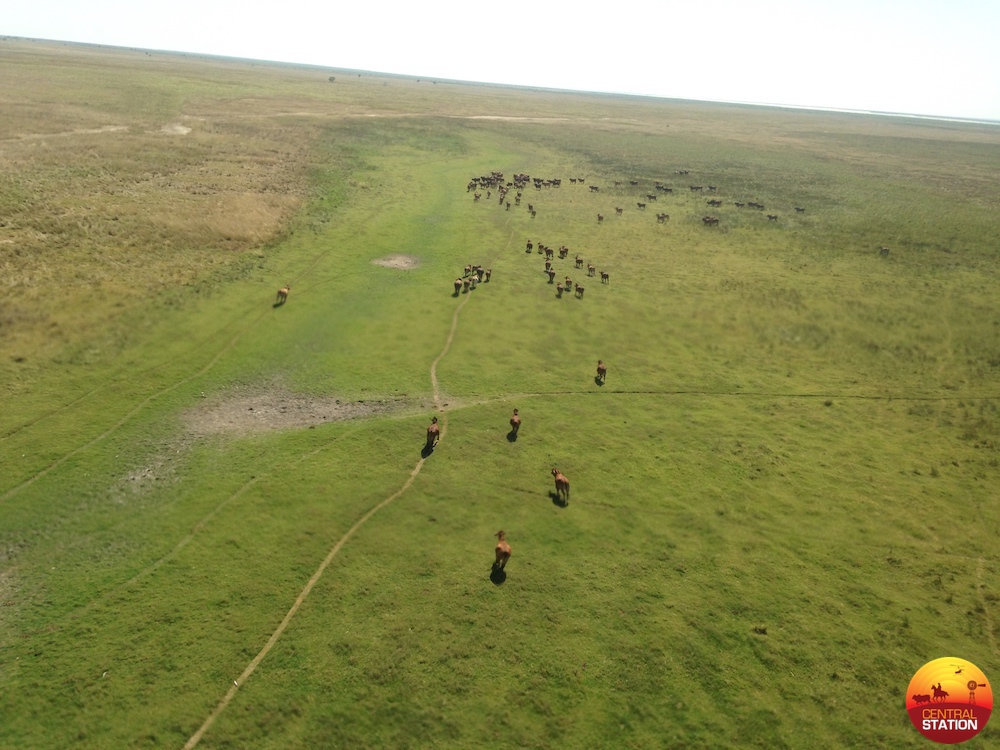 Mustering towards coacher mob.
Once the first mob of cattle are brought into the coacher mob (ranging from 100–300 head) the horsemen will hold the cattle for up to 45 minutes to settle them and let weaners and calves mother up (find their mothers if they have become seperated). I feel this process helps keeps calves and weaners mothered up while walking, which minimizes the amount of calves you have walking along on the tail of the mob slowing the walk down. This is when the crew usually get to chase a few weaners around to get them back to the mob, with the weaners wanting to get back to where they last saw mum. Now that we have been doing a second round for quite a few years the number of cheekier missed cattle is getting smaller and a lot of the "fun" of chasing cattle has been reduced.

Blocking up the first mob run in by helicopters.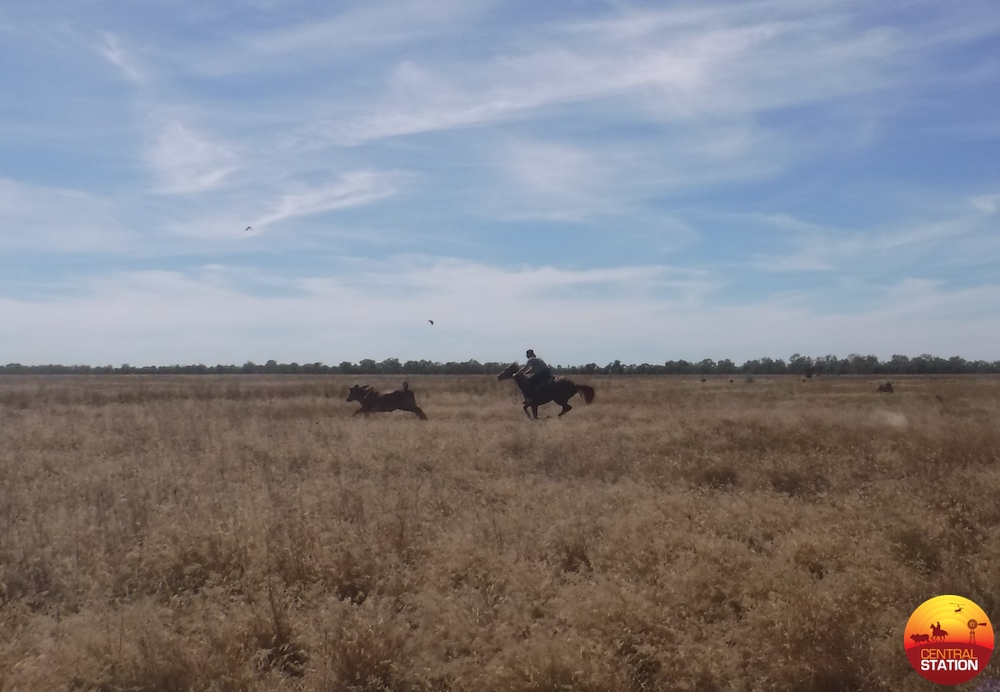 Bringing a weaner back.
While we are blocking up the helicopters are continuing on with the mustering. Once the cattle have settled we will start the walk to the yards. Along the walk we will pick up more cattle as helicopter pilots guide them toward us. If we are unable to get cattle to the yard before 1pm, usually we will pull up for an hour or so over the hottest part of the day (1-2pm) to allow the cattle to rest. This is a process we feel keeps calves mothered up well and minimizes the loss of calves due to over-heating or mis-mothering.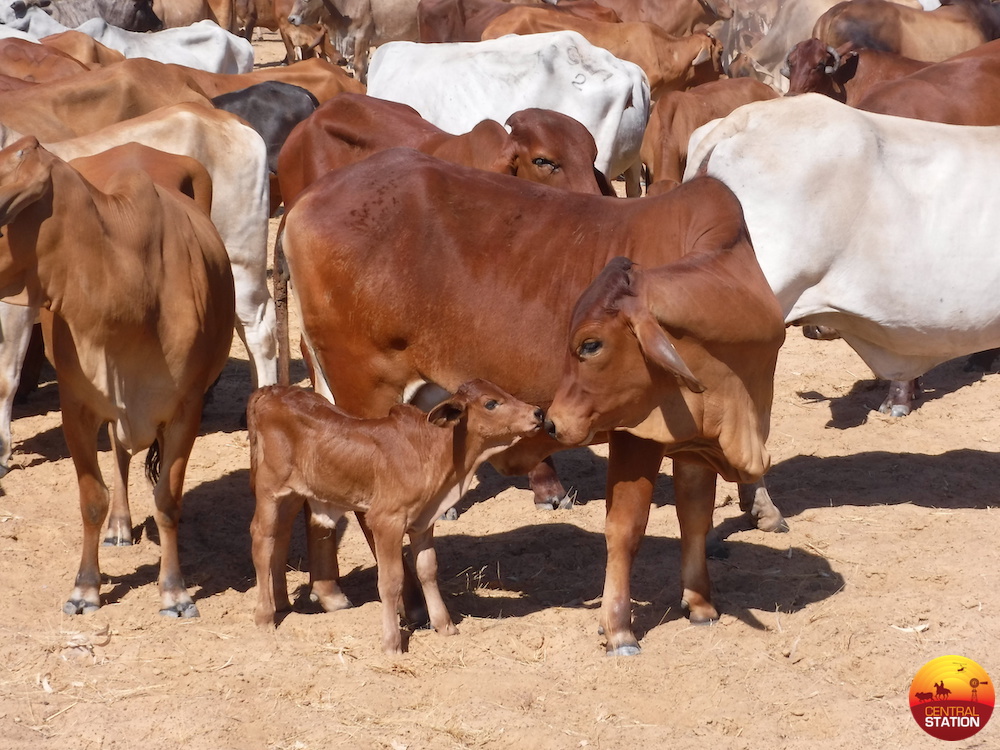 Maiden heifer with her calf after being ran into the coacher mob.
From here we will then walk on towards the yard and yard up with the assistance of the helicopters. We do this so that we have no future trouble yarding up. It does not take long for Brahmans to learn bad habits and if we were to lose a mob while yarding up you could almost bet your life they will try it on the next time! Every time we work with livestock it is an opportunity to train them.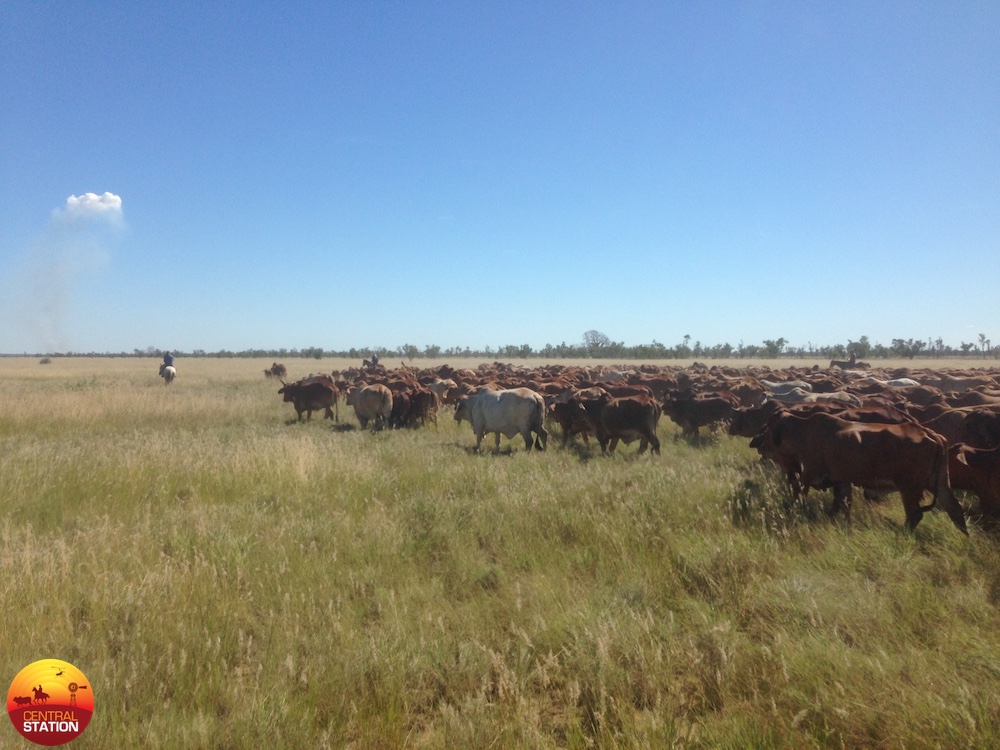 Walking a mob of breeders.
Once we have yarded up we leave the entire inside of yard open to allow calves the chance to find their mums overnight. We only do this with breeders – dry cattle get penned up as they are more likely to rush in a yard over night and bust out if they have too much room. The horses are then washed down and fed for the day, and then they are let out into a holding paddock ready for walking breeders back to their paddock after drafting is finished. Everyone heads home and gets ready for drafting tomorrow.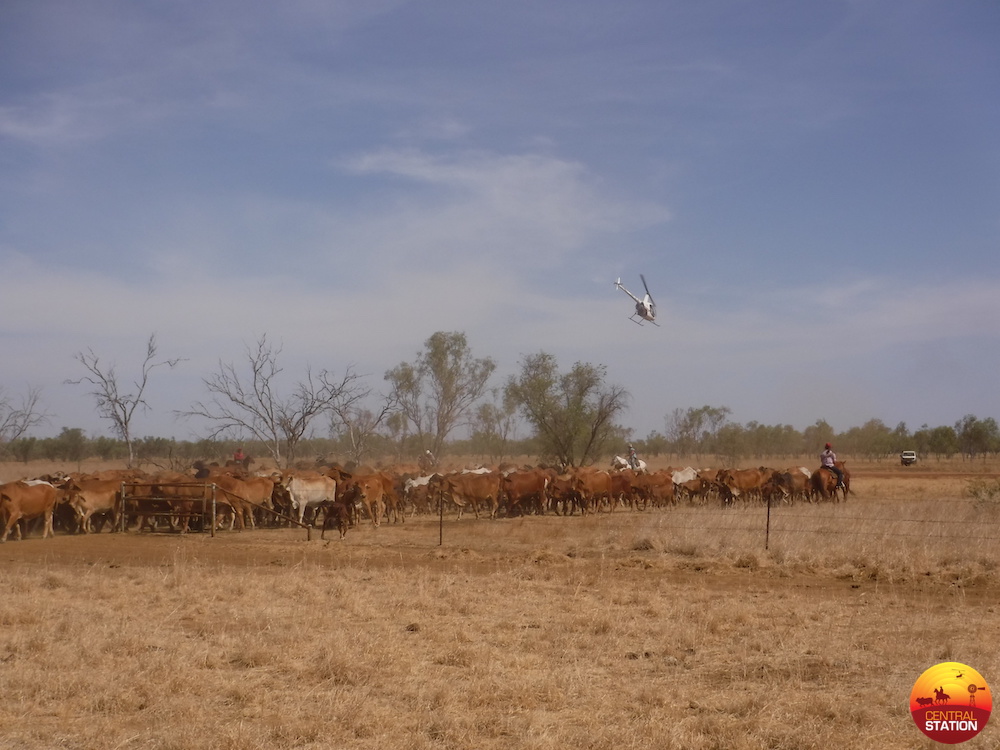 Helicopter helping horsemen move mob across the road and through a gate.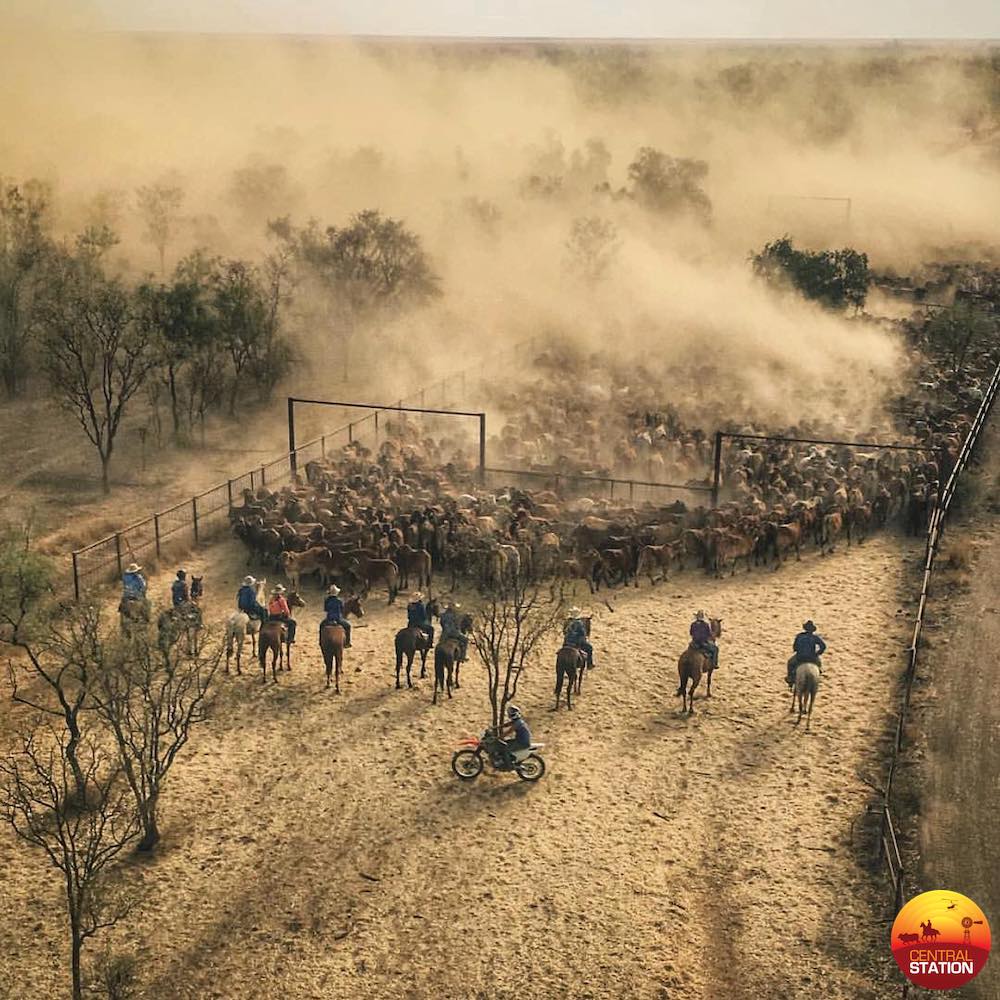 Yarding up.
Comments