Written by Sarah Cook – Aileron Station
"We're getting a killer".
"We need a killer".
"Time for a killer".
"Save him for a killer".
"Found a killer".
These one-liners are enough to scare the be-jezus out of townies, but for some of us, killers can be a cause for celebration.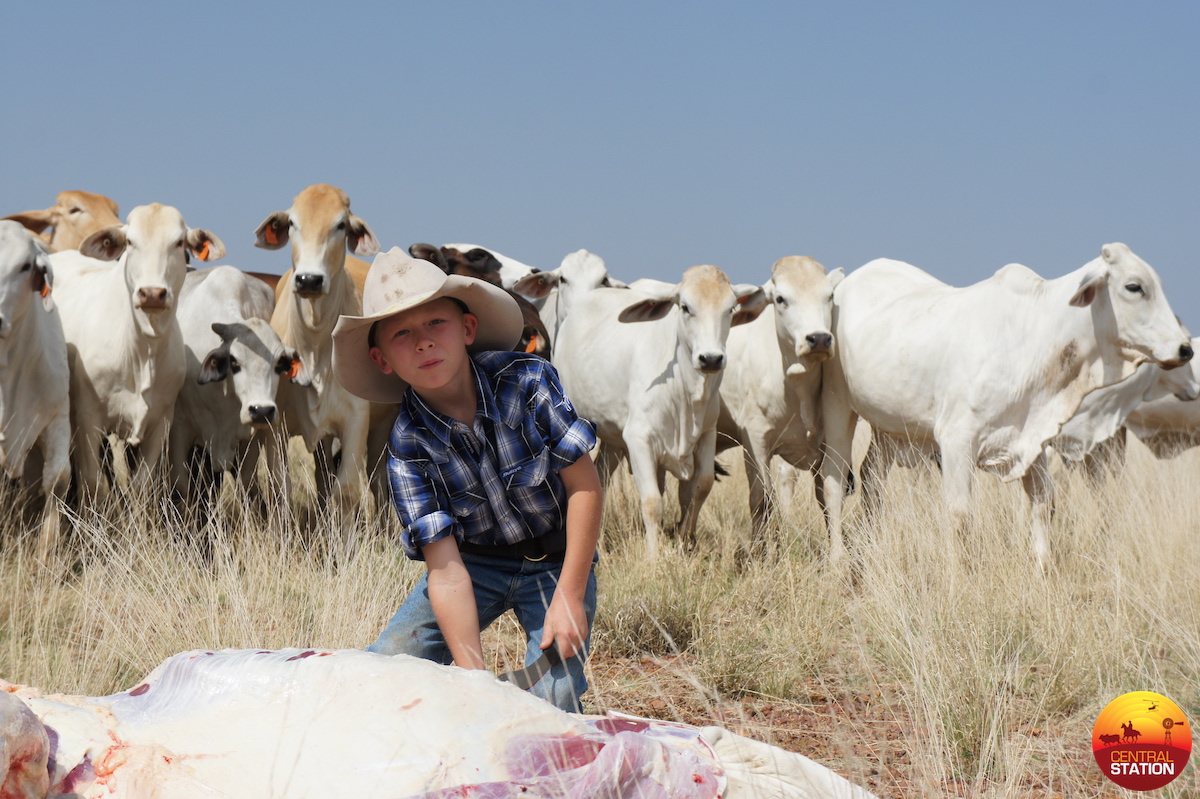 My son, Hayes Cook, about 7 years old.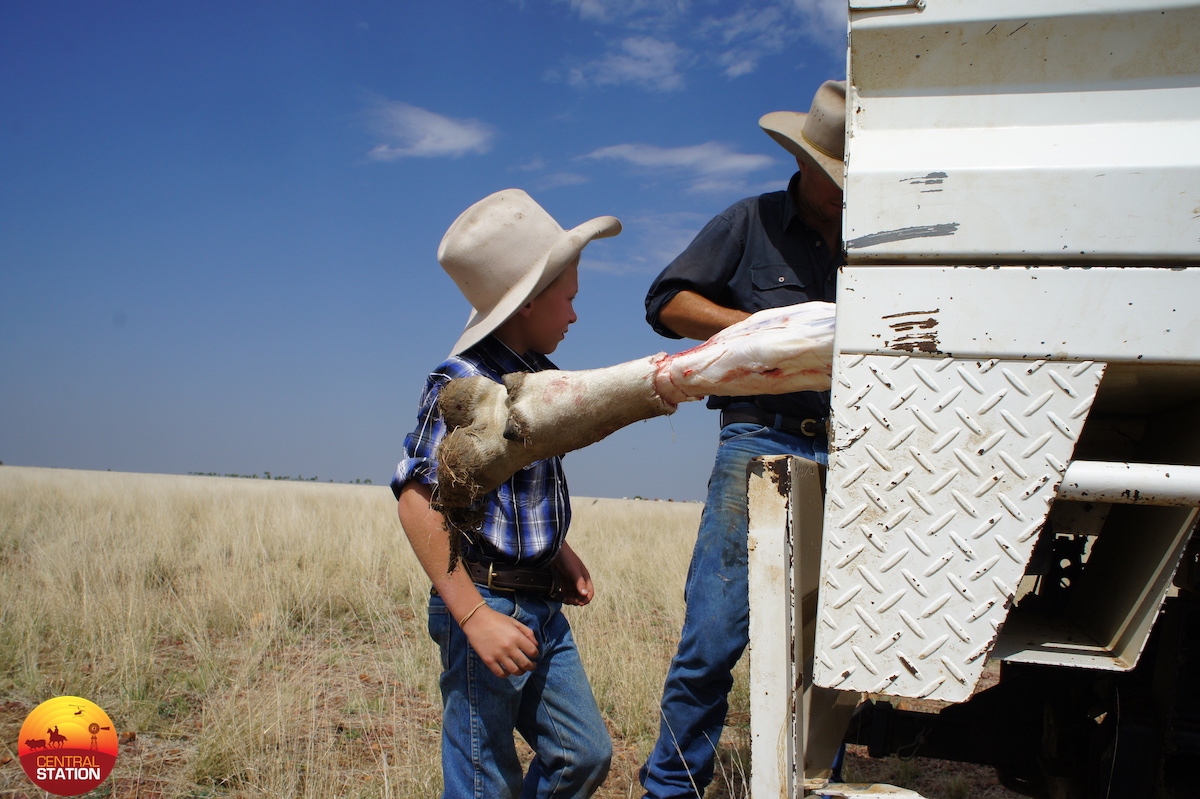 Hayes Cook learning about killers.
Come on! Who doesn't love fresh curly gut, sweetbread, skirt and ki-eye bone on the coals while you're doing a killer? Or a barby for dinner when you've finished hanging the killer in the cool room?
Okay – well, maybe offal is out of fashion and 'killer barbys' are not for everyone… but I grew up celebrating everything about a killer. For this bush kid, it was as good as a trip to the beach.
The first sign of a sharpening stone in our house transformed every kid to Speedy Gonzales; finish school, do jobs, swing up on the Toyota before dad drives out the gate.
Our first job was to snap gum leaves into the tray while Dad and his crew got skinning, then make a little fire of good coals, in preparation for our feast.
Dad was a late afternoon killer man, mostly. As the long shadows moved over us, we carefully laid thin pieces of meat and offal on the coals. With a quick sizzle and some smokiness, you brushed off the ashes, added plenty of salt and devoured the morsels with gusto. One for you, one for me. Feeding everyone.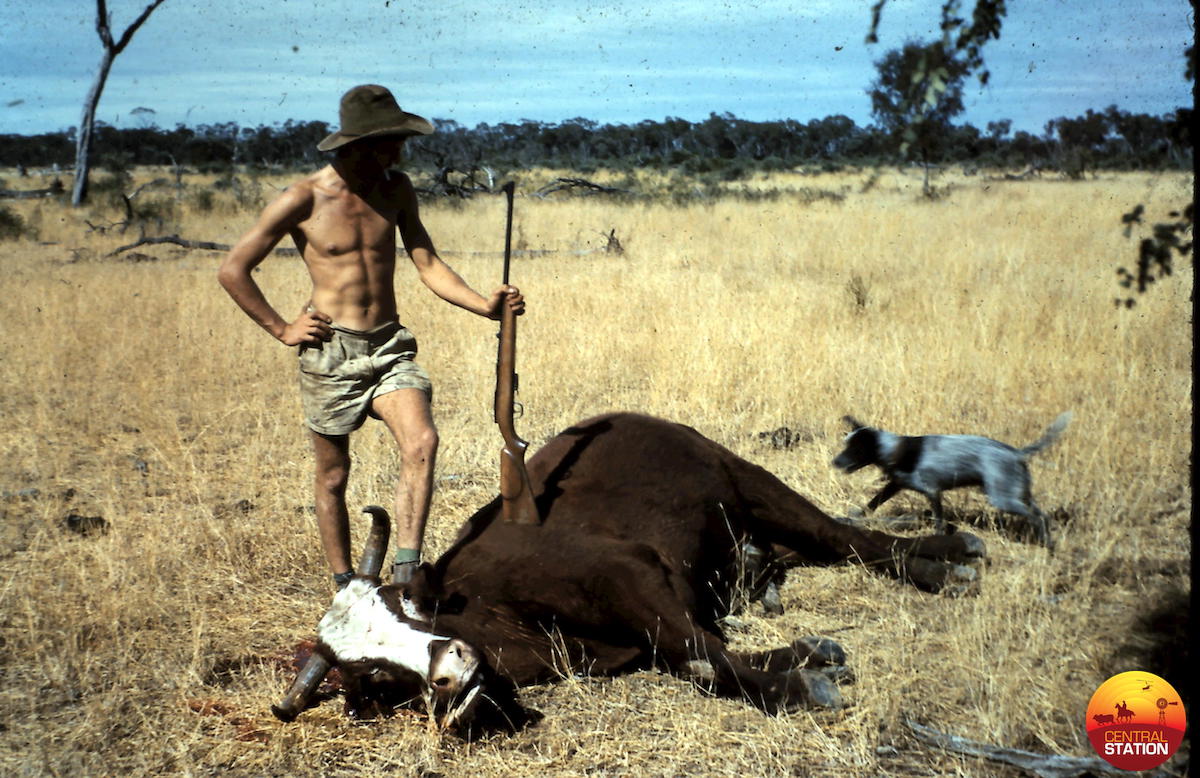 From Bill Cooks library – Cloncurry district killer circa 1960s.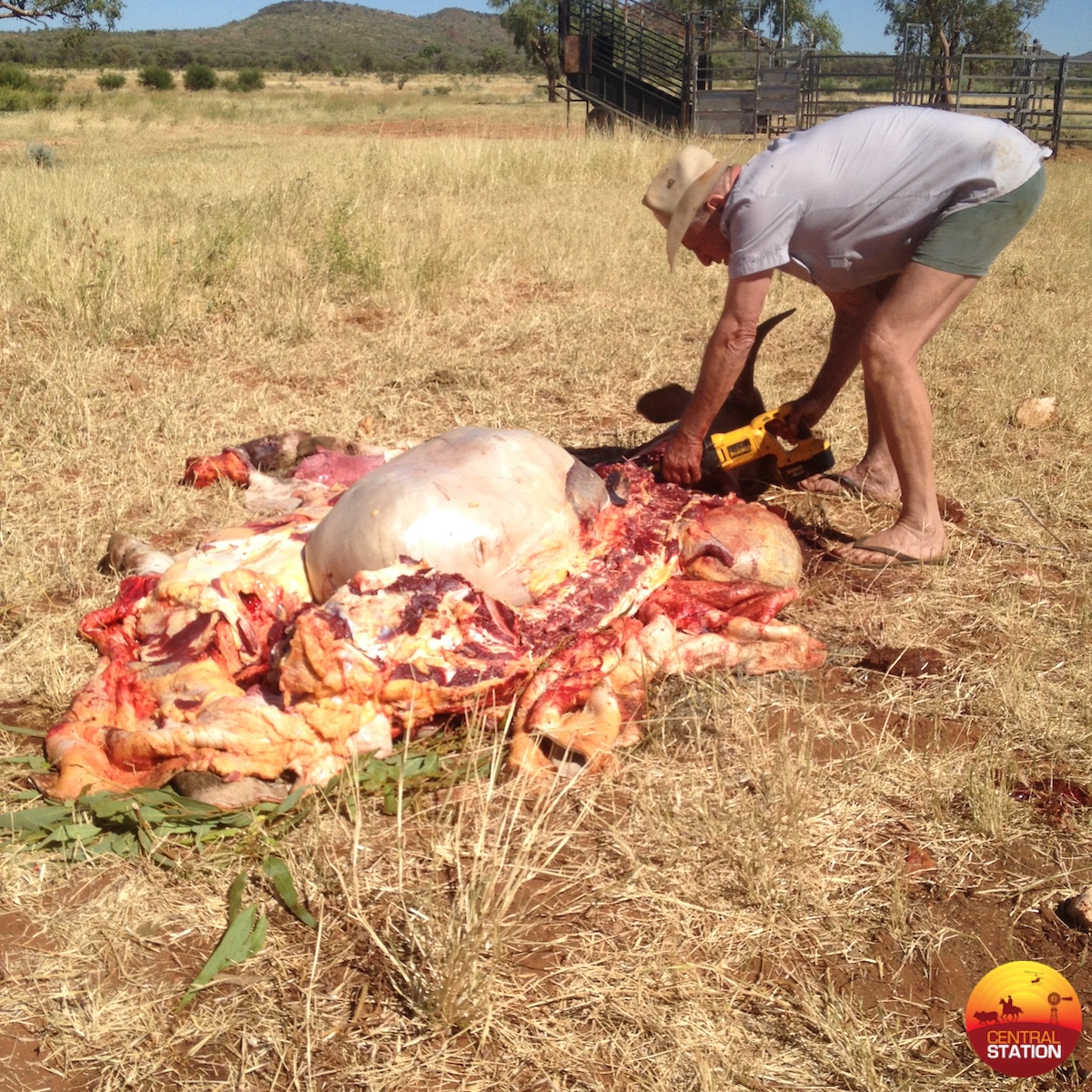 Dad, Dorsey Debney, using a reciprocating saw new way killer.
We'd arrive home after dark and lay the meat out in the meat house, on old stretcher beds, to set over night. Because Dad never left anything behind, he'd often take the 'tripe' and backbone to any Countrymen in the district, who would excitedly bury it holus-bolus in coals and that night, they'd have a proper big feed.
The next morning our meat house was a hive of activity. We rolled the roasts, prepared the salt meat, did the mincing and hung the rest in the cool room. That was, when we had a cool room.
Liver and bacon for breakfast was normal and steak and kidney pie was a delicacy. If you didn't get your share of ox tail, look out. Everything was used, and I mean everything. Mum stuffed the heart for a roast and the whole station tucked into roast heart like a regular baked dinner. Yumm-o! Imagine serving roast heart nowadays? Ringers would re-open the social club and buy Honey Soy Kettle chips for dinner instead.
My husband and I recently learnt the art of quartering. Using a tractor, saw and spreader bar, you end up with 4 quarters to hang in the cool room. But I am most familiar with 'overlanding' – when you skin the animal on the ground and take the cuts right there, piece by piece. I recall Narelle Miller did the sums on the benefits of quartering vs overlanding, but for a person processing an 'overlanded killer' from the cool room to the freezer, it's straight forward; only the shoulders and hind shins to bone-out.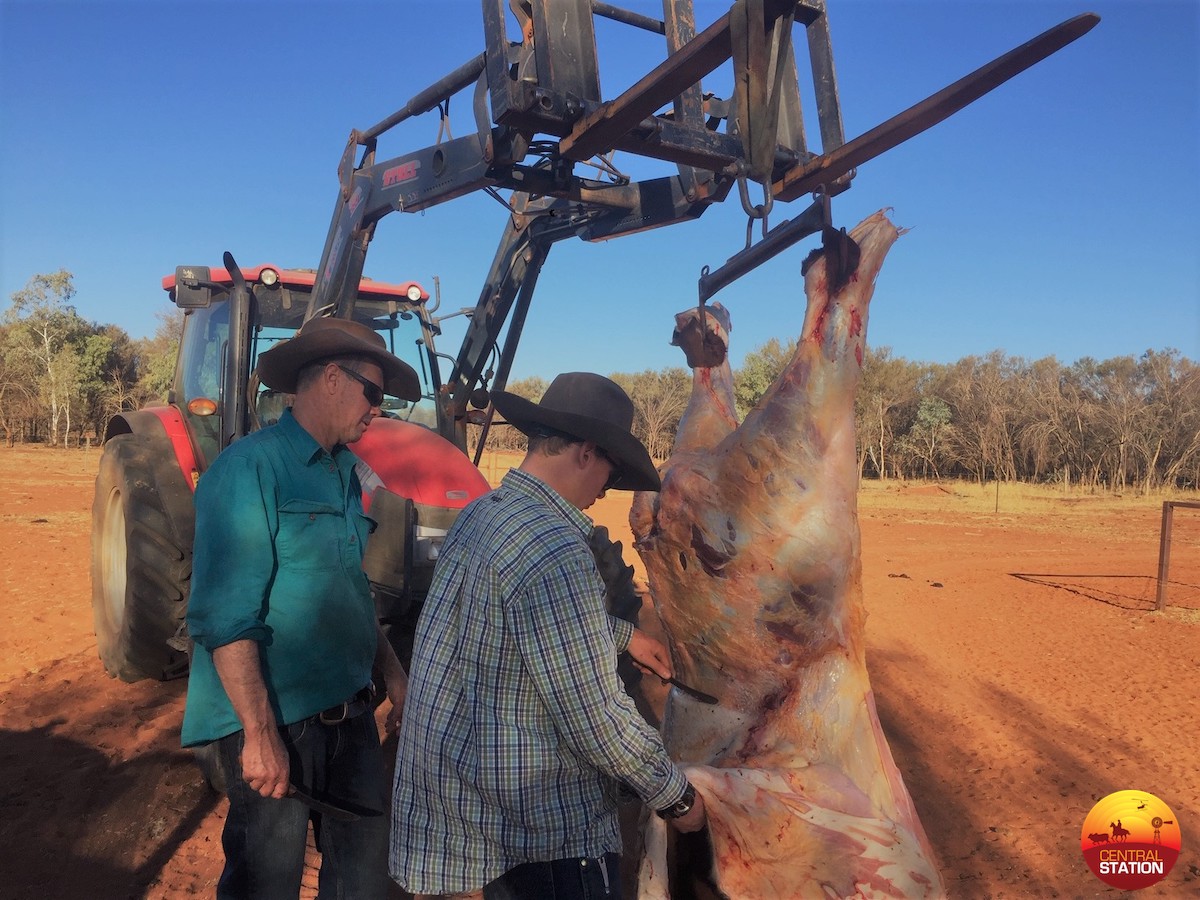 Quartering with a tractor.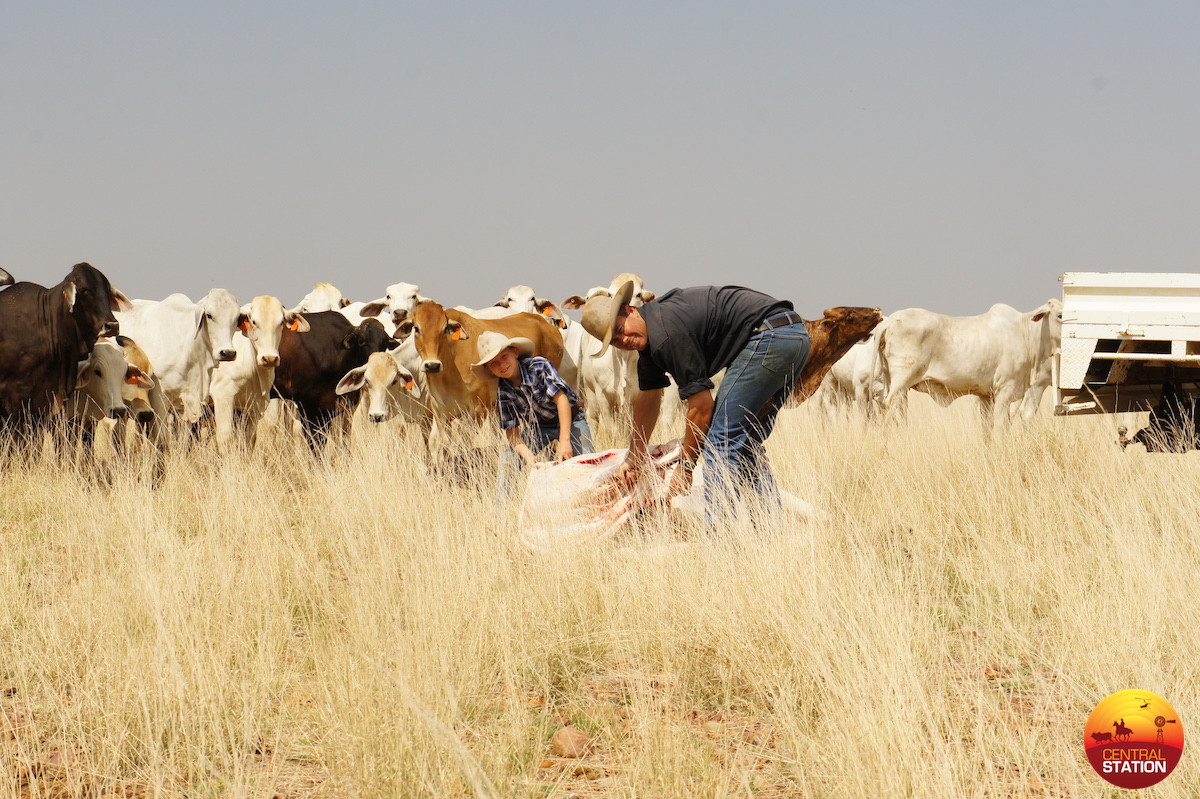 Overlanding.
Nowadays, I have more sweetbread than I care to eat alone. I wouldn't bother serving liver and bacon, and we feed the heart to the dogs. We rarely take the tail, let alone the tongue, and forget the brains – not worth the effort, no one eats them. When I can, mostly when Dad comes for a visit, I still light a little fire and enjoy tasty bits on the coals. Dad never forgets the salt and he still takes everything. I never forget how privileged we are in the bush to kill and enjoy pure, lovely, grass fed beef.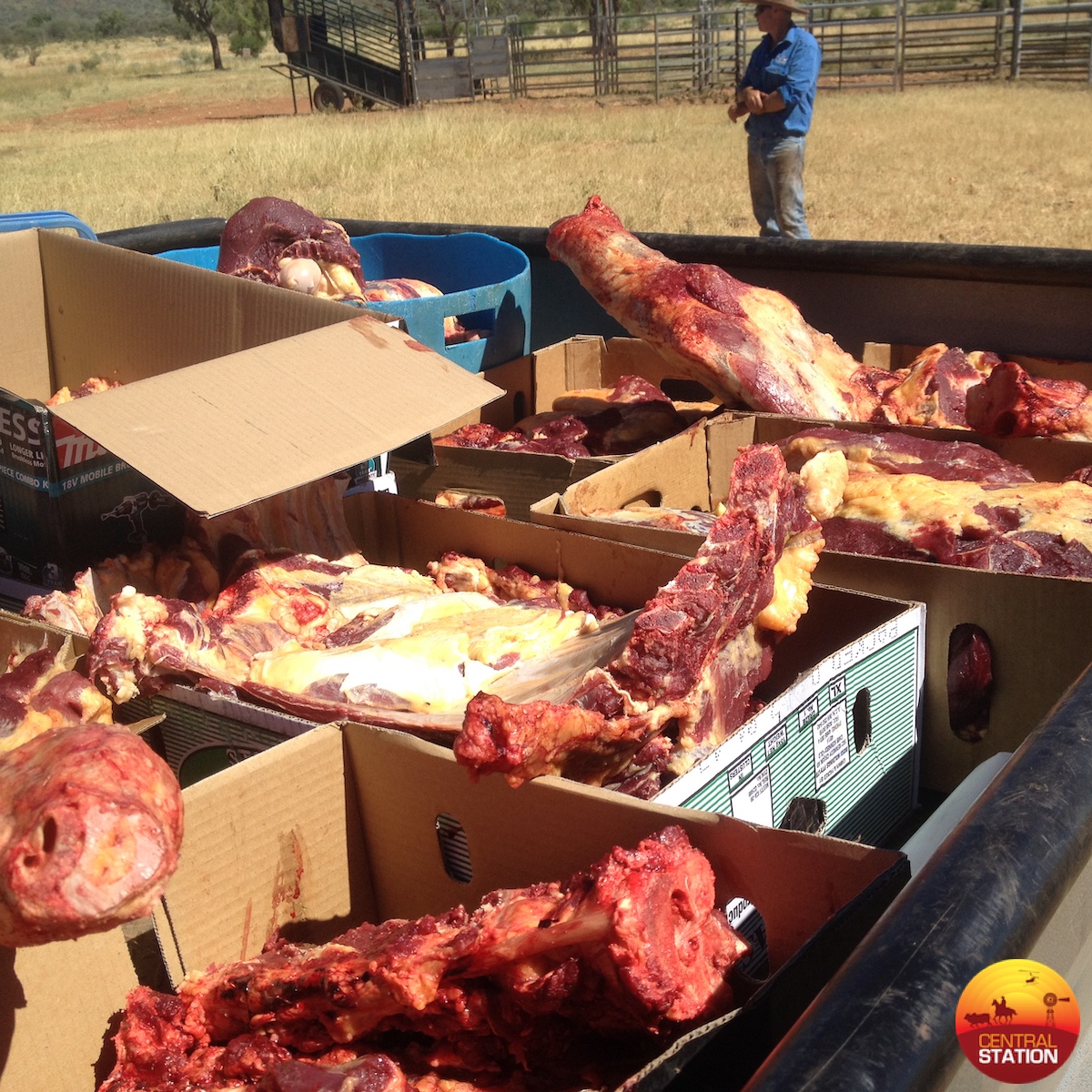 Nowadays we often use boxes instead of leaves.
Comments