Host: Soudan Station
Written by Samantha Dunwoody – Leading Hand, Soudan Station.
This week is a pretty busy week; our stock camp is preparing themselves for our first round of mustering. Our stock camp consists of two ladies; Charlotte and Christina, two fellas; Kurt and John and is led by our little pocket rocket Woody, Samantha Dunwoody.
Hi, my name is Woody; I am Soudan's Stockcamp Leading Hand. Since my appointment at the commencement of this season we've been busy doing 'wet season' jobs. This entails a large array of activities, including; checking flood fencing, general fence maintenance, infrastructure repairs and maintenance, general jobs that are left for more quiet times of the year and 'inducting' new staff.
Wet season jobs or maybe "non-mustering" jobs.

Preparing bikes for mustering.
More specifically, we've spent the past month concentrating on preparing for the upcoming mustering season. Mustering season generally starts around April and can continue through until October each year, during this time we will complete on full round of mustering and a catch-up muster later in the year. We work closely with Alexandria in relation to our mustering as all our female weaners are transferred to Alex for weaning and our male weaners are transported to one of our channel country properties to grow out in preparation for entry into the feedlot.
 'Move along girls' – mustering a mob of cattle.
The cattle get used to both horse and motor bike.
At Soudan we use both motor bikes and horses when mustering, so it's very important that both forms of transport are ready to go. Each person in my crew is responsible for getting their horses ready for mustering. This generally starts with being allocated three horses; one colt (a three year old horse that was broken in during 2014), one second year colt (a four year old horse that was broken in during 2013 and has completed one year mustering) and an older horse. Each horse needs to be shod all round and ridden to ensure that each horse is suited to their rider. The entire team is responsible for ensuring the bikes are also ready for mustering; each bike is serviced, tyres checked, and chains oiled.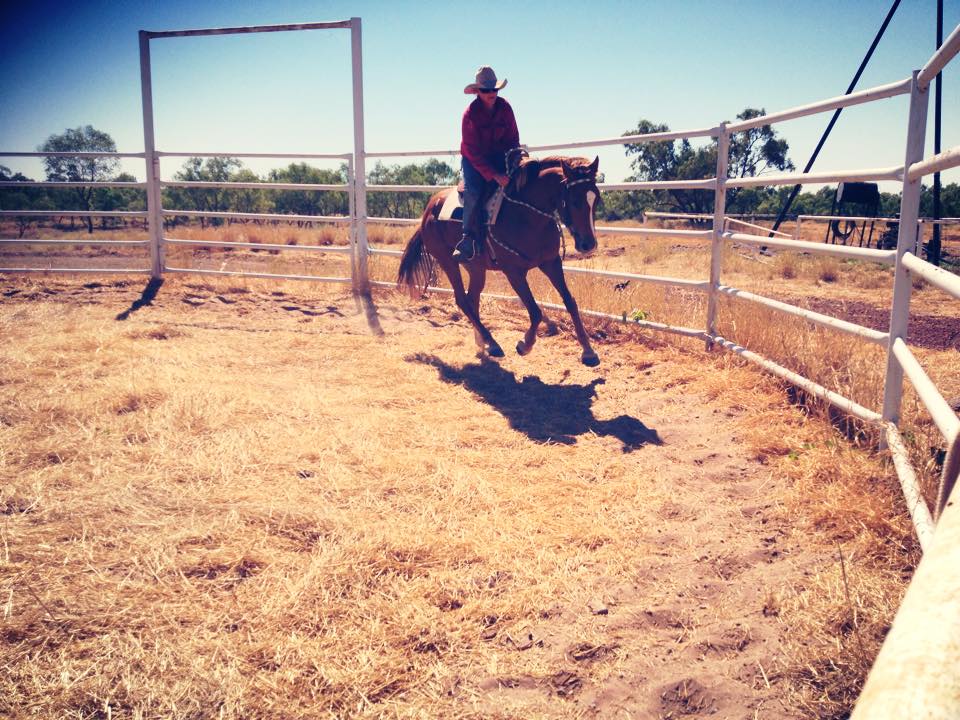 'Buck 'em out'! – Woody riding her second year colt for the first time this year. 
Getting the horses shod.
We have been lucky at Soudan with most of our camp returning from 2014, I find the most fun is had at the start of the year riding fresh horses and teaching 'new comers' (new staff) how to ride the bike. Although, it's not all fun and games; fences still need checking, gates need greasing, and in some places portable yards need putting up. But, when you've got the right crew, you can make nearly any task fun!
With a bit of a late start to the year, now with the arrival of hay and the nest at our main processing yards been rebuilt, another year is ready for us to create unforgettable moments we will recall when we're old and grey.
Comments