Written by Frances Cooper – Mt Riddock Station
Studying land management at university seems like a fairly normal pathway into working in Australia's extensive rangelands…right?
Well, maybe if I'd studied in Australia it would be. However, I completed my studies in the UK and let's just say that Central Australia is a little bit different to the rolling green pastures back home.
My name is Fran Cooper, and I work at Mount Riddock Station, which is just north east of Alice Springs. I've been in the Northern Territory for 2 years – that wasn't the plan, but, well, we've all heard that story before!
Mt Riddock is owned by the Cadzow family: Steve and Bec Cadzow, and their 3 daughters, Gabby, Bridgette and Imogen. Steve has grown up in the NT and his family have been living on MT Riddock for the past 33 years.
The Cadzow family are one of 3 pure Hereford breeders in the Northern Territory. The genetics of their cattle is are the centre of their cattle management strategy; bulls are carefully selected to influence frame size, temperament, and confirmation. Steve and Bec take a hard line on removing animals from the herd that don't make the grade.
The Cadzows have been chipping away at improvements to Mt Riddock for a number of years.
Over the last 2 years a number of water tanks, trap yards and laneway systems have been installed to open up more grazing across the station.
These generally consists of 4 paddocks with a water yard to allow for rotational grazing. The long term plan with these paddocks is to allow for controlled mating and as such allow for a calving period which is matched to the available nutrition (which changes throughout the year with the seasons).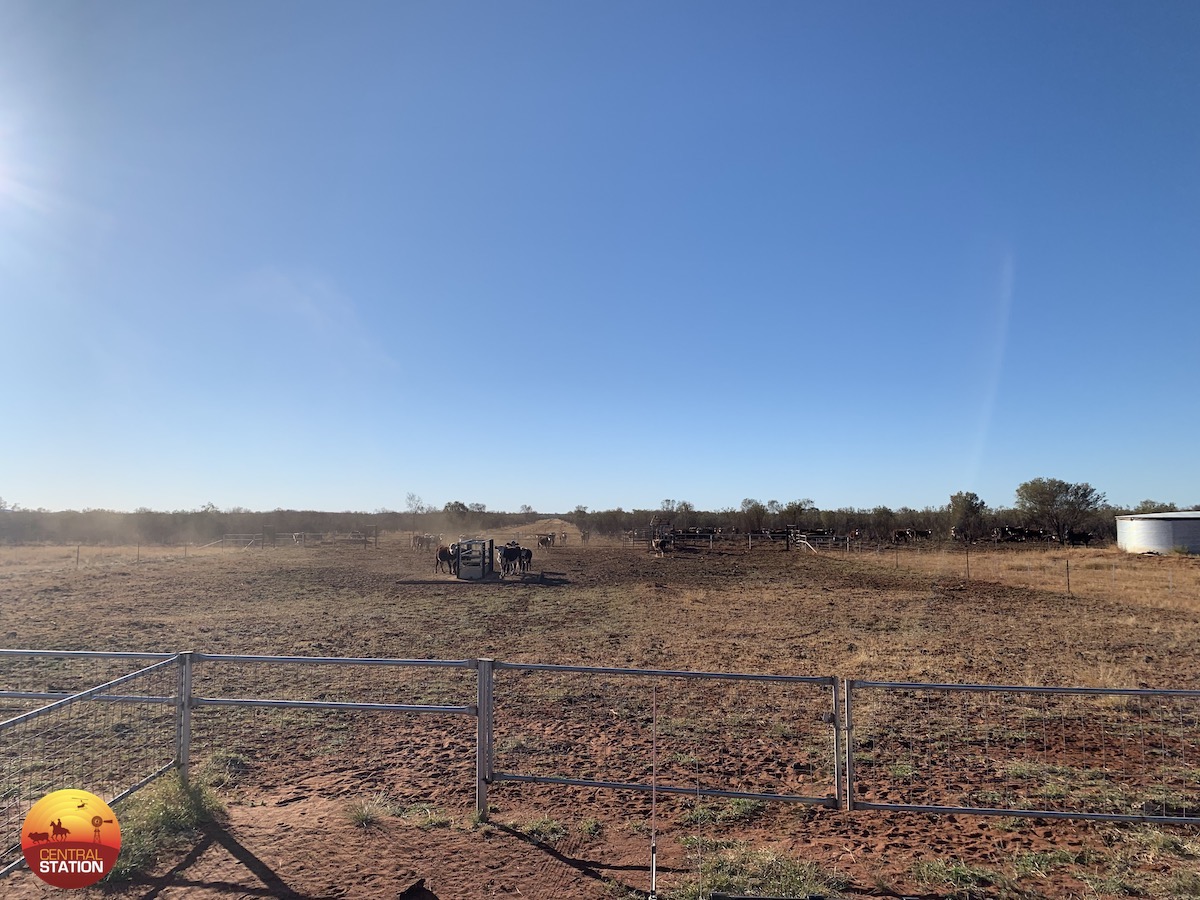 The new rotational grazing yard system with a trough and tank.
Rotational grazing is a pretty widely adopted system in the UK, mainly because of the sizes of farms there – they're absolutely tiny compared to what we deal with in the Territory! It was therefore pretty surprising to me to see this method being adopted on an Australia cattle station where space just doesn't seem to be an issue.
However having seen it in use for a period of time now it makes complete sense to do this out here. Maintaining grazing in a landscape where the growing season is exceptionally short (sometimes hardly at all if we haven't had any rain) is paramount and makes complete sense.
We also have a range of grazing country across the station; we are primarily buffel grass with some areas of spinifex and Mitchel grass. There is also low-lying scrub across the station which is has been a real benefit throughout the drought; when the grass has died back/not regrown there is still foliage for the cattle to graze and sustain them around the watering points.
The use of lick and minerals has been a real benefit during the drought. We use probiotic lick blocks for the steer paddocks and the horse paddocks – these have had great results with the horses remaining in very good condition through out the whole drought and the steers maintaining their weights or only suffering very limited loss of weight throughout the drought. We put this solely down to the probiotic licks as there was no supplementary feeding of the steers and only provision of a biscuit of lucern for the horses each day.
The main shock to me during my two years out here so far has been the resilience of the property and animals.
I was so used to seeing everything green and lush and thought it needed to be that way to sustain life – who knew that with the right type of grass species and some additional help through lick blocks you could have such a different outcome?
Across the steer and heifer rotational paddocks we have installed walkover way systems. These are remote systems used to monitor weight gain on animals in those paddocks and can be used to draft cattle when needed that have reached the required weight for sale. We have found this beneficial in reducing handling of the cattle, therefore reduced stress and potential weight loss through stress.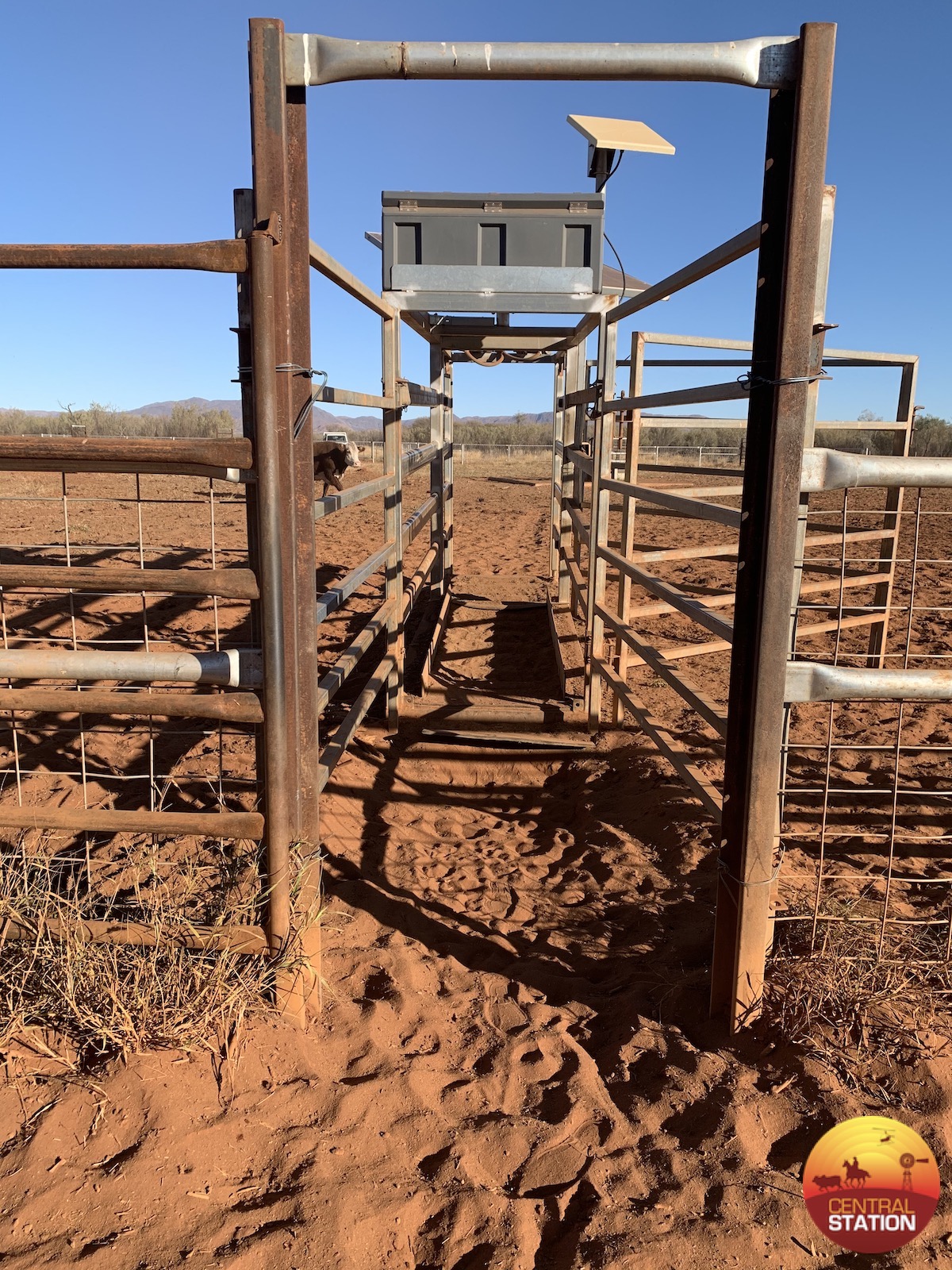 A walkover weigh system.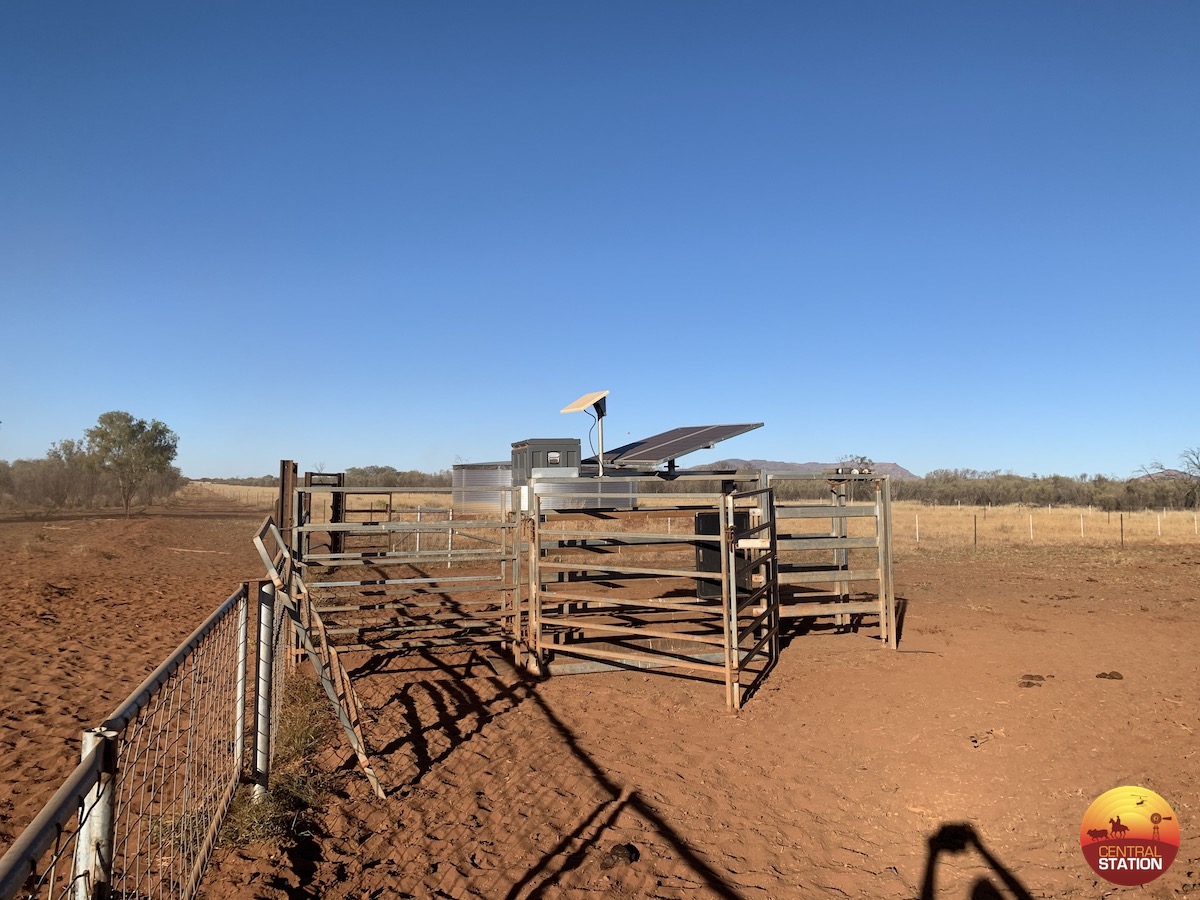 Walkover weigh system attached to trapping system at the yards.
We will also look to use the walkover way system to assess heifer weight before joining them with bulls to ensure the heifers are not being joined too early. Mating heifers too early is detrimental as it can stunt their growth as they put the majority of their energy into producing a calf.
This type of technology is something I had never come across before coming out to Mount Riddock. It is not something utilised in the UK when assessing cattle due to the ability to have smaller herd sizes and therefore a more intensive level of management.
Whilst I have only been in the NT for a couple of years I have certainly learnt a huge amount so far on station life and the successful running of a station. Undoubtedly I have so much more to learn but I know I am in the best place at Mount Riddock Station with Steve and Rebecca Cadzow to further my knowledge with the practices they have in place and are looking to  implement in the future.
Through the work the Cadzow's have done at Mount Riddock, it has shown me the real sustainability of this land if it is managed in the right way and that even through the harshest of droughts you can come out of the other side not just surviving, but moving forward.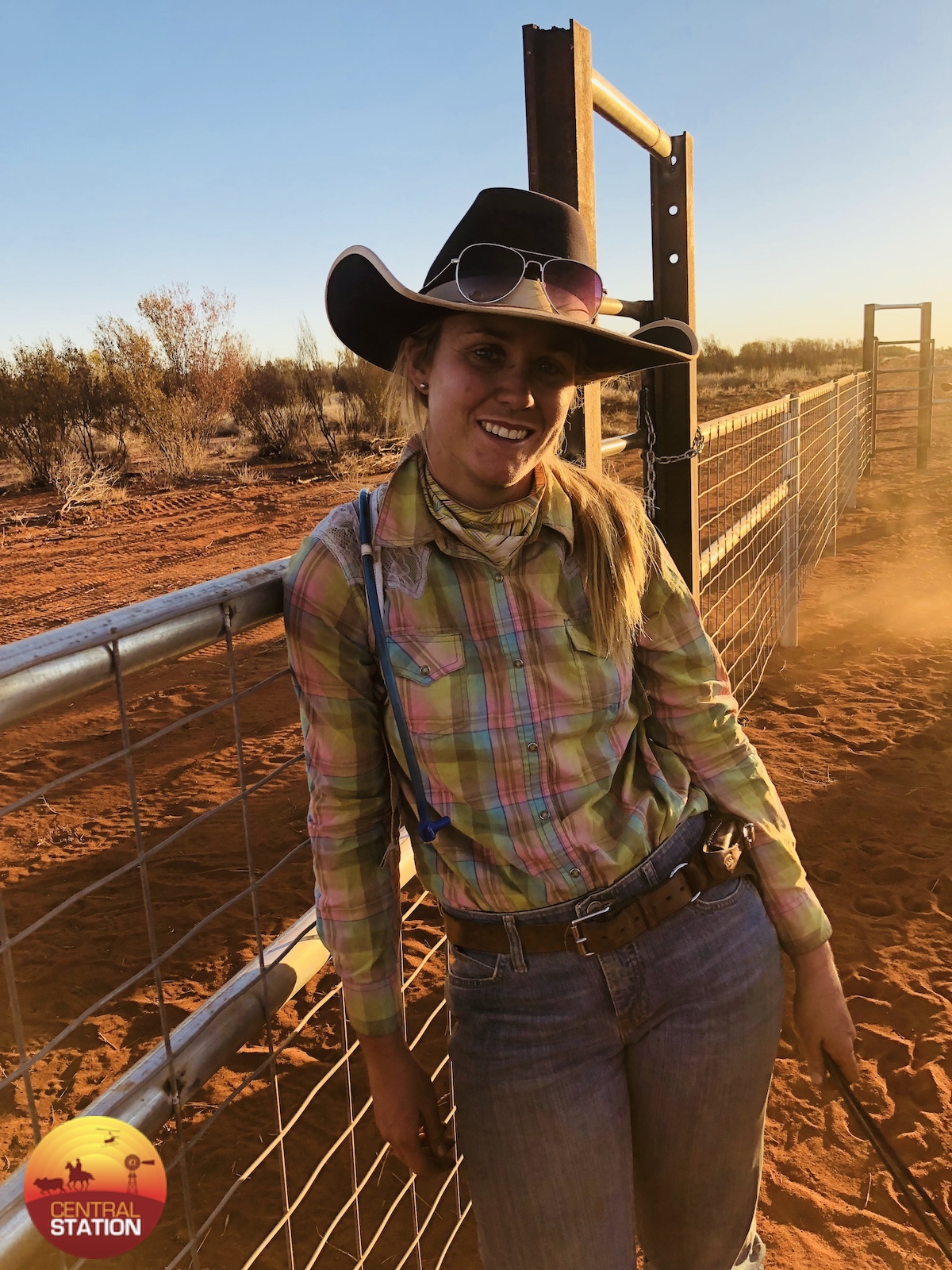 Comments