Host: Alexandria Station
Written by Stacey Haucke – Head Stockwoman, Alexandria Station.
Hello again,
Welcome back to Alex everyone.
My name is Stacey Haucke, I was asked last year by our manager's partner Narda to write a blog for this website called Central Station . . . "Yeah, okay, but what do you want me to write about?" "Just write about what it's like being a female head stockperson on Australia's second largest cattle station." "Ummm . . . okay . . ."
I had no idea where to start because to me I just do what every other normal person does. After much "Come on girl where's that blog?!" from Narda I wrote my first ever blog and the response it got was pretty overwhelming! Never did I think it would be one of the websites most popular stories. So thank you to everyone that read it. It also shows how important social media is within this industry and how important it is for us that live out here to continue sharing our stories and hopefully bridge that urban and rural gap a little. Just to show it's not all bad because the bad stuff always spreads so much quicker than the good doesn't it?
Anyhow I certainly have fronted up for another year of big sunrises and sunsets only this year I have had a job title change. This year I'm the "Stud Coordinator" aka the "stud chick" for Alex's composite stud. This has seen me trade the stock camp of six odd people for a camp of me, myself, and I mostly. In saying that, all of the work that has to be done with the Top Stud cows, heifers, and bulls is mostly done with the help of weaner camp while the stock camp help out with the commercial bull breeder herd.
Storms beginning of the year.
While I was happy with my job last year, the opportunity to learn and expand my knowledge with this new job was not something to pass up. I've always had an interest in the stud side of things but it's also taken a long time for me to "settle down" as my parents would put it from that "cow chasing bug". There is a lot of finer detail to my work this year I guess you could say and it definitely has been a fair learning curve. Learning to read hundreds of tag numbers, weights, flight time results, scan results numbers, without getting them all mixed up have been a challenge at times. Also learning to step back from the actual yard work part of it hasn't been easy either. Bossman said to me the other day "Even though you feel like a bludger, you have to just sit there and do your numbers only" . . . meanwhile here's Stacey champing at the bit to go help yard up or something similar . . .
Stud cows.
We've been quite busy since Easter with all the stud cattle, doing weaning, preg- testing, scanning heifers, and doing 600 day weights on the #4 Heifers and bulls, as well as bull selection.
We had Sam Harburg and David Johnston come up for the bull selection. I think we scored the two coldest, windiest days you could have asked for of the Barkly and she certainly delivered!! Trying to keep all our paper work together was bit of a struggle. More paper clips, an extra coat or two and a beanie did the trick. Even the poor bulls were pretty cold and had all their gear well and truly tucked up, making some of the selecting a little difficult.
Tailing stud weaners.
We've pretty much finished the cattle work for the stud now, there's only two top stud groups left to preg test. So my next job to move onto will be pasture monitoring. This involves going to about 30 odd different locations over the whole of Alexandria and recording what plant species and percentage of grass cover is at each particular site. This is all put together at the end and sent to head office.
I also keep an eye on our broodmares here too. At the moment there are 12 foals to be weaned later on in the year. These foals are our future work horses for here at Alex as well as Soudan and Gallipoli.
Vegemite and her foal.
A lot of people ask me how I cope with living with so many people. It's true, it is like living in a small town here and we do have a street called East Street. This I think is the best bit for me because I live in East Street, so I'm just a little bit apart from everybody. I can easily spend a weekend doing my own thing and hardly see many people at all. In saying that, I reckon some of the kids in the quarters do a hell of a job putting up with each other. There are people from all kinds of backgrounds here and to get along in a small area for a season is a good effort. People just have to learn to be more accepting and respectful of others, some cope with this and others don't. That said we are not the only station on the Barkly or anywhere for that matter, with large numbers of people working here.
I'm a very lucky girl in being able to have some of my own personal horses here with me. It has been very enjoyable so far this year having the time to ride more after work. I'll admit that I missed having that opportunity last year at times… I'm also pretty sure that my horses are feeling a bit happier about getting a little more 'relaxed' attention now too! We've been to two campdrafts so far this year and there are a few more written on the calendar yet.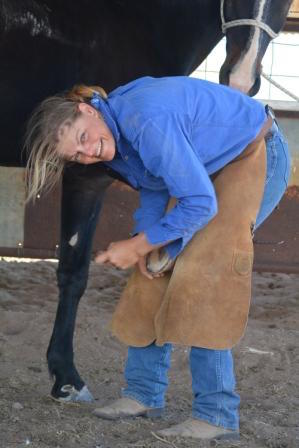 Stacey shoeing.
The other thing that makes my time here enjoyable is my dogs. Having these pair of clowns to come home to at the end of the day is pretty good. There's always a dog version of a hug like "I'll just launch at you Mum and you gotta catch me!" even after a long day this makes me smile. I do quite a bit of fence checking on my own now, so Dooley and Nipper are often my main offsiders. I just wish they'd learn to tie a tie off properly or bang a steel picket in for me every now and then!
Fencing offsiders.
Fence checking early morning.
We've got the Brunette campdraft/races/rodeo coming up and everybody is already keen for the next social do . . . Can't beat the enthusiasm! It's more fence checking at the moment and riding horses for me as well as whatever else needs doing.
Anyways I think that's about enough from me for now. Here I am in my second year on the Barkly, thoroughly enjoying my job and it's challenges, and I reckon I might be hanging around for a while yet.
Thanks for reading and till next time,
Stace.
Comments