Written by Toni Tapp Coutts
The following is an extract from My Outback Life, the sequel to the bestselling A Sunburnt Childhood, this new book captures Toni's time living the Gulf country of the NT, running a cattle station with her husband, raising her children amongst snakes, centipedes and saltwater crocs, riding in rodeos and making new friends at the Heartbreak Hotel.  
Visit http://www.tonitappcoutts.com.au/ to purchase the book.
---
We decided to meet and practise at our favourite gathering place, Heartbreak Hotel. We paced out the 22 yards of a cricket pitch, set up some stumps and used cricket balls borrowed from the McArthur River school until the owner of Heartbreak, Denis Watson, bought us some new equipment. He also sponsored us and bought yellow polo shirts with Heartbreak Ladies Cricket Club printed across the back. The night before the match we had a ceremony at Heartbreak where Denis presented us with our printed shirts, saying, 'This is all very official, girls.'
Denis was a former policeman who, with his wife, Shirley, had bought Heartbreak with another former policeman, Guy Robilliard and his wife, Jan. They had children all the same age as mine. The Watson's eldest daughter, Andrea, and my daughter Megan are still best friends. The Watsons and Robilliards ran the pub as a family venue, so it was safe for the children. That's where we had the Heartbreak Bush Ball and the frog races for St Patrick's Day, as well as community fundraisers to fund the Children's Christmas Party for the ICPA (Isolated Children Parent's Association). It also meant a break from the monotony of cooking at home and we could eat roadhouse food: steak, juicy hamburgers, bacon and egg sandwiches, and hot chips were my favourite.
So, Heartbreak was a great venue for our cricket training – we could drink wine and enjoy ourselves, and buy pies for the kids. Janelle gave us lessons in bowling and catching techniques and the kids did most of the chasing of the ball. I don't think she was feeling very confident about our skills development but she took it all in good humour as we skylarked around and finished the training sessions with plenty of wine. I'd only ever played cricket as a child on Christmas Day, and I don't think many of the other team members had much experience. Consequently, I am sure we were a great disappointment to Janelle. She'd say, 'Get serious! You can't bend your elbow, that is throwing. You've got to keep your arms straight!' and we'd all just be laughing and chucking the ball all over the place, bemoaning the fact that, 'Twenty-two yards is a long way!'
We turned up in Borroloola on match day with kids, eskies, bats, and balls. The ground was decidedly harder, drier and much, much bigger than the lawns we had been practising on at Heartbreak.
The game began in 40-degree heat, the rocks and the ground burning, but we bowled and ran, caught and lost the ball, and got a few wickets amid screams of laughter and falling over. I can't remember the scores, but I think most of the wickets, catches, and runs were taken by Janelle. It turned out that we won, much to the chagrin of the Borroloola ladies, with their real cricket club and somewhere to practise under the guidance of their club coach. We claimed the silver trophy and headed the 100 kilometres back to Heartbreak to celebrate long into the night. There were a lot of mums with hangovers the next day. Once wasn't enough for the Borooloola ladies, though: they challenged us again and beat us. We just drove back to Heartbreak and got drunk and briefly cried into our beers. Our cricketing career was short-lived: we only ever played those two games.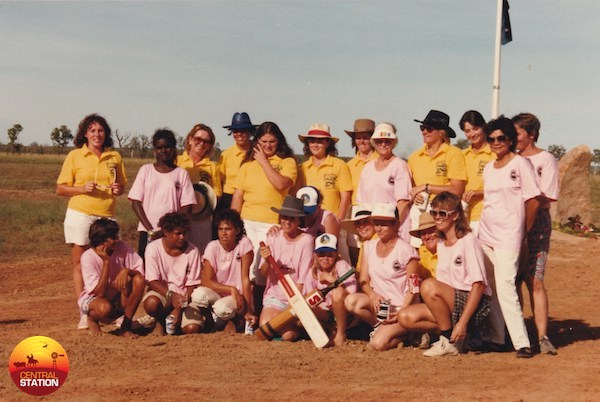 1989 Heartbreak vs Borroloola Ladies Cricket match.
---
About the Author
Born and raised in the Northern Territory, Toni Tapp Coutts has had a varied career, from living on cattle stations, riding in campdrafts and barrel racing, to owning a variety store in outback Borroloola and a dress boutique in Katherine. She is a breast cancer survivor and Councillor on the Katherine Town Council. Her first memoir, A Sunburnt Childhood, was published in 2016 and quickly became an Australian bestseller. 
Having grown up on the massive Killarney cattle station near Katherine, NT, Toni Tapp Coutts was well prepared when her husband, Shaun, took a job at McArthur River Station in the Gulf Country, 600 kilometres away near the Queensland border.
Toni became cook, counsellor, housekeeper and nurse to the host of people who lived on McArthur River and the constant stream of visitors. She made firm friends, created the Heartbreak Ball and started riding campdraft in rodeos all over the Territory, becoming one of the NT's top riders.
In the midst of this busy life she raised three children and saw them through challenges; she dealt with snakes in her washing basket; she kept in touch with her large, sprawling Tapp family, and she fell deeply in love with the Gulf Country.
Filled with the warmth and humour readers will remember from A Sunburnt Childhood, this next chapter in Toni's life is both an adventure and a heartwarming memoir, and will introduce readers to a part of Australia few have experienced. 
Comments