Host: Yougawalla Station
Written by Eve Graham – Backpacker, Yougawalla Station.
Well I've swapped my Comme des Garcons shirts for R.M. Williams ones, despite mocking the self proclaimed 'bush outfitter's attire as an outback-newbie. After completing an arts degree and working in an office-based graduate role for a luxury fashion retailer, I came to Australia hoping for glamorous career at, like, a glossy magazine or some totally hot marketing company. Needless to say I didn't expect to be writing this from the outback, let alone 3142km from the nearest Topshop.
I arrived in Sydney in mid-Aussie winter and, after deciding I did not spend £1000 on a flight to be cold, I headed to Darwin. My funds quickly ran dry and it became obvious the only way I was going to make money up there was don a fluro shirt and steelies. Unfortunately, a fancy London degree doesn't get you a job in the construction industry. So I'd settled on venturing to Melbourne in search of sushi, members-only nightclubs and a job 'in fashion'. Around the same time I received a life-changing call from Dave, the manager of a cattle station. Having only heard the term 'station' in reference to somewhere you get on trains, I had no idea what he was talking about and why the recruitment agency I was signed to had sent him my number. But, with a 'might as well' attitude, I soon found myself on an 11 hour Greyhound heading south.
I signed up to be Camp Cook for the Stock Camp team and on my first day I made a couple of major errors. The first one was using the C word – not the one you're probably thinking of, as that's blatantly the most uttered word in a Terrotorian's vocabulary, but 'cow'. To me all the cattle were cows; 'that's a heifer' I was briskly informed, alongside a background of laughter. My second mistake was to agree to go 'turkey shooting' at the turkey's nest with the Head Stockman. Naively I though a lovely roast turkey would be a welcome alternative to beef on my menu . . . I had no idea that it was . . . Well let's not go there . . . Thankfully one of the female camp members intervened.
Like most backpackers, 99.9% of people I'd met in Australia were from Britain or Ireland, and I just wasn't used to the forward attitudes of the men I encountered at the station. On my initial introduction to my colleagues they made noises to mimic bulls mating and, if it wasn't for the fact I have tons of luggage, I would have seriously considered walking back to Darwin. Yet I quickly learned that there is something endearing about a man telling you he wants you to go for a roll in the hay with him. Now the old city me would freak out, but hear what I have to say; men in the cities/back in the mother land are sneaky – they'll make you fall for them, take you out to dinner and, inevitably, encourage you to dream of a 'future' together when all they really want is to have their wicked way, yet a country boy tells you plain and simple what he wants with no illusions of romance. I don't know if they've got morals or just a lack of experience, but getting door-knocked is a somewhat welcome alternative to repeatedly reading over dozens of texts from a city-boy and constantly screaming 'but what does he reeeeeallllllllllyyyyy mean???!??!?' to all your female friends.The colleagues I met at the station have changed my life: they showed me that a country life is the best life by involving me in all aspects of the station.
The opportunities I have been given and experiences I have had, have consequently resulted in me nattering all my city-loving friends to get trawling Queensland Country Life and find a station job. For instance I rode a motorbike for the first time, sure I burnt my leg on the exhaust but I was not going to miss an opportunity to tan by wearing jeans, was I?! I've now been on a horse, loaded cattle on to road trains, driven a truck and utes, been on bore-runs with the hilarious pilot, cooked upwards of a million steaks, cared for poddies (ugh), caught cellulitis from cow shit, tallied loads, and done yard work in thigh deep mud. And, I think it's incredibly sad most backpackers spend their Working Holiday Visa in Australia drinking goon in some roach-infested Kings Cross hostel.
I loved my time at the station so much that I took a mental (in my mum's mind) decision and signed up for another job in the outback. I'm now at Yougawalla Station in the stunning Kimberleys. I've not been here long, but how could I not be happy in my new home when I'm able to see the sun rise and set over a landscape that looks straight out of a Jurassic Park set. And, although I haven't got to the level of familiarity I did with my old station managers (who knew every gory detail of my Bundy-fuelled mis-adventures), the Sale family have certainly helped me settle in at Yougawalla. They've also opened my eyes to the exciting initiative stations can take to interact with neighbouring stations and indigenous townships, when not bound by the constraints of a large pastoral company.
With one of my colleagues I drove from the station to Sydney to spend Christmas in the city. It took over five days (would have been four if country boys weren't so partial to drinking full crates of Gold), and I can honestly say it was my best time in this incredible country. I saw the how the drought was affecting Queensland farmers, even early on in the so-called 'wet-season'. This, more than anything, showed me first-hand that Australia is not a place to come and get brown and drunk; it's a beautiful nation with an ever-changing landscape, full of hard-working passionate individuals. Other outback discoveries are that 'roos are not a novelty they're just ute-wreckers, country music is pretty catchy, Vegemite and cheese toasties cure any hangover and bootcut jeans are more flattering than skinny ones (don't tell my hipster friends I think that). I also learnt that the best sandwich in the world comes from Longreach; as I bit in to that divine chicken caesar roll, in the town that most backpackers won't have heard of let alone been to, I felt like one very lucky pommy.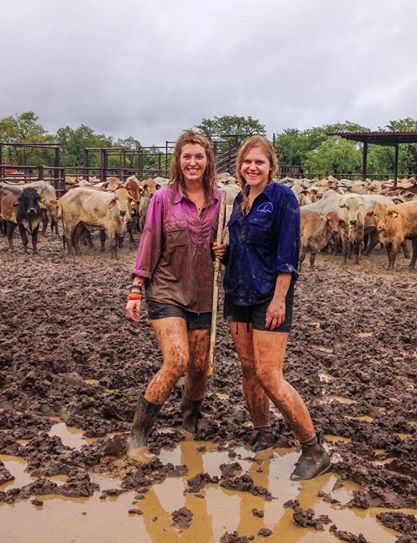 Doing a spot of soggy yard work with a backpacker, Zara. 
Comments