Host: Mystery Park
Written by Tess Camm – General Manager, Signature Beef.
I couldn't imagine growing up anywhere other than on a cattle station. At 'Mystery Park', like many family owned and operated cattle stations, kids are an integral to the operation. Rather than juggling parenting, childcare and station duties, we came along for the ride – age regardless.
Three year old Eliza McArthur coming along for the ride.
We are currently in the midst of bringing our stock numbers up to their annual peak as our pastures reach their optimum level of nutrition and volume. This means every afternoon after the school day (via distance education) finishes, the kids race out the door and pull their boots and hats on to go mustering.
Hamish and Lachlan McArthur hustle to catch up to the mob after finishing school for the day.
Pasture management underpins animal performance, which drives profitability in a grazing business. As stock numbers increase, it is imperative that the right number of the most suitable class of cattle is matched to each cell (group of paddocks in a rotation). This process is quite labour intensive, but with a willing and able workforce, is more than worthwhile.
Mustering and moving cattle to ensure stocking numbers are matched to the carrying capacity of each cell.
Some mobs simply require shifting to other paddocks on the property.
Others need to be drafted to separate cattle into management groups . . .
Others need to go through a plunge dip, to move to a property south of the tick line.
As their strength and skills developed, kids can take on bigger and better tasks. They grow physically fit and healthy, mentally dynamic and resilient . . .
Adelaide McArthur having a moment with her pink partner in crime, Patriot.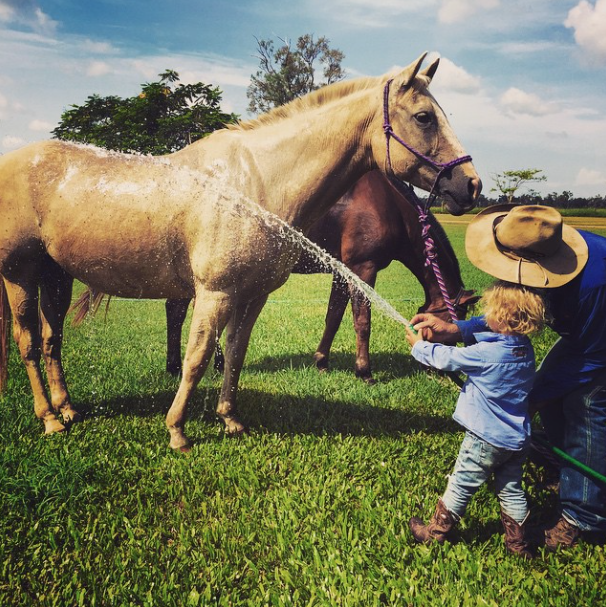 Rob McArthur helping Eliza cool her trusty steed off after a long hot day's mustering.
Lachlan and Hamish McArthur tending to their horses after a long afternoon in the saddle.
. . . and emotionally compassionate.
One of my favourite things about the beef industry is how many opportunities exist for young people who are willing to work hard and take chances. Taking one of these opportunities means I'm not on site at 'Mystery Park' as I host this week, but more on that tomorrow . . .
Comments