Host: Anna Plains Station
Written by Helen Campion – Station Owner/Manager, Anna Plains Station.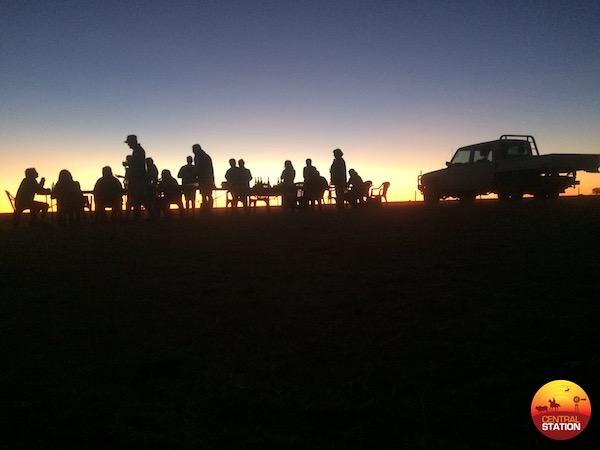 Mardie, 61 year old gentleman celebrating his 3rd birthday on the Plains.
The humming of the Royal Flying Doctor Services (RFDS) jet engine approaching was a comforting sound after a long night of uncertainty. Touchdown on our all weather gravel airstrip gave us all a sense of relief. We were waiting for the aircraft to shut down. When the door opened and the doctor approached I remember being relieved and so too was my girlfriend who is also a nurse. In fact everyone was who had been involved in getting our friend to the airstrip from his caravan.
Three years ago Mardie had a heart attack on our cattle station. I want to reflect on the proceedings that took place that day.  It started with a 3:30 am knock on our door by Mardie's wife, Terry, which wasn't the first knock, she had used the main door and couldn't raise us, so she tried the laundry entrance. Finally my husband heard it and went to the door. I continued sleeping on. David returned to let me know it was Terry saying she thinks Mardie is having a heart attack.
I leapt out of bed threw what clothes were around on and clambered out to the pitch black. I instructed Terry to go straight back to the caravan to be with Mardie and told her I would be there in no time. I went to a girlfriend's tent and explained what had happened and asked her if she could come with me. Barb had after all come up from Perth where she was still working as a nurse on a holiday up north. We both walked briskly to the caravan.
We knocked on the caravan door and Terry opened it quickly looking very worried and afraid. I took one look at Mardie and knew he was in trouble with a capital T. I asked Terrie if she had aspirin and got two down Mardies throat as quick as we could.
He was grey, cold, and not comfortable at all. I left Barb with Mardie and took off to speak to a doctor from the Royal Flying Doctors Service (RFDS) over the phone. The RFDS provide emergency and primary health care for those of us living in rural, remote, and regional areas within Australia. Comforting to know this service is available to people who do not have access to hospitals or general practitioners because of the huge distances in the outback.
After speaking to the doctor over the phone we followed his orders. I rang the doctor back and it was then that he told me that he would be sending an aircraft to Anna Plains, but it would not get to us before first light and should be with us by 7:30am. During this time it was a matter of keeping Mardie warm and comfortable and making him feel relaxed knowing help was on its way. We instructed Terrie to lay near him and their little dog Oscar too hopped onto the bed.
Barb and I kept notes every 15 minutes with his observations, pulse, and respirations, and any medication we had used under doctor's orders. It was about 7am and I had Mardie's best mate Neil who wanted to help, and I chatted to him about getting Mardie out of his bed from the caravan and how we were going to get him to the airstrip, which is about 4km away from the homestead.
Neil had organised a makeshift ambulance by using his Toyota Landcruiser and laying the seats down. He had the heater on and we somehow had men all around us to get him into the back of the car. Once Mardie was in the car Barb went with him and I got my ute and we all took off to the airstrip. The wait at the airstrip didn't seem too long. When the plane had landed we helped the crew from RFDS get Mardie from the back of the vehicle onto a stretcher and onto the plane.
Intravenous lines were put in and ECG on, and then it was all up to the doctor it took time to stabilise Mardie on board the aircraft and once things were settled the doors were closed and the aircraft rolled down the runway and was airborne heading to Port Hedland then onto Perth, and Terry was on the plane too.
The beauty of this story is the fantastic work that was done by the RFDS and the best of it is Mardie survived and its been three years since and he still visits us every year on the station and stays for several weeks. The rapport we both have is amazing and one that we both know will continue for many more years to come. God willing.
Comments