Host: Donal Sullivan
Good Morning/Evening to you, Central Station reader. I'm Donal Sullivan, from Cave Creek Station in the NT but if you have Instagram you may have come across me sharing images of station life under the guise of 'tinycruiser'. If you don't have Instagram then I feel I should tell you I'm a woman. Sometimes people see my name written and assume I'm male. I'm not sure why.
I feel compelled to bore you with a few yarns about myself before we get to the better bits later this week (which may not arrive if you have high expectations of my writing).
I grew up on my family's cattle station 100km south of Katherine (where I was born). My parents, my father's parents, and my father's four siblings all went in together and bought 90,000 acres, luxuriously developed with a three (sometimes four) strand barbed wire fence around the perimeter. That was it. No internal fences, no cattle yards, no house to live in, no bore on the property. With a great stretch of the imagination the block was christened 'Cave Creek' after the small, dry, sandy creek that ran through it called 'Cave Creek'. It was here my parents decided they wanted to live with virtually no expendable income, and raise their family of five. They started off with only a couple of hundred cows, and after twenty-five years of hard work they now run about 6000 head of Brahman cross cattle across three properties, two properties which the family own and one which is leased.  My family's operation is still considered 'small' by Territory standards, and one thing that is particularly special about our business is that all three generations work together in the day to day running of the station.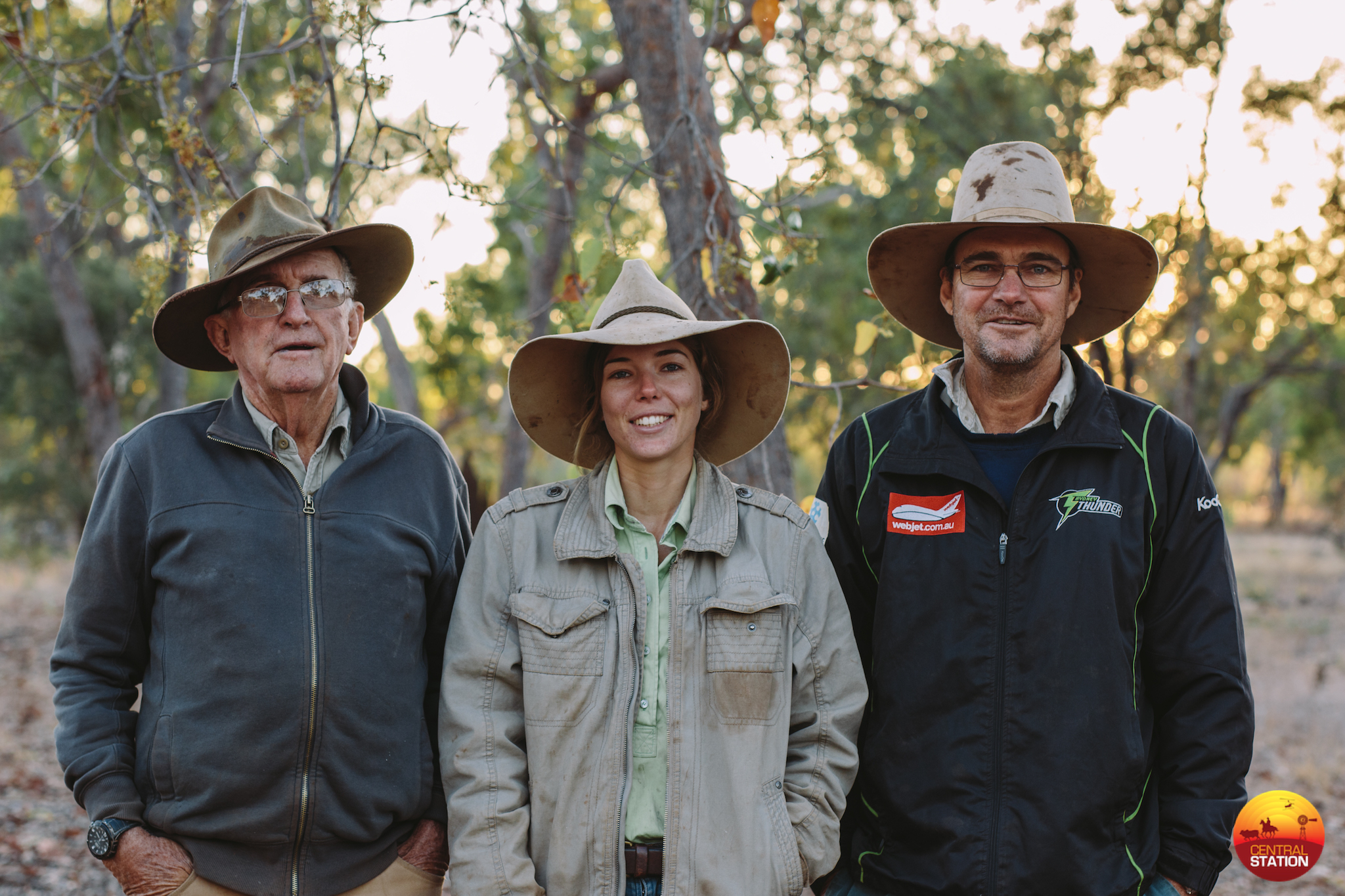 Three generations, all eldest children too! My Grandfather, my Father, and I.
I went to boarding school at age thirteen and got a pretty good ATAR (Australian Tertiary Admission Rank) upon leaving at age eighteen. I never used this score to go to University because I was hell-bent on taking on the world. I worked for my parents for a year after school then moved to the big smoke (Darwin) where I partied as hard as my bank balance would allow, and sometimes I worked as a survey assistant on construction sites. After two years in town, just when the bank balance was starting to allow some pretty admirable attendance on Mitchell St (the main party strip) and I had perfected the art of getting 'sick' leave, I had a change of heart and decided to go contract mustering for a year.
I decided to go contract mustering…
It was here things started to get really interesting. At age 21 joining a mustering crew, I thought I knew it all. This contract mustering thing would be a fun way to see some country and make some money.
Turns out I actually didn't know it all. And although it was fun at times, it was also really bloody tough. We moved between stations processing cattle or fencing. We didn't live at the station homestead but rather camped out in swags near where we were working. We supplied all our own gear. No contact with the outside world and no modern amenities. I cooked for everyone using a small barbeque, a slow cooker, and some gas cookers and I was the only female in a crew that varied between 3-8 blokes.
Some of the crew getting ready to go mustering.
"I know it's hard being the only girl" my boss said one day.
But the truth is he would never know how hard it was. I felt like I had no-one. I felt I was well and truly on my own in a man's world. There was no-one I could confide in or trust with my burdens. I was doing the cooking as well as trying to get as much time as possible down the yards or fencing where I felt more useful and could learn more. Most days the only person who did a longer working day than me was my boss. Although I cooked fruit cakes, stews, damper, roasts, cheesecakes, muffins, slices etc I was losing weight rapidly. I felt like I was drowning, but I was too stubborn to quit. Looking back now I realise I was seriously depressed.
After almost a full season I did quit. I gave my boss a couple of weeks notice but ended up leaving abruptly after an argument with the man managing our fencing crew. To date out of the sixteen jobs I've had since leaving high school, it is the only one that I have left on bad terms, which I am disappointed about. I am absolutely not someone who enjoys conflict, in fact I avoid it at all costs. It was a series of incidents that pushed me to a point where I engaged in an argument, something very out of character for me. I cried during the altercation and tears slid silently down my face for the whole hour drive from our camp in to the station homestead. I cried when I asked the station manager's wife if I could use the phone to call my family and I cried when my father answered the phone. I went over to the station worker's quarters where some of them were gathered having beers and burst into tears again. These blokes had been a big comfort to me when I was struggling throughout the year. They never failed to cheer me up and smuggled me chocolates and mangoes when I was out in the camp.
"Why are you crying?" one asked
"I'm just a sook." I sobbed
"You're not a sook." He told me "You need a drink."
By the time my mother arrived that afternoon I'd had enough drinks to stop crying.
That day in my life is one I often wish I could re-live. Although I spent a lot of it crying, it was such a huge weight off my shoulders to realise I had friends who were there for me, and family who'd look after me no matter what. It was a beautiful realisation. I don't think I have ever been so upset and so happy at the same time.
That day also marked a point where I started working towards a goal. I felt as if my life was sliding onto some kind of track, like the bizarre chain of events previously had meant I was exactly where I was supposed to be. I'd been thinking about it for years, but I finally decided in investigate getting my commercial helicopter licence. I called pilots I knew and quizzed them. I called flight schools, Designated Aviation Medical Examiners, theory schools and other people studying for their licences. It was going to mean A LOT of hard work and saving, but I decided it was something I wanted to go ahead with. I wanted to keep travelling and seeing remote Australia, I wanted to keep meeting new people, and most of all I wanted to keep working with cattle. I had always been fascinated by helicopters. At least as a pilot my slender build (50kg with boots on) is seen as an advantage.
Getting ready to fly an R44. Photo taken by Geoff Horsburgh.
Fast forward two years (as I'm writing this almost two years exactly from the day I quit that job!) and I'm now employed as a junior pilot for a helicopter company based in the NT. I still have a long way to go, and I understand that the most difficult part might still lay ahead of me, nevertheless I'm proud of how far I've come and how hard I had to work to get here.
Comments