Host: Yarrie Station
Written by Martha Lindstad, Stationhand, Yarrie Station
It had been one of those perfect days. We weren't far out in September, and were getting closer to the end of mustering. As many times previously this year, a team of us were sent to our leased block, Coongan. Coongan had more rainfall than Yarrie this year, and hasn't been grazed heavily over the past years. Hence, heaps of feed around. As some of the areas on Yarrie needed a grazing break, we've sent some of our breeders to Coongan this year. Usually it takes us a couple of days receiving cattle on Coongan, settling them in and walking them out to water. With the breeder cows, these walk outs usually takes a day, but as we had weaners this time, we spent more time with them. This to make sure they were well settled in, and all knew where the water was.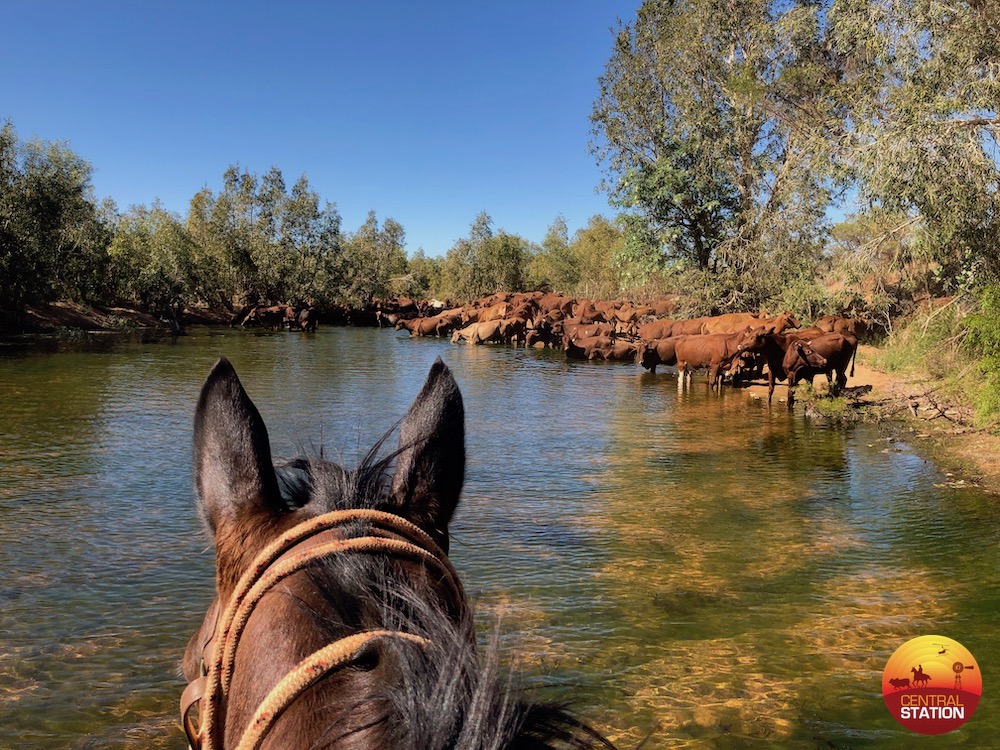 We always spend a lot of time holding cattle on water points when bringing them to a new area. This to make sure they know where the water is, and are well settled around that specific area.
It had been such a good day. We brought our mob of 240 steers out of the yards, and slowly let them graze their way to the closest mill, named Cuppa Tea. We reached the mill about 11am, and held them here for about three hours, letting them graze out from the mill and after a while pushing them back to the trough. Nicole, Ann and I were all on horses. In fact, it was the first time this year we didn't have a car or motorbike around. Of course something had to happen. The cattle were well settled in on the water, but our plan was to take them back to the yards for the night, and then take them back to the mill in the morning. So far everything had gone to plan. The weaners were well settled, and happily enjoying the Coongan grass. We started making our way back towards the yards. Across a grassy plain, past the Warralong airstrip and down the road towards the yards. We were 3/4 of the way home when it happened.
As my horse Scandal and I were pushing the tail along, I could spot movement to the left, in the corner of my eye. There was a horse cantering up towards us. A wild horse. Wow, I thought. I had never seen a wild horse this close. Earlier this year we came across a couple walking a mob of heifers to another mill on Coongan, but they took off as soon as they saw us. This time was different.
While we only have camels and the odd donkey on Yarrie, there's a lot of wild horses on Coongan. Horses that originally came from the nearby stations have been running wild for generations now. Horses in large numbers like these, can do a lot of damage to the country.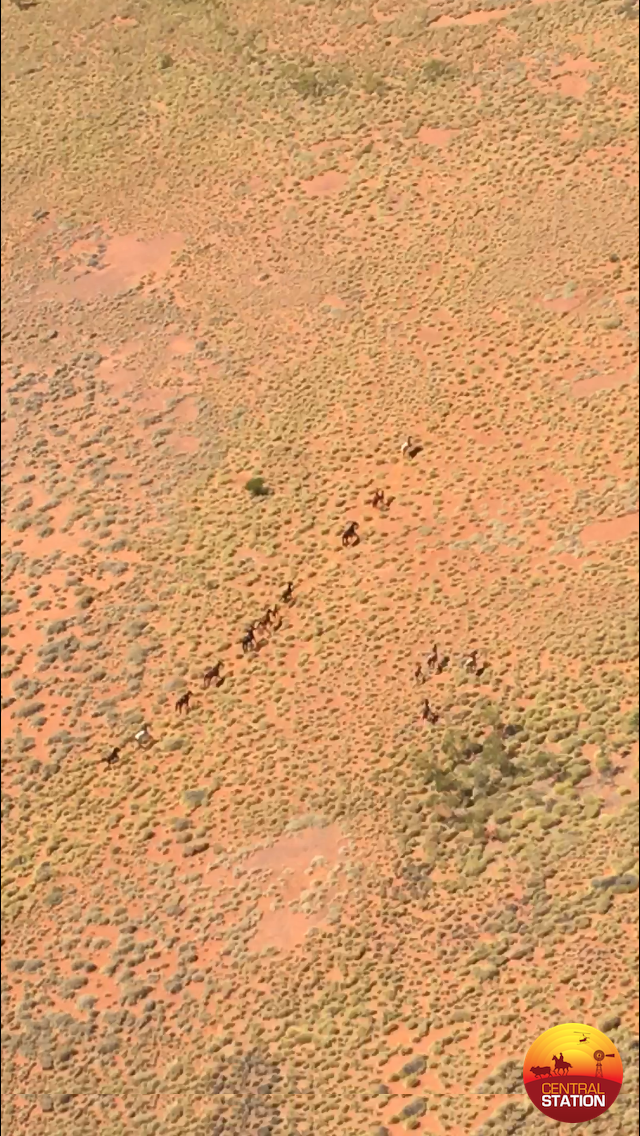 I never had the time or opportunity to get a photo of the wild stallion, but there's a lot of wild horses on Coongan.
I think any girl that likes horses has a certain picture of a wild horse in her head. From reading horse novels from an early age, I always pictured wild horses like the American mustangs described in those books. Well built, black stallions with a thick, long mane and tail, a bright look on his face and carrying himself beautifully cantering across some sort of steppe, while looking after his mob. This ginger looking thing coming up to us right now looked nothing like that. Probably inbred for the last 20 years, he was one of the ugliest horses I've ever seen. Most of our cows trots nicer than he did, no way he would've ever made the racetrack as a trotter. Ann came over to my side and together we rode towards him yelling. He was only 20 or so meters away. So far I thought this was an incredible experience. Imagine experiencing wild horses this close. My thoughts of the situation changed rapidly.
The stallion took off straight through our quiet mob of weaners, to the western side of the mob. The cattle started breaking away. "Face your horse towards him and yell out if he gets close to you", said Ann to Nicole over the radio. Freshly joining us from Germany, it was Nicoles first time taking a mob out on horseback. What a start. The stallion was still running around like a mad thing. Fortunately he put the cattle he just pushed out, back into the mob. He might not be too bad after all, I thought. Plenty of stock sense in him it seemed. Or, probably just a coincidence. He came towards us again. I can't quite remember, but I yelled out all the nasty and abrupt Norwegian words I knew, to him. It didn't help. The stallion took off through the mob again, with no plans of putting the cattle back. They were all over the show now. I quickly made my way to the front to help Nicole out in the lead, but it was anything but easy. One mob was heading towards the river across two old, lying down fences. Another mob was heading west across the flat. Some were still on the road, and a couple headed back towards the mill. The stallion was all over the show. I couldn't see him, but listening to Ann's yelling across the bushes, I figured where he was.
While I tried to pull the lead up, the stallion was heading for Scandal and me. How we didn't get tangled up in those old fences, I don't know. The stallion was only 15 meters away now, and very interested in us. I managed to get to two kanji bushes on the other side of the fence. Prickly, annoying bushes that rips your shirts usually, but they saved us this time. The stallion tried to get to us, but I constantly moved my horse to the opposite side of the bushes. Funnily enough it reminded me about my childhood walking around the Christmas tree singing Christmas carols. Songs, snow and a pine tree was however very far from the tense situation I was in the middle off right now.
Finally, after yelling some more Norwegian words to the stallion, he took off. I found Ann and Trifecta a couple of hundred meters down the flat. Nicole was off to the camp to get Ann's rifle, but where were all the cattle? I could see some dust towards the mill we had just come from. The bastard was chasing the weaners back towards the mill. At the same time, my horse Scandal tried to call out to him. "Don't you dare", I yelled to him. Surprisingly he shut up.
We had no cattle, and all the settling earlier that day suddenly felt wasted. We headed for the river, and cantered along, hoping to get in front of the majority of the mob, and at the same time hide away from the stallion. A kilometre down the river, I could still see some of the weaners way ahead, and the back of the horse. We went past the mill, but there was no way we were gonna pull them all up. We managed to pull up a mob of 30 or so weaners, which was pretty depressing considering there were another 200 out there somewhere. However, more and more weaners came into our mob as we held them, and when we got back to the mill, there was quite a few waiting there. Our job holding them earlier that day wasn't wasted after all. Two hours after we left the mill the first time, we headed off again. Nicole had swapped her horse for a car and rifle, in case the stallion was coming back. Of course he didn't. An hour later we got back to the spot were things went pear shaped. Another 15 weaners were waiting in the bushes.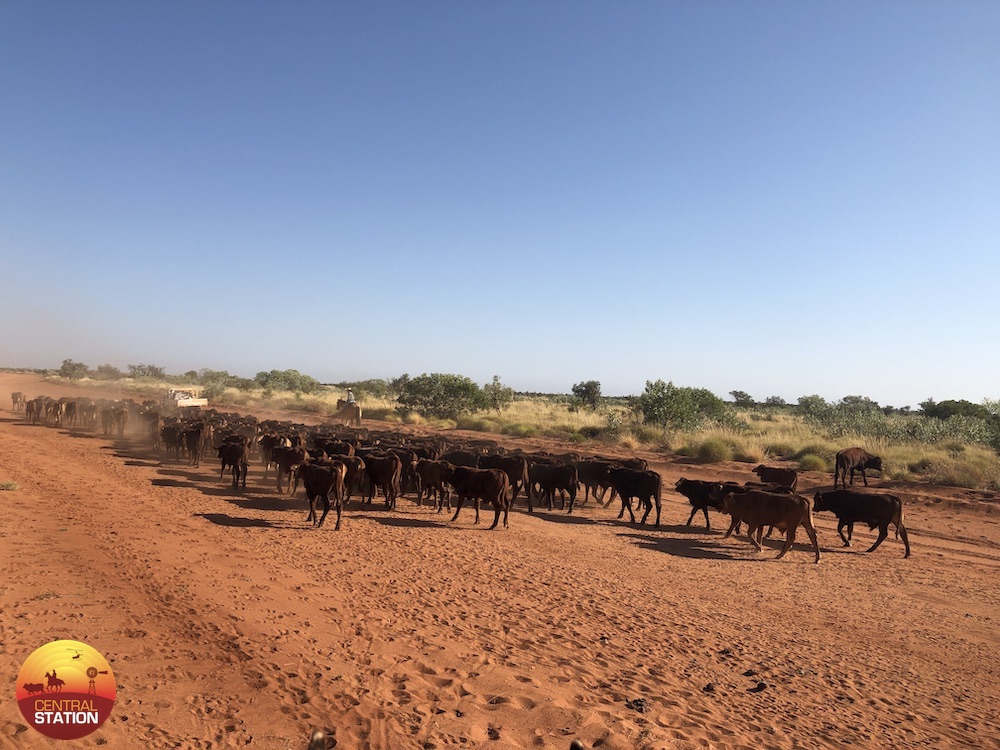 We had lost a few weaners after the incident with the stallion, but managed to get the majority of our mob back to the yards.
We got them back to the yards, and after a count it turned out we were only missing roughly 50 weaners. Our plans the next day changed slightly as Annabelle had to come over in the helicopter to double check the missing weaners. A few were waiting for us at the trough, and the rest had met up with other cattle by a water point on the river. Luckily our cattle were fine despite the incident with the stallion.
I've had my first meeting with a wild horse, and it was nothing like I'd ever imagined. The ugly ginger is still out there somewhere, probably making more babies for the future. I doubt he'll be there for long.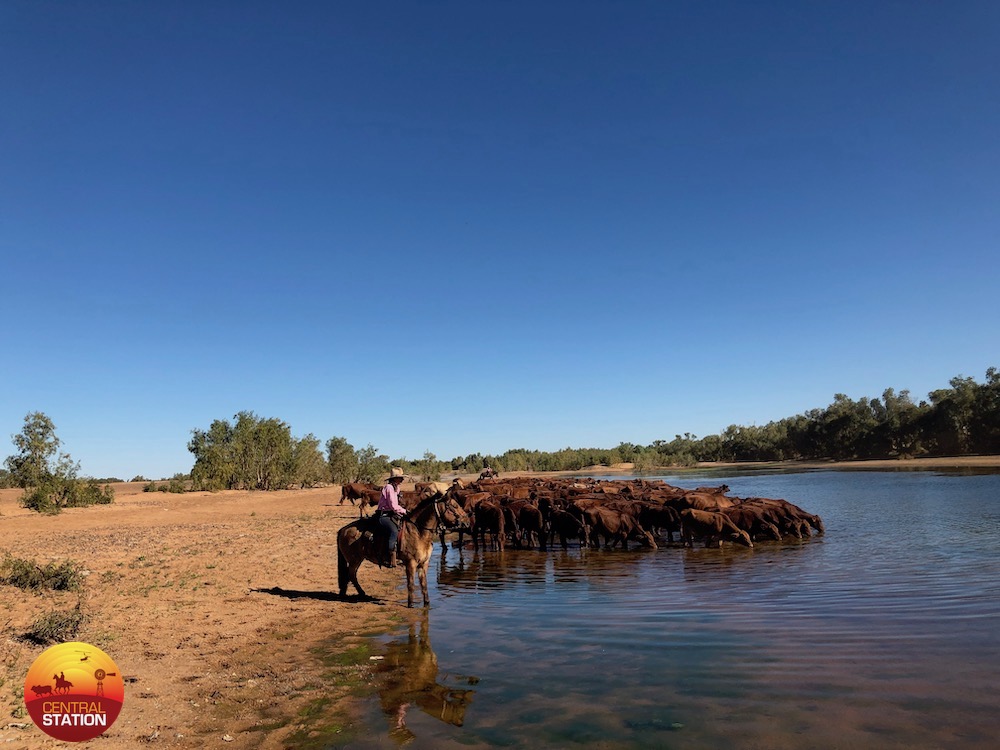 Ann Coppin and her horse Trifecta holding a mob of weaners on the Shaw river earlier this year.
Comments