Host: Annaburoo Station
Written by Barb Phillips – Manager, Annaburoo Station.
Annaburroo is presently carrying 2000 breeders and an additional 3000 agistment cattle from September through to March, with these numbers set to increase as we fix the last of the internal fences on the place.
We service the live export market with animals being shipped from the port of Darwin, just 120 kilometres away. Most cattle are sent to our closest neighbour and partner Indonesia while some 'out of spec' (cattle that don't meet feeder cattle specifications) go to Vietnam or Malaysia. The close proximity of Annaburroo to the port of Darwin and the fact that we have year round access for road trains to our cattle yard facility has provided us with a great opportunity.
If exporters have a shortfall of cattle for a boat they can call us last minute. We have lines of boat ready cattle stacked up in holding paddocks close by. With a quick phone call we can bring the cattle in and have them on a truck within a couple of hours. I have my live export accreditation for pregnancy testing as well so I can easily test females prior to leaving. It is commonplace for each station to have a certified pregnancy tester on site. For us here, it is integral to getting females on a live export job at the drop of a hat.
Walking a line of steers in for export.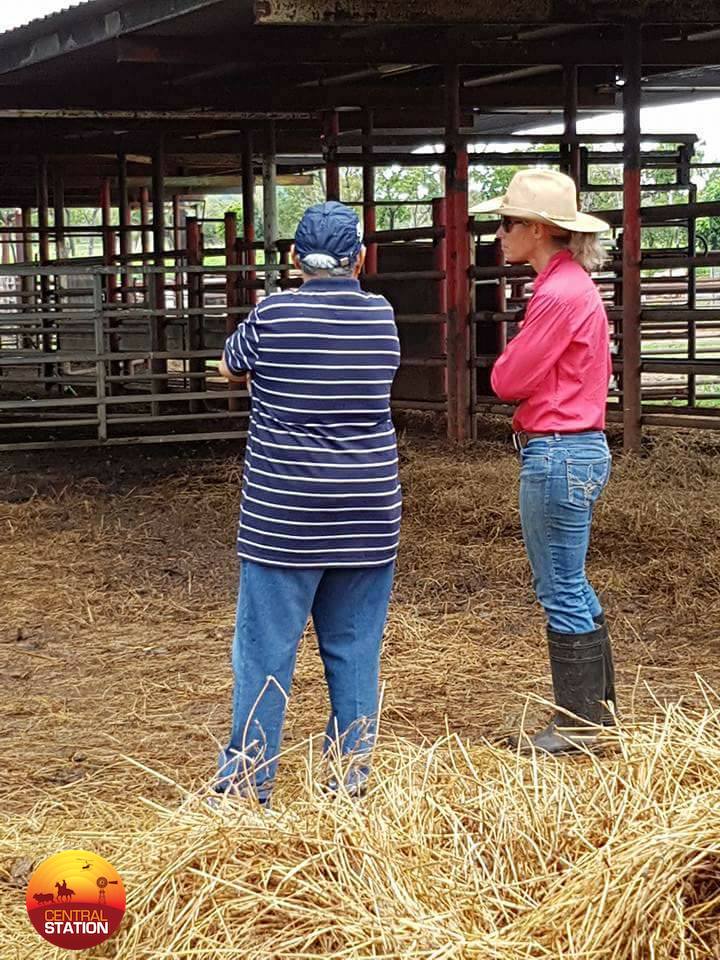 Barb talking with the Indonesian buyer.
Road train at the loading ramp ready to load.
We run a breeder operation at Annaburroo as the country is quite marginal in parts though there are pockets of open floodplain where cattle can be run in the dry when waters recede. Floodplain country seeded to Hymenachne and Para grass enable cattle to grow out at a time of year when other regions of the Northern Territory are holding cattle and maintaining weight. Often cattle from the Katherine region, 300 kilometres to the south, are sent up to the floodplain country to grow out and be ready to export in February when prices are traditionally at their best.
Adrian and Greg (owner of Annaburroo Station) share a great passion for improved pasture. Greg has wholeheartedly supported Adrian's dream of transforming the pasture. So far we have a new Jarra hay paddock on the airstrip that has further expanded this season, as well as two other Jarra/legume hay paddocks. This year should see us cut 2500 large round bales for both station use and commercial sale.
Jarra grazing paddock in front of house.

Holding paddocks and laneways have been ploughed and seeded with grasses that include Jarra, Urachloa, Tully, Stylos (legume), Mekong, and Para. Floodout country has had levy banks put in to create more floodplain country for dry season grazing. These have been planted to Para grass. The holding paddocks are integral for our weaner cattle education program where we tail cattle out on to feed using dogs, horses, and quad bikes. We also bring sale cattle in and hold them in these paddocks to settle and graze in the weeks leading up to trucking date.
The laneways are essential for holding cattle but also as a seed bed for desirable grasses and legumes to take hold. Cattle are tailed through these laneways before walking them out to their much larger 'home' paddocks on Annaburroo. The cattle then spread desirable seed via their dung across many of our native grass paddocks. The legumes provide much needed nitrogen for the soil and also offer a great protein source for cattle throughout the dry season when the grass has hayed off.
Barb and Carl on quad bikes having just walked cattle out.

Adrian's work dogs enjoying a well earned spell on the buggy.
The other aspect is development. New dams have been dug, bores have been equipped, and solar pumps, submersible pumps, tanks, and troughs have been installed. Fencing is ongoing. We have now repaired or replaced 251km of fencing. The main billabong is now fenced off and we are looking at fencing off the majority of the Mary River system in order to minimise losses to crocodiles as well as to reduce erosion, the spread of weed (though a lot of weed seed and erosion is caused by wallabies and pigs, respectively) and to manage cattle grazing pressure. There is never a dull moment out here, the wet season being our busiest time of year.
New dam.
Another new dam.
Comments