Host: Monkira Station
Written by Deborah Desreaux – Manager, Monkira Station.
Hi, well this is a little bit about Monkira Station. Monkira is owned by one of Australia's oldest pastoral companies, The North Australian Pastoral Co Pty Ltd. It is 921,000 acres situated smack bang in the middle of the Channel Country.
The Diamantina River flows straight through the middle of the place from North to South. Monkira is primarily used as a grower property. We take weaners from our Northern breeder property Alexandria and grow them out here. They then head to back-grounding at Cungelella near Tambo or go to Wainui our award winning feedlot at Dalby. Out of spec cattle are retained and turned off as grassfeds. NAP Co have owned Monkira since 1939 and we are the 8th managers to hold the reins on the place in this time.
 Aerial shot of Monkira homestead.
My husband Anthony Desreaux has managed Monkira since 2002. We arrived here in late February that year to a drought. Having left the Territory it was a shock to say the least. No wet season. OMG. I said to my hubby "Where have you brought us?"
He's channel country raised, so for him it was all good. We've seen some pretty dry years here but we've seen some amazingly great wet seasons too. With an average annual rainfall of just under 220mm, we've seen 70mm to date for 2014 if that gives you any idea of how dry it is. Though, 2010 saw nearly 600mm falls and massive floods, so we've seen it at its worst and its best.
We run a small crew of eight to twelve people, depending on the season and how many head of cattle are run here. This can be between 6,000 head and 14,000 head.
Anthony prides himself on having good quiet cattle and running them in good lines to turn off. He is very passionate about low stress stock handling and this in turn means he is a very skilled horseman as well. Horses are what need to stay in this industry and good horsemanship is a must with the OH and S being so strict these days.
We have a team of a Head Stockman Kirk Fenton, Stock camp of Will Dumesny, Matty Limbert, Caitlin Hosken, a machinery operator Anthony White, and our family.
I am currently book-keeping and teaching my son Ty who's doing grade nine through Distance Ed along with caring for our littlest bubs Savana who is six months. My eldest daughter Abby is currently cooking until the end of the year, when she will leave to pursue her saddle making.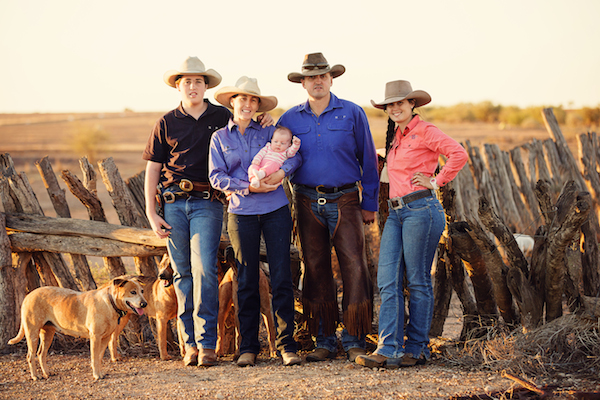 Ty, Deb, Savana, Anthony, and Abby Desreaux.
Monkira is certainly amazing with its river channels, sandhill country, and stony downs country. It gets in your blood. It has a few great achievements like the Famous Monkira Bullock or the world's largest Coolibah tree.
Monkira Ox.
Many a northern based friend has asked me "How can you live down there? It's so dry and isolated." I always reply "Well it isn't that bad. While you are cleaning mould from your walls or moving out during the wet I'm still living in my house, sleeping in my bed." It definitely isn't isolated. Remote, yes, but not isolated. We see so many tourists, trucks, and people, we are far from isolated.
I certainly keep busy behind the scenes with the day to day running of the office. Anthony and I work together as a team to make sure things run efficiently and we couldn't imagine not working together every day.
We have enjoyed working for NAP Co for the past 12 3/4 years and Monkira is a special place at which we have many great memories and will always love. Like any management team we've had good and bad years for seasons, staff, personal life but in the end we've toughed them all out and always seem to come out the other side.
At the end of the day we can say this is a life style. It's hard work but you do see the achievements when you finish trucking cattle to get a great compliance or build something new that benefits the stock, the staff, and the company.
Enjoy the bush as it sure is amazing!
Regards
Deb
Comments