Host: Blina Station
Written by Constance Grey – Manager, Blina Station.
Every year, about December – Matt and I receive a swag of resumes from the Jumbuck head office to draft and select the coming seasons station hands. When you split them between girls and boys – we have about seven female applicants to one male for the station hand positions. I attribute this to the fact that Blina still coacher muster all of our cattle on horseback and it seems that girls are more interested in the horsey side of things.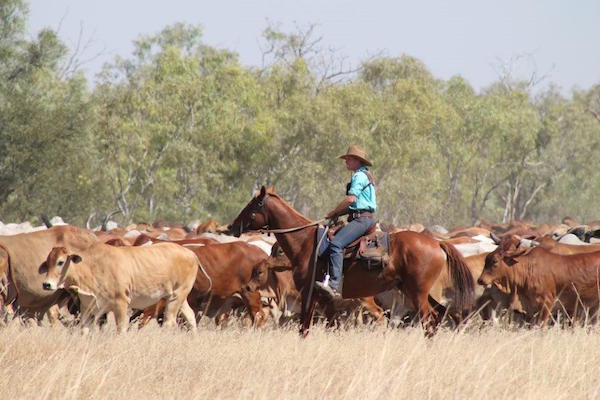 Mustering on horseback.
Whatever it is, Matt and I find ourselves drafting through many more females than males. It is important, and I better tread carefully here – to have an even balance of males and females in the camp. It is important to have a few girls with their heads screwed on, as they really make a difference in the dynamics of the stock camp.
I love seeing all of our ringers succeed here at Blina, but being a young woman in the bush myself, I especially love seeing the girls succeed. I love watching them match the boys (even better when they beat them) work shoulder to shoulder and match them at every turn. Often the girls are kinder on the horses, nicer with stock, softer on gear (except maybe the Toyota gearbox, my husband often reminds me when he is in a cheeky mood), more willing to learn and often, will work so much harder to prove themselves (Please note, I'm not discrediting the blokes here, but more giving the girls a bit of credit!).
During my time in the Kimberley I've met some amazing women, with skills I could only dream of – I am in awe of our female pilots, and head-stockwomen, women who manage properties single handed, and women who stand up for the bush in the political forum. I've met some girls who have a wonderful way with horses and those who are as tough as nails. There are those women who do their work on stations in a much more organisational way, who support their partners, husbands, friends behind the scenes, in the office or cooking a feed in the kitchen, and the influence and support of these women must not be discredited either. I applaud every woman in this industry with a genuine desire to make a go of it and I believe we should be supporting one another and encouraging more women to take an active role in the cattle industry.
Sarah and Belissimo.
Every single one of these women, whatever their role is in the bush – all have such a significant part to play in the recognition of gender equality in this industry. It has traditionally been a man's world and in some ways it still is, but less and less so. These big runs need us girls to function, we are an integral part of the team and I know here at Blina – we don't treat the boys or girls any differently – you are here to do a job, and they are selected in the same way – not if they are male or female, but on their ability to do a tough job in a remote and sometimes challenging location.
Girl Power at Blina!
At the lead of the mob.
Comments