Written by James Christian
There's nothing more satisfying than having a property owner leave you in charge for a bit while they take off on holiday, and when they return you can honestly report that nothing is broken or lost, and that the livestock are healthy and fat, the dams are full and the grass is growing because it rained.
A mate of mine has been working hard over the last couple of years as a contract musterer across what is normally the dry parts of Australia – around Birdsville in Queensland, northern South Australia, and the southern reaches of the Northern Territory – and he's been establishing a reputation for himself as someone who can and will do what it takes. He's not the youngest in his family, but I hope to goodness he's not the smallest because he's a bloody man mountain.
Little-by-little he has accumulated gear, and I think he's remembered every stock handling tip he's been given or shown since he could walk. He certainly practices good practice: the animals know who is in charge, and they understand what it is he wants them to do. If there is a breakdown in communications it's put right swiftly, and never in a cruel way.
The ringers in his camp know what he expects of them too. Tasks are explained, lessons are taught, necessary equipment is provided and spare parts are kept. There is a tolerance for mistakes but only if the experience serves as a method of improvement; repetition will see you off the books.
Anyway, his reputation as a good and capable man of the land got out in front of him over summer, and he was asked to be the caretaker of a property north of Alice for two weeks around Christmas. He was given a job list – simple-enough tasks for someone as skilled as he is – and had plenty of time to accomplish it. Basically all he had to do was make sure the cattle didn't run away or out of water, and ensure the joint didn't burn to the ground.
A passing comment was made by the owner as they hopped into their wagon to drive away, "If it rains enough the swamp will fill up, and feel free to take the boat out for a ski." No doubt there was some further comments muttered, along the lines of "But it'll never rain and you probably can't get the boat going."
Ever the hopeful chap, his priority job was obviously to get the 115 Yamaha horses going. Clean fuel, fresh oil, a battery full of sparks, and no worries! The boat's a goer. What's more, there's all the skiing gear you could want: skis, wakeboards, biscuits, ropes, and a lifejacket that fits anything from a kid to a sumo wrestler. All that had to happen next was rain.
And rain it did. Approximately 250mm of rain came down over four days in the Christmas period, the best part of the annual average, and maybe five times the total of the last two years. The swamp filled up, and the clouds got burnt off by the sun.
Locals wanted to know how much it rained "over there" and went looking, cutting nice deep tracks into the roads that the Territory's contracting road crews salivate over. Grass and weeds poked their heads out of the mud in a way that hasn't been seen in the district for a while. Goannas pretended to be snapping handbags as they waded through puddles, cattle became buffalo, and top knot pigeons played brolga.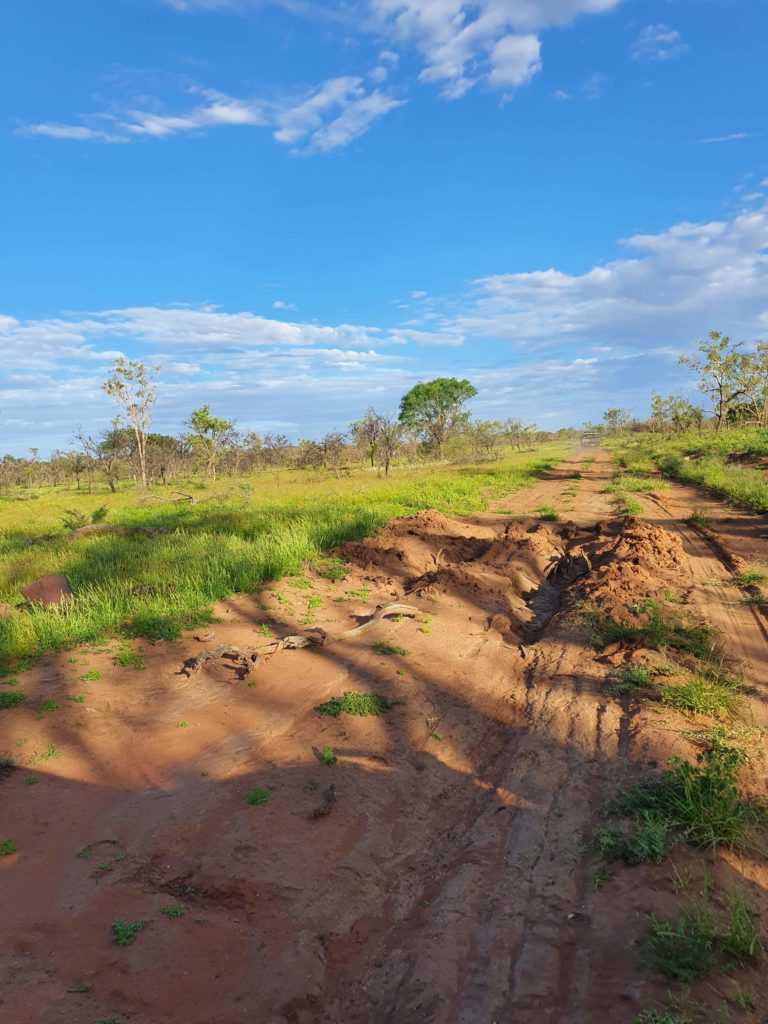 Someone discovered it was sticky.
The big fella hit the phone, a lucky few of us got a call and some directions, and a few days later we headed out to go boating in Central Australia.
What a time it was to go for a ski: the weather was perfect with a cloudless blue sky, no breeze and about 30°C. Aside from the red dirt you'd never know you were in the outback. Camp was made on the banks with an easy passage out to the middle, where there was an area about three times the size of the playing surface at the MCG. The boat was as slippery as a bar of soap and twice as quick to boot, and there was plenty of runway for the driver to get up and going, lull the people hanging off the rope into a sense of security, then whip them over the wake for a mouthful of abuse or water depending on their skills and strength.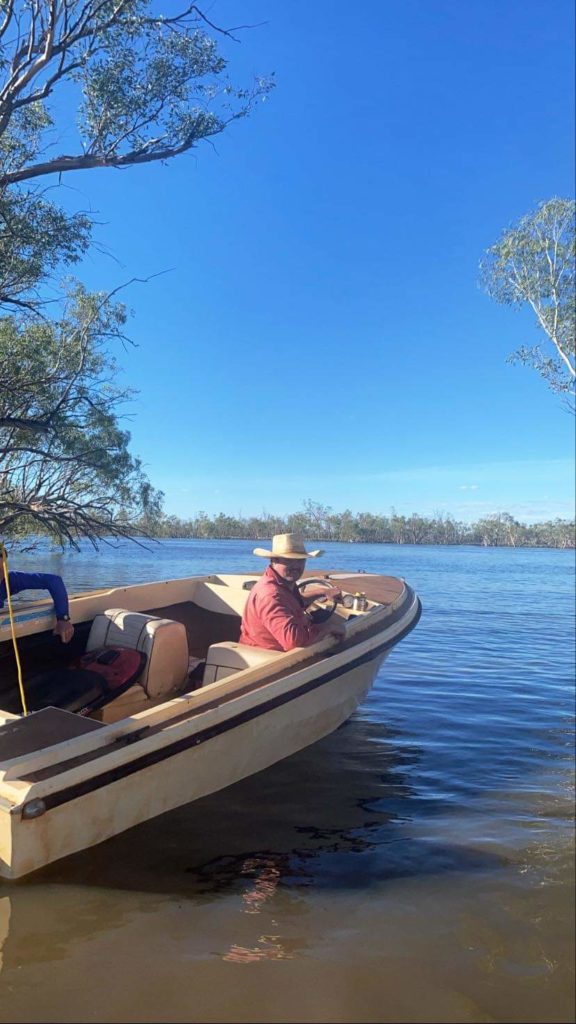 Men with moustaches drive fast.
I took the opportunity to stand at the edge of the swamp holding a beer, listening to the serenity, breathing in the two stroke, and considering how lucky I was to be there, entirely on the back of somebody else's hard work.
It takes a bit to be left with the keys to a place, but even more to make it rain. I hope they thanked him appropriately.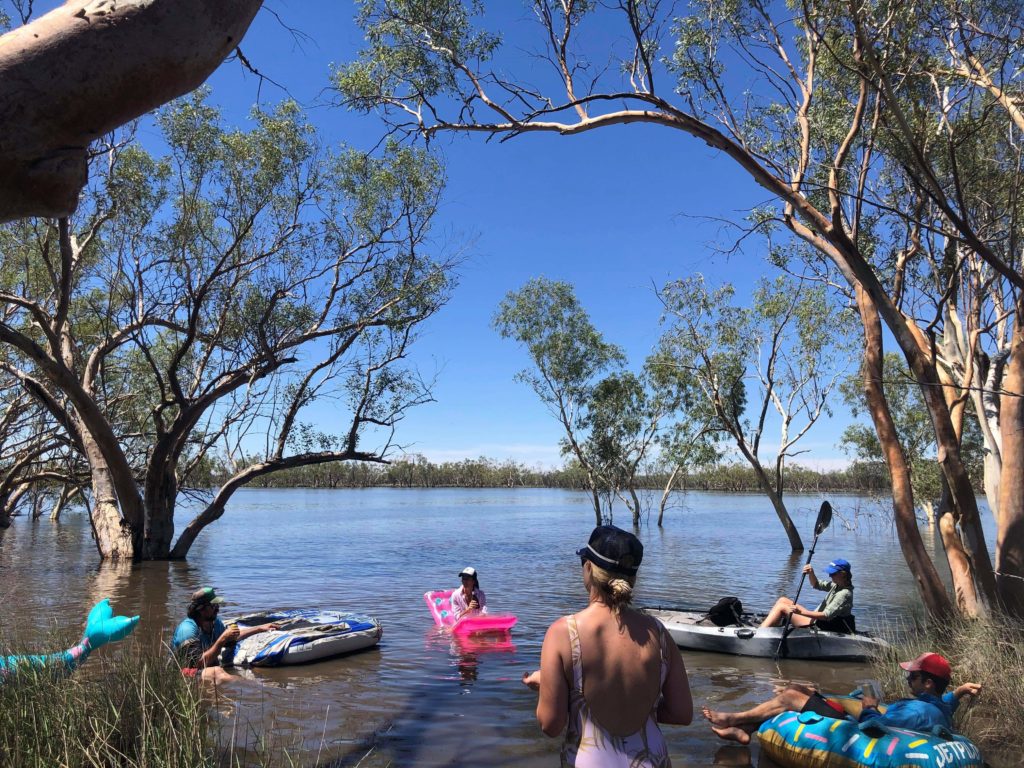 Can you feel the serenity?
Comments