Written by Maddie Staff, Florina Station
One day you're just the govie. The next… well let's just say it wasn't what I would have ever expected, least of all in my life.
If you asked me 8 months ago if I thought I would be able to do this, I would've said no. But, here I am.
I'm 24 years old, so I've been an "adult" for a while, but let me tell you how suddenly overnight I really became an adult.
My boss was diagnosed with cancer and flown to hospital four hours away.
It's not something you ever want to see someone experience, and in a matter of 24 hours I went from just teaching the kids, to providing full-blown 24/7 care.
Now, that alone doesn't seem too daunting. They are great kids, but that's not just what a normal day entails for their mum, Jodie.
Mind you, being in the school room all day I never fully understood the extent of Jodie's job.
There is washing, there is cleaning, the gardens, horses, dogs, donkeys (there's 2 of them somehow) but mostly there's cooking. Yes, cooking, which most people think is super simple, but the running joke on Florina the moment they smell something burning is "is Maddie cooking again?"
Simply put, I can't cook. I burn things, or put too much soy sauce in, or put salt in a cake that was clearly meant to be sugar, or … give the crew food poisoning from uncooked sausages. Simply put, I cannot cook.
So within 24 hours I had to learn, and learn quick. I was swinging messages left, right, and centre to get recipes for the most simple things, all while keeping the children calm and collected.
Whilst all this is still happening the station still needs to function, right?
So I learnt how to drive a tractor, check cattle waters, and rescue broken down ringers with all 3 children in tow (the trick is a bag of lollies and they'll pass out soon enough).
But let's throw in another curve ball, shall we? We have a mustering camp showing up in 3 weeks.
The big boss is busy travelling back and forth from the station to the hospital. I'm not sure if he's been sleeping but some days it doesn't look like it.
So, rooms needed to be made up, food supplies ordered, school taught … oh where do I begin? Now fast forward again and I think I've finally got a routine in place: the kid's school, extra jobs, dinner, but no – the radio goes – the ringer has caught the tractor on fire. Now, I haven't used the fire fighter before and there was no way I was going to be able to put it on a ute alone, so I head out with water bottles (yep, every water bottle I could possibly find) and somehow managed to put that out.
We are now at week … 5? I'm not sure, I've lost track of time, but I think we've finally got a routine (I say this as the sausage rolls burn in the oven, but we've got this).
We have fingers crossed mum is home soon, and I can't wait! Although, it'll be awhile before she's back on her feet – having her close by will be a big comfort to us all.
In all honesty I give 110% credit to Jodie doing this daily, and all the other mums who teach, and run stations. Given the chance, I would do it all over again in a heartbeat – that's what happens when you work on a station, everyone becomes family and this is what we do for family. And, I guess now I'm prepared for parenthood one day!
Central Station would like to send our sincerest well wishes to Jodie and her family. If there was ever a boss lady who can kick cancer's butt, it's you Jodie. We have organised a GoFundMe campaign to help Jodie, Dusty and the kids through this time, if you can, please donate here.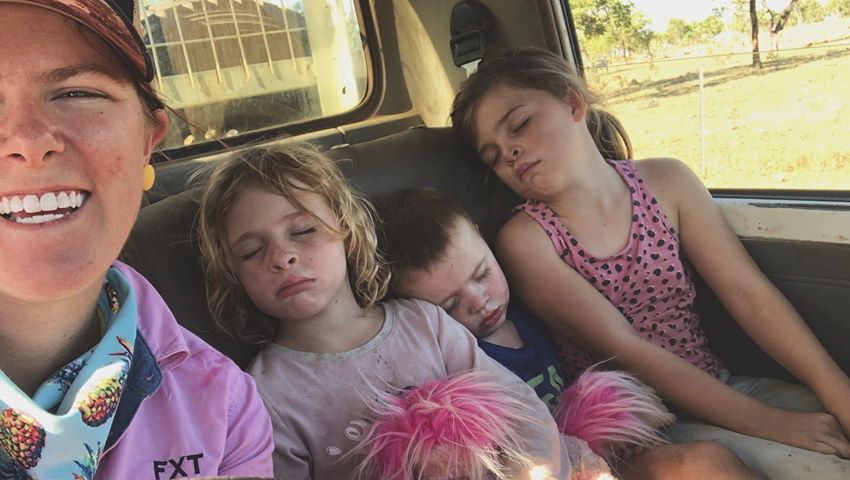 Comments